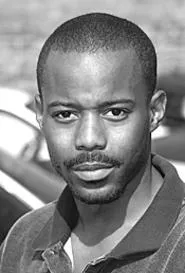 Van Ingram was held at gunpoint by rogue security guards for the crime of plotting to pee in public.
Van Ingram has a knack for driving himself into trouble.
On August 12, the 22-year-old drove his friend Cornelius Sanford to In & Out Cash and Carry Wholesale so that Sanford, a convenience-store owner, could stock up on snacks.
The store is tucked behind the warehouses on Woodland Avenue. The small alleyways offer little parking, so Ingram circled the brick buildings, waiting for Sanford to finish shopping.
Then Mother Nature called; Ingram had to pee. So he pulled into the Harry Rock scrapyard, in a desolate area off Holyoke Avenue, and got out to take care of business behind some stacked concrete slabs.
Ingram says that before he could unzip, Roy Johnson, a sandy-haired security guard dressed all in black, commando-style, emerged from the yard. He pulled out a .38 and told Ingram to get on his knees. As Ingram knelt in the dirt, Johnson held a gun to his nose.
"I'm like, get on my knees? What is this guy talking about? What did I do?" Ingram recalls. "I could have kissed the bullet, his gun was so close to my face. I seriously thought this guy was gonna shoot me."
Johnson denies forcing Ingram to his knees. He says he simply followed Ingram into the yard and asked him what he was doing, to which Ingram replied that he was picking up scrap metal. "Van Ingram is full of shit," Johnson says. "Those are all falsehoods."
But other witnesses, including one of the guards, say they also saw Johnson throw Ingram on the hood of his truck, cuff him, and put him in the front seat of an unmarked Crown Victoria. Ingram implored Johnson to tell him what he'd done. "Shut the fuck up" was the response he got.
"He put me in the front seat and then he got in the back," says Ingram, "and here I'm thinking it's supposed to be the other way around."
Though hardly a hardened criminal, Ingram's no stranger to police. Cleveland Municipal Court records show that he has appeared in court almost two dozen times since 2001 -- mostly for dime-store crimes like blasting his stereo, underage consumption, smoking a blunt, fighting with his girlfriend, and speeding.
This time, however, he sensed something fishy. "He wouldn't even identify himself," Ingram says of Johnson.
Then another guard jumped into the driver's seat and took Ingram on a high-speed chase in pursuit of another man, who they claimed had stolen scrap metal from Harry Rock. They accused Ingram of the same crime. "I didn't even know what scrapping was," Ingram says.
Sanford was waiting in front of the store when he saw what he assumed to be a cop car careening around the corner. He was shocked when he saw his friend in the front seat.
Johnson jumped out and attempted to cuff Sanford, who promptly displayed his receipt as proof of his innocence. "They looked like real cops, but they wouldn't give me any information. I didn't know who they were or what Van did."
The guards took Ingram back to the scrapyard. He was rounded up with three other scrappers -- Noel Green, Sherri Ashley, and Jeffrey Manning.
Finally, the real police showed up and took Ingram into custody. Arresting officer Chris Hamrick doesn't remember the incident, but says he's been called by guards to pick up scrappers on numerous occasions. Ingram was charged with petty theft and criminal trespassing. At first, he pleaded not guilty. "There wasn't no 'No Trespassing' signs or nothing," Ingram says.
Moreover, the other scrappers had no idea who Ingram was, and a guard at the scene admitted that Ingram was carrying no metal when he was arrested.
But public defender David Eidenmiller advised him to plead no contest. Ingram's case was being tried along with an earlier case, in which he was pulled over for speeding and then charged for failing to securely lock his gun in his glove compartment. "My lawyer told me it wasn't worth playing hardball," Ingram says.
The petty theft and gun charges were dropped, but Ingram was still convicted of a misdemeanor for trespassing and sentenced to a year on probation.
In fact, it wasn't until Ingram read Scene's March 23 cover story, "Crime Fighters Inc.," that he finally grasped the weirdness behind his arrest.
The story detailed the strange odyssey of Cuyahoga Valley Patrol, a security firm run by Kenneth Niedhammer, whose often-unlicensed guards dress in ninja outfits, carry illegal weapons, and even conduct their own heavily armed raids.
"When I read about the ninja costumes and the military fatigues," says Ingram, "I was like, 'Damn, that's them. Those are the guys that arrested me.'"
That's when his father, Van Neal, encouraged him to fight back. "They was the ones doing something illegal, not my son," Neal says. "And now he's the one stuck with the record."
Ingram's new lawyer, Harvey Kugelman, is exploring the possibility of filing suit against Valley Patrol and the City of Cleveland. He isn't the only one who's turned the fight against Valley Patrol.
Since Scene's story appeared, the Ohio Association of Security & Investigation Services has filed a complaint against Valley Patrol with the state Division of Homeland Security, which is investigating Niedhammer's operation.
"This is really wracking my nerves," Johnson says. "I keep getting all these calls from Homeland Security and the IRS."
Also, Tenable Security, Ohio's largest private guard firm, fired guard Don Demeo after discovering that he was working for Niedhammer on Tenable's time. "I can understand why a guard would be tempted to make some extra money under the table," says Tenable's director of investigations, Dan McPeek. "This isn't the best-paying work, and guards are forced to pay for their own training. But an illegal operation like this not only disrupts the reputation of security-guard work -- it's also dangerous."
Yet some ex-guards claim that Niedhammer is still conducting business as usual, guarding scrap yards and holding meetings at the 49er diner, his de facto office on Broadway.
But if Niedhammer's still operating, he's loath to discuss it. He has not responded to innumerable interview requests over the past three months.
Mention Niedhammer to Ingram, and and he expresses wariness. "Now I see the police, and I don't know what to do," he says. "I always think twice now."