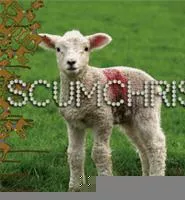 With members coming from some of Ohio and California's best subterranean metal bands, Scumchrist offers a debut EP that proves metal acts don't need mammoth studio budgets to make a killer record. Mixed by Billy Anderson (High on Fire, Mr. Bungle) and recorded by Don Depew (GBV, Cobra Verde),
Fire in the Manger
took a little less than a weekend to complete after e-mails between Fistula guitarist-vocalist Corey Bing and 16 drummer Jason Corley sparked a jam session. The resulting 25 minutes of glorious brutality incorporate elements of doom, stoner, and sludge metal, anchored by the expert riffing of three guitarists.
Though it specializes in downtempo freakouts, Scumchrist can skillfully pick up the pace. "Piss Flower" and "Crank Hag" begin as hypnotic sludge and develop into fist-pumping romps. Guitarists Bing, Scott Stearns (Ultralord), and Andy Strickland (Fistula) pound out a menacing riff layered with feedback, while vocalist Tyson Montrucchio (Downspell) shrieks blasphemy on the title track.