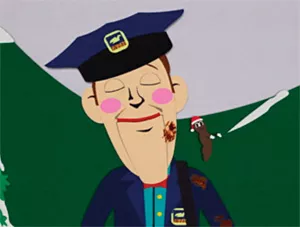 Mr. Hankey spreads holiday joy.
TOP PICK — Christmas Time in South Park (Paramount)
Just in time for the holidays, Cartman, Kenny, and the gang celebrate the season on this DVD collection of all seven Christmas eps. "Merry Christmas, Charlie Manson," "A Very Crappy Christmas," and "Woodland Critter Christmas" feature South Park's usual mix of cultural skewering and foul-mouthed laughs. But best is the classic "Mr. Hankey, the Christmas Poo," starring everybody's favorite talking turd.
CD/DVD — Led Zeppelin reissues (Atlantic/Rhino/Warner)
The 24 tracks on the two-CD Mothership pretty much cover the bulk of every "Get the Led Out" block that's a staple of classic-rock stations across the planet. The Song Remains the Same soundtrack (now with six more songs) complements the "Two-Disc Special Edition" DVD of the 1976 concert film, which combines onstage footage and some horrendously self-indulgent fantasy clips.
DVD — Looney Tunes Golden Collection Volume Five (Warner)
This four-disc set of 60 classic cartoons includes plenty of shorts starring Bugs Bunny, Daffy Duck, and 1,000-pound Acme anvils falling from the sky. There's also an entire disc that pays tribute to animator Bob Clampett, the guy behind "A Tale of Two Kitties," which introduced Tweety to the world. Sufferin' succotash!
VIDEO GAME — The Simpsons Game (EA)
This funny action game (for pretty much every console, including the Xbox 360, PlayStation 2, and Nintendo DS) goes all meta, with Homer, Bart, et al. playing out their very own video-game fantasies. The various levels (which include cameos by nearly every Springfield resident) reference and parody such classics as Grand Theft Auto, Shadow of the Colossus, and Medal of Honor.
VIDEO GAME — Table Tennis (Rockstar)
Last year's Xbox 360 hit comes to the Wii, and it's even more like the real thing. Gamers can play as 11 different characters from a half-dozen different countries. It all comes down to timing: Return the ball too soft, and you may miss the net; spike it too hard, and you could miss the table altogether. Frustrating and fun.
COURTESY FLUSH, PLEASE — The David Bowie Box (ISO/Columbia)
Bowie's Sony years didn't yield much listenable material. So don't expect the five bonus discs to save the studio albums (Outside, Earthling, 'hours . . ., ' Heathen, and Reality) that are gathered on this 10-CD box. Most of the extra tracks are remixes by fans like Air, Moby, and Trent Reznor. Too bad they didn't have much to work with.