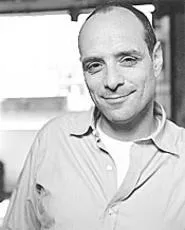 Eric Schlosser talks about Reefer Madness at Joseph-Beth on Sunday.
SUN 4/18
Talk to Eric Schlosser, and you'd think Ohio was the center of a marvelous pot-and-porn universe. His latest book, Reefer Madness: Sex, Drugs, and Cheap Labor in the American Black Market, is laced with Ohio connections. Like the 1996 interview with Shaker Heights-born porn magnate Reuben Sturman, who died a year later in a Kentucky penitentiary while doing time for tax evasion and extortion. "Here he was, the Bill Gates of porn, and now he was a solitary man and forgotten," Schlosser remembers.
A pro-pot crusader, Schlosser also writes about an Indiana dude who did 12 years for being the middle man between a marijuana farmer and a couple of stoners. "Quite a few people commit homicides and don't serve 12 years. So how did the land of the free become the biggest prison nation in world history?" Schlosser asks.
On the other hand, Ohio's pot-possession laws are the most lenient in the land. If you're caught with up to three ounces of weed, you get a civil citation and a $100 fine -- and no jail time. "But I don't think of Ohio as a hippie-dippy, New Age, left-wing state, where people are smoking pot and not going to work," Schlosser says. "Marijuana is not like oil or diamonds or emeralds, but it's the laws that give it the value. If marijuana were decriminalized, growers would lose a lot of money." Schlosser talks about and signs his book at 2 p.m. Sunday at Joseph-Beth Booksellers, 24519 Cedar Road in Lyndhurst. Admission is free; call 216-691-7000. -- Cris Glaser
Gotta Have Faith
THU 4/15
Terry Pluto's best known as a sports columnist for the Akron Beacon Journal. But he also writes about religious matters for the paper. "People are trying to find a connection with God, but want to stay away from the hot-button issues," explains Pluto, a born-again Christian. Everyday Faith, a collection of his spiritual writings, combines practical points and pious paths for people to ponder. "We say we want values," he says. "Well, let's develop values, and let's base them on something they can stand on." Pluto signs copies from 7 to 8 p.m. at Waldenbooks at Chapel Hill Mall on Brittain Road in Akron. Admission is free; call 330-633-2538. -- Michael Gallucci
Goddess is in the details
4/18-4/20
Ever since Dan Brown's The Da Vinci Code became a bestseller last year, Joseph Kelly has been in demand on the lecture circuit. In "The Da Vinci Code: A Historian Looks at the Facts Behind the Fiction," the John Carroll professor examines the role of women in Christianity, based on the book's take on Biblical matriarchy and the secret at the center of it. Kelly talks at 2 p.m. Sunday at the Lorain Palace Civic Center, 617 Broadway in Lorain; 7 p.m. Monday at the North Ridgeville Branch Library, 35700 Bainbridge Road in North Ridgeville; and 7 p.m. Tuesday at Avon Heritage Elementary School, 35575 Detroit Road in Avon. Admission is free, but pre-registration is required; call 440-244-1192. -- Cris Glaser
Pigskin Poopers
FRI 4/16
The local artists featured at Art Is Alive, happening Friday, are eager to dispel stereotypes about Canton. "People are more focused on the fact that there's the Football Hall of Fame," says animator and sculptor Bill Kribbs. "Because of that, we're fighting back. We're trying to emphasize art." This year's theme is "Something Wild"; participants are encouraged to dress for the occasion. "[I'm wearing a] brightly striped shirt and pants," Kribbs says. "I'm borderlining on clown." In addition to the artwork on display, food, drink, and live entertainment will be offered. It takes place from 5 to 10 p.m. at the Cultural Center for the Arts, 1001 Market Avenue in Canton. Admission is $1; call 330-454-8400. -- Keith Gribbins