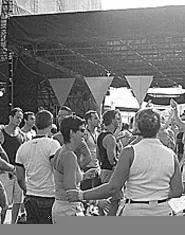 7/24-7/27
As long as there's been an AIDS Taskforce, there's been a party in downtown Cleveland. The 19th Dancin' fest takes place this weekend, with four nights of club partying and a daylong celebration on Sunday at Tower City Amphitheater. It's Cleveland's biggest annual rump-shaker and the Taskforce's biggest fund-raiser.
"This is the one party I can't wait for each summer," says Paul Kamody, a Dancin' diehard from Lakewood. "It's fun. It's frolicking. It's fabulous."
Sunday's fabulous frolicking includes a fetish-attire runway romp courtesy of the Organ Grinders' Ball. Live entertainment includes turntable performances by DJs Rob Engel of Columbus and David Knapp of New York; Cleveland's only gay country-western dance troupe, the Rainbow Wranglers; retro-jazz fave Lounge Kitty; local dance troupe SAFMOD; popster Connor O'Brien; the Daring Douglas Fire Eaters; and the Barb & Company Jazz Trio. The Geauga Community Theater will perform excerpts from its production of A Chorus Line, and there will also be information booths from Planned Parenthood and the Cleveland Stonewall Democrats, a gay political-activist group.
Sunday also features the debut of the Cocktail Garden, the first booze fueling station in Dancin' history. "When you leave, know your dollars went to a great cause," says Judy Price of the AIDS Taskforce. Dancin' starts at 10 p.m. Thursday at the Hard Rock Café, 230 Huron Road (admission is $3); 10 p.m. Friday at the Grid/Orbit, 1437 St. Clair Avenue ($5); 10 p.m. Saturday at the Odeon, 1295 Old River Road ($40); and 1 p.m Sunday at Tower City Amphitheater, 351 Canal Road ($25) and 10 p.m. at Bounce, 2814 Detroit Avenue ($15). A four-day pass is available for $80. Call 216-241-5555 for more information. -- Cris Glaser
Roll Out the Barrel
7/30-8/3
Collinwood's East 185th Street Festival wouldn't be the same without the kegs. "You're gonna listen to polka music without beer?" asks organizer Pat McNamara. The seven-block party, between Pawnee and Chickasaw avenues, celebrates its 25th anniversary with music by Slovenian, Italian, and Polish polka bands, as well as local rockers and country acts. It concludes with a procession of 100 floats and marching groups parading down the street. "Afterward," McNamara says, "we drink more beer." The festival happens from 5 to 11 p.m. Wednesday and Thursday, July 30-31; 5 p.m. to midnight Friday and Saturday, August 1-2, and noon to 10 p.m. Sunday, August 3. Admission is free; call 216-481-7660. -- Cris Glaser
Rolling in the Isle
7/24-11/10
The fourth largest island in the world gets its props in The Eighth Continent: The Isle of Madagascar, a geographical exhibit at the Museum of Natural History. "There are things there that are nowhere else," says museum artist Tim Riedel. Like the now-extinct elephant bird, which stood 11 feet tall and weighed 1,100 pounds. A model of its egg (left) is featured in the exhibit. Other exotic dead creatures on display include lemurs, hedgehogs, and a flying fox bat. The show runs through November 10 at the museum (1 Wade Oval Drive). It's open 10 a.m. to 5 p.m. Monday through Saturday and noon to 5 p.m. Sunday. Admission is $4 to $7; call 800-317-9155. -- Diane Sofranec
Funky Stuff
MON 7/28
The Rock and Roll Hall of Fame's Ohio Exhibit Performance Series kicks off tonight with an Ohio Funk Party featuring Dayton-bred Zapp and Heatwave. The concerts run in conjunction with the exhibition Hang on Sloopy: The Music of Ohio. Zapp's vocoder-sporting leader, Roger Troutman, was shot to death by his brother (also a onetime Zapper) four years ago, but the grooves remain; Heatwave is responsible for the disco anthem "Boogie Nights" and the quiet storm classic "Always and Forever." Ohio Funk Party starts at 8:30 at the Rock and Roll Hall of Fame and Museum (1 Key Plaza). Tickets are $18; they're available by calling 216-241-5555. -- Michael Gallucci