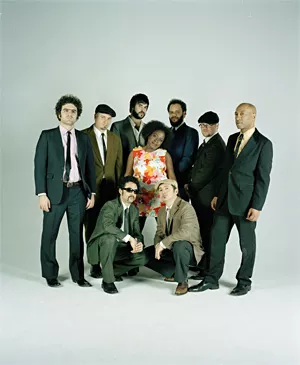 Sharon Jones with a bunch of Dap-Kings.
For most of the millennium, retro R&B has meant the limp Marvin, Curtis, and Stevie rewrites of neo-soul, made with one self-conscious eye on the '70s and the other on hip-hop kids. But Sharon Jones & the Dap-Kings give that tired aesthetic a much-needed overhaul. Anyone with ears has heard the vintage vibe the Dap-Kings applied to Amy Winehouse's "Rehab." But the eight-piece band reaches its fullest funk potential with Jones.
And there's no questioning the frontwoman's toughness. Now 51, she used to be a prison guard at the infamous Rikers Island — so there's little doubt she can take on a record industry that repeatedly told her she was too short and too black. Since hooking up with Brooklyn's Dap-Kings, she's recorded three albums, including the recently released 100 Days, 100 Nights. This time around, they trade J.B.-style soul blasts for sultry Stax simmer — especially on the towering "Humble Me." But that just gives Jones more room to showcase her gospel-influenced firepower, which is even more explosive live.