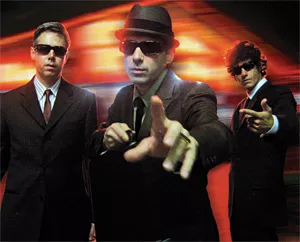 Beastie Boys audition for The Blues Brothers: Seeing Triple.
In his new book, The Greatest Music Never Sold, writer (and Scene contributor) Dan LeRoy tells the stories behind 20 albums recorded by A-list artists like Beastie Boys, David Bowie, and Sheryl Crow. But chances are, you probably never heard them, since they haven't been released (at least not officially; you can track down bootleg copies online). LeRoy talked to the artists, producers, and musicians who made the albums. We talked to LeRoy about why they're still sitting on record-company shelves.
Why does an artist record an album and not release it?
"Lots of different reasons — the most common being that the label doesn't 'hear a hit' or just thinks the project has no sales potential. Albums that fit this description are shelved every week. The funny thing is, about half the albums included in the book are unreleased on the decision of the artist, not the label. Sometimes that's because the album was never meant to come out — like the Beastie Boys' Country Mike. And sometimes it's because the artist apparently felt — and still feels — strongly that the project wasn't good enough. The Seal and Sheryl Crow albums are good examples."
How did you select these records?
"There were two basic criteria. It had to be an album that never saw official release, and it had to be really, really good, in my sort-of humble opinion. That eliminated a lot of stuff right away, since most of the unreleased albums I've heard are like most of the released albums I've ever heard: so-so. That was the inspiration for writing the book: hearing all this OK music and wondering why one so-so album got released and another got buried. That also eliminated stuff like Prince's Black Album, which did eventually get an official release. The only album in the book that actually came out was Country Mike, but since that was just a small private pressing for family and friends, I felt I could make an exception."
Did you hear all the albums you wrote about?
"Yeah. I was actually never a bootleg collector until starting this project, and even now I have mixed feelings about it. The artists whose unreleased albums are being shared are really getting screwed twice: They never made any money from this stuff the first time around, and then bootlegs help diminish the market for an eventual release."
Of the ones you've heard, what is the best or most releasable?
"In today's niche market, I think all this stuff is eminently releasable. All these artists have fan bases that want these albums. I keep coming back to God's Foot by Juliana Hatfield. It's just an amazing record. It would have been, hands down, one of the best albums of the '90s, had it come out as planned. It's sad, it's funny, it's got great songs, and I even think it has the hits her label so desperately wanted. Disney owns it now, so who knows? But the ironic thing is, they're making billions now from female power-pop-light. And sitting on the shelf, they have this fantastic album with a not incredibly dissimilar sound, but vastly more depth and resonance."
What's the most understandably unreleased album of the batch?
"I think Country Mike wins that award by default, since it was conceived as a joke. But even that disc has its merits. It's completely charming and genuinely fun music."
Do you think any of these will ever officially see the light of day?
"Yes. There are rumors that Chicago is finally going to release Stone of Sisyphus. Several people involved with the Jungle Brothers have told me that there's a label interested in putting out Crazy Wisdom Masters. Eventually, some of this other stuff is going to see daylight. The insatiable demand for product and the new methods of releasing it are hopefully going to shake more of it free."
Were there any albums you wanted to write about, but couldn't get the story on?
"Neil Young's Homegrown is the main one I wanted and couldn't get. I wouldn't write about it if I couldn't talk to a primary source and get new info. In this case, that's basically Young and producer Elliot Mazer, who was willing to talk about it, but needed Neil's approval. Eventually, I just ran out of time. And of course, there's [Guns N' Roses' long-delayed] Chinese Democracy, but that's a book in itself. I collected lots of info that I might use at some point, but the story just kept evolving. I finally had to abandon it, if I wanted to write the rest of the book."
Any chance of a part two?
"I hope so. I couldn't get everything I wanted into this book, and there are more unreleased albums entering the picture all the time. I just read about Duran Duran shelving a whole album and releasing Red Carpet Massacre instead. So I feel like I need to get back on the case. I'm afraid that no matter how record sales dip, the unreleased album might be a growth industry."