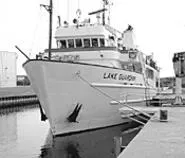 Come sail away with the Lake Guardian at Saturday's Burning River Fest.
SAT 8/13
It's a rare day when the Lake Guardian is given the day off from its round-the-clock job ferrying scientists to their watery workstations on Lake Erie. But twice a year, the 180-foot research vessel sails to lakeshore festivals. On Saturday, it stops at the Burning River Fest.
Along with food, bands, and lectures from naturalists and agriculturists, the ship will be open for free half-hour tours. Inside, the crew will tell stories about how the Guardian was on its way from the shipyard to the graveyard in 1988, when the U.S. Environmental Protection Agency rescued it. "It was going to be cut up for scrap," says Paul Horvatin, an EPA program manager in the ship's home port of Chicago. "We retrofitted and rebuilt it as a science platform."
The ship boasts 16 rooms that provide bunks, showers, and workout equipment for as many as 40 people. On board, they test water samples to monitor biological, bacterial, and chemical levels. "Some of the crew have been out on the lake for a month or two," says Horvatin. "After sailing for a few weeks nonstop, it's good to stop and get off." The fest sets sail from noon to 7 p.m. at Voinovich Park (at the foot of East Ninth Street). Tickets are $5; call 216-771-4404. -- Cris Glaser
Fine Whiner
Gilbert Gottfried brings the off-key jokes to town.
8/12 — 8/13
Hard to believe that a guy with such an annoying nasal whine could become a popular voice-over talent, but Gilbert Gottfried's found a second career in cartoons. From Disney's Aladdin to The Twisted Adventures of Felix the Cat, the dude's busy. His latest project, PBS' Cyberchase, teaches kids about arithmetic. "I know nothing about math," he says. "If it isn't written in the script, I wouldn't know it." Gottfried got his start back in 1980, when he was among the bunch tapped to replace Saturday Night Live's original troupe. "That was pretty bad," he recalls. "Nowadays, the cast changes between commercial breaks. Back then, that was a major news item, and [critics] were panning us before we made it to the air." Gottfried's renaissance in The Aristocrats (his performance is a highlight) continues with a stand-up show at Hilarities 4th Street Theatre at 7:30 and 10:15 p.m. Friday and Saturday. Tickets are $18 to $25; call 216-736-4242. -- P.F. Wilson
Split Decisions
Schizo unspools many movies for the price of one.
8/12 — 8/14
True to its name, the Kazakhstan import Schizo isn't sure what kind of film it wants to be, so it pilfers from several. A mentally stunted 15-year-old boy (who lives with his single mom and her abusive boyfriend -- shades of Sling Blade) witnesses his very own "fight club," in which burly dudes bare-knuckle one another to death. By the time he inadvertently sets up a tragic chain of events, the movie has gone from a coming-of-age drama to a crime story to a treatise on poverty. It scores all around. Schizo screens at the Cinematheque (11141 East Boulevard) at 7 p.m. Friday and 9:20 p.m. Sunday. Admission is $8. Call 216-421-7450 for more information. -- Michael Gallucci
Hoopla
SAT 8/13
On the And 1 Mix Tape Tour, 32-year-old streetballer Robert Martin (pictured left) is known as "50" because of his ability to sink shots from 50 feet away. The forward from Atlanta comes to Cleveland on Saturday with Spyda, Hot Sauce, and the rest of his teammates to take on the city's best amateurs, who'll try out for the squad at 3:30 p.m. prior to the big game, which will be shown on ESPN2's And 1 Streetball next month. It starts at 7 p.m. at Gund Arena, 100 Gateway Plaza. Tickets are $17 to $50; call 216-241-2121. -- Cris Glaser