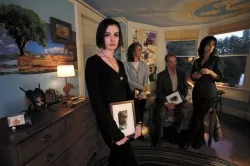 Addicted to Love
Anne Hathaway gives a terrific performance in Rachel Getting MarriedJust how righteous is the new film by Jonathan Demme? Not only is the titular bride-to-be (an excellent Rosemarie DeWitt) marrying an African American (Tunde Adebimpe), but her dad (Bill Irwin) is himself married to a black woman (Anna Deveare Smith). The wedding has an Indian theme (shades of Monsoon Wedding, also photographed by Rachel cinematographer Declan Quinn, and the only connection I could find to the whole Bollywood-a-go-go angle). And there's more: The guests are a Rainbow Coalition of various colors, ethnicities and sexual persuasions, everyone on board espouses good blue-state values and even the world-music soundtrack - most of it performed on camera as background to the nuptials - has an '80s-boho flavor. It's like being force-fed granola while listening to an endless loop of old George McGovern stump speeches.
I love Demme, but he handled this whole multicultural-ism thing with a lot more finesse, and subtlety, two decades ago in movies like Something Wild and Married to the Mob. Back then, Demme's casually integrated casts and his layering in of exotic music (pop and otherwise) seemed revelatory. It was a refreshing break from mainstream Hollywood cinema. Now, it feels more like the addled rant of an ex-hippie uncle desperate to prove he's still cool. Rachel may indeed be getting married, but the real lead character is her recovering addict kid sister Kym (Anne Hathaway in a terrific performance that deserves a better vehicle) who gets a furlough from her stint in rehab to attend the festivities. Cue Quinn's woozy high-def digital-video camerawork, dizzying streams of Altman-esque overlapping dialogue and more family dysfunction than you can shake a stick at. The only scenes that truly work are ones featuring screen veteran Debra Winger (brilliant) as Kym and Rachel's mother. A searingly intense confrontation between Winger and Hathaway is the film's emotional highpoint and hints at the movie that Rachel might have been if Demme had toned down his tortuous politically correct schtick and Dogme 95 affectations. The best (only?) joke here is naming the African-American groom Sidney (Sidney Poitier in Guess Who's Coming to Dinner, get it?). But considering how humorless and lacking in irony Demme has become, I'm guessing that it was probably unintentional. - Milan Paurich
Rachel Getting Married
Opens Friday at the Cedar Lee Theatre
Chris & Don: A Love Story
The documentary Chris & Don: A Love Story gives the gay specialty audience a touching portrait of a mature homosexual relationship, and maybe even heteros crushed by the Madonna/Guy Ritchie split could watch and ponder the intricacies of a union between two creative types enduring longer than an extended dance mix. "Chris" was Christopher Isherwood (1904-1986), a British-born writer whose repute reached beyond the Friends of Dorothy when Liza Minelli portrayed his creation Sally Bowles in the film Cabaret, an adaptation of Isherwood's Berlin stories.
After deliberately failing school in England to spite his domineering mother, Isherwood had gone to Berlin in the 1920s in search of sexual and intellectual freedom - and hot German boys. At the outset of WWII, he (and friend W.H. Auden) migrated to the U.S.A., Isherwood landing in California. There, enfolded in the 1950s movie industry (and hot American boys), Isherwood met teenage Don Bachardy, the strapping, star-struck son of a conservative aerospace engineer.
Actually, Isherwood started dating Don's equally handsome brother, but when the latter developed schizophrenia, he moved to Don.
When the aged Isherwood died, Bachardy sketched the wasted old man, just as Monet obsessively painted his own dying mistress. Proponents of gay marriage should know these two weren't exactly Paul Newman and Joanne Woodward; after an early separation, C & D decided on an "open" relationship, leaving room for other hot boys. Horror fans who remember the 1973 TV movie Frankenstein: The True Story can now start barfing just like the fellow in The Crying Game; turns out the Isherwood-Bachardy script turned the Mary Shelley monster saga into a cleverly coded gay metaphor of Pygmalion-ish romance and loss of youthful beauty to age. On that note, extensive color home-movie celluloid footage (Isherwood's, presumably) glows with Kodachrome radiance and sensuality, a bygone idyll in the mid-20th century, unmolested by AIDS, terror or, well, molesters.
After all, the non-musical dramatization of the Sally Bowles stories was titled I Am a Camera. - Charles Cassady Jr. Cleveland Museum of Art Lecture Hall At 7 p.m. Friday, October 24 and 1:30 p.m. Sunday, October 26
Filth and Wisdom
Filth and Wisdom marks the directorial debut of Madonna, who also co-wrote the screenplay. It plays like an above-average student film, at times pretentious and unnecessarily arty; it also has an infectious energy. There are even a few little moments of truth when it isn't trying to come across as more profound than it really is. The plot revolves around a small group of young artist types involved in various aspects of sex work as a means to achieving their goals, thus illustrating the film's Philosophy 101 message that in order to achieve wisdom, you must slog through the filth.
A.K. (Eugene Hutz) is an aspiring musician who pays the bills by acting out kinky sex fantasies for his clients, often with the assistance of his female roommates Holly (Holly Weston) and Juliette (Vicky McClure). He also narrates the film, frequently breaking the fourth wall and talking directly to the audience. A.K. secretly has a crush on Holly, a ballerina who moonlights as a stripper. Juliette works in a pharmacy and dreams of the day she can go to Africa to help starving children. A.K. also helps out a reclusive blind writer (Richard E. Grant) who lives in his building, the two artists finding mutual inspiration in each other.
It doesn't really amount to much, but thanks to the engaging performances and a healthy dose of humor, it'll keep you interested. - Robert Ignizio Opens Friday at the Cedar Lee Theatre
The Grocer's Son
The humanist ethos of the late Jean Renoir is alive and well in The Grocer's Son, a film so perfectly pitched and beautifully realized that it's tempting to oversell its modest virtues.
Directed by Eric Guirado, whose documentary background can be felt in every lovingly composed frame, the movie tells the story of prodigal son Antoine (boyishly handsome Nicolas Cazale) who returns home to the Provence countryside after his estranged father suffers a heart attack. A vaguely discontented ne'er-do-well and the family's resident black sheep, 30-year-old Antoine is running out of options as the film begins. He was recently fired from the latest in a string of waiter jobs, and his rent is past due. The only thing keeping Antoine in Paris is Claire (ethereally radiant Clotilde Hesme), the next-door neighbor he harbors a not-so-secret crush on.
Reluctantly making the trip to Provence, Antoine immediately butts heads with his folks (dad, memorably played by Daniel Duval, is a ball buster even in his hospital bed) and elder brother Francois (Stephan Guerin-Tille), who still resents Antoine for bailing on his familial responsibilities 10 years earlier.
More out of boredom and a need for quick cash than any perceived "obligation," Antoine takes over his ailing father's grocery business, driving a battered old van around to the neighboring villages. The elderly residents on his route depend upon him for everything from radishes, canned peas and extension cords.
Helping make Antoine's current situation a tad more bearable is Claire, who pays an extended visit while studying for her college exams. You just know that Antoine's prickly facade will eventually crumble - he really is a chip off the old block - and that The Grocer's Son won't end before his family rift is healed.
But the joys of Guirado's movie derive less from narrative surprise than its almost spiritual dimension. Laurent Brunet's exquisite cinematography brilliantly captures the austere beauty of Provence.
And the performances are so empathetic and lifelike - from Antoine and his family, to Claire and the persnickety old customers on his grocery route - you'd swear you were watching real people go about their daily lives. - Paurich Cleveland Institute of Art Cinematheque At 8:45 p.m. Thursday, October 23 and 7:30 p.m. Friday, October 24