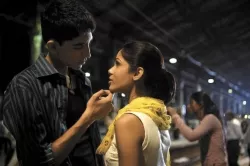 Slumdog Millionaire is a rags-to-riches fairy taleDanny Boyle's Slumdog Millionaire stormed through the fall festival circuit like a Kansas twister, racking up critical huzzahs and Oscar buzz like it was the second coming of Juno (last year's Fox Searchlight fest/crix/awards season darling). As much as I enjoyed Slumdog - it was one of the few highlights of an exceptionally tepid Toronto Film Festival - I never quite bought into the "Chosen One" hype. Or maybe it's just Boyle I distrust. Promiscuously talented and remarkably eclectic, there's no genre or idiom Boyle hasn't left untouched (zombie flick, romantic comedy, sci-fi, magical realism, et al.). Perhaps that's why I've had such a hard time trusting him, or even pinning him down.
Boyle's latest is an irresistible, ingeniously structured hodgepodge of Bollywood (the souped-up romanticism and Day-Glo colors) and Charles Dickens (a classical narrative arc), but I'm not sure whether it's the instant classic and masterpiece as some have heralded it. The story of 18-year-old street kid Jamal (Dev Patel, amiable if emotionally opaque), raised in the Mumbai ghetto, who makes a killing on that country's version of Who Wants to Be a Millionaire, it's a rags-to-riches fairy tale shot in such glittery, in-your-face fashion - lots of jump cuts and distorted fisheye lenses - I can understand why so many critics have lavished it with praise.
Convulsively entertaining, Slumdog Millionaire certainly looks like no other film I've seen this year, and it's only afterward that the whole thing begins to disassemble a bit in your head (it did in mine anyway). Is Boyle merely serving up a kickier form of colonial imperialism, tsk-tsking the sad lot of disenfranchised Third Worlders like Jamal and his ragamuffin friends? After just one viewing, I'm still not certain. But the bitter aftertaste that kicks in once the sugar rush fades makes me wonder if Slumdog Millionaire isn't just a Richard Attenborough movie in flashier threads. - Milan Paurich Slumdog Millionaire Opens Friday at the Cedar Lee Theatre
Days and Clouds
It's no secret that America's economic crisis is just a small part of an even larger global financial meltdown. Days and Clouds, a thoughtful new Italian film by Silvio Soldini (Bread and Tulips), gives a human face to the world problem that's become a 24/7 staple on cable news networks. The plot of Soldini's movie bears a surface resemblance to Laurent Cantet's great Time Out from 2001, in which a middle-aged businessman loses his job and doesn't tell anyone, not even his family. To keep up appearances, he continues to leave the house each morning for "work." But instead of going to the office, he drives around aimlessly, spending his days in a Kafka-esque limbo.
Michele (Antonio Albanese), Soldini's protagonist, has been out of work for two months when the film opens. He uses the occasion of his wife Elsa's (Margherita Buy) birthday party to finally spill the beans, explaining that he wanted to give them one last hurrah before breaking the news. One of the most gratifying aspects of Days and Clouds is how Soldini refuses to soft-pedal or sentimentalize Michele's plight. Forced to sell their home and move into a cramped apartment, Michele and Elsa both start looking for work. After turning down a position that would have paid him half his former salary - with a boss 15 years his junior - Michele impulsively takes a part-time job as a bicycle deliveryman. Elsa has an easier time finding secretarial work, but her (relative) success puts an added strain on their marriage. Although Soldini ends his film on a cautiously optimistic note, there's no economic bailout plan to make things easier for the couple in the foreseeable future. Michele and Elsa will need all their wits and all the love they can muster to muddle through - just like the rest of us. - Paurich Cleveland Museum of Art At 6:45 p.m. Friday, December 12 and at 1:30 p.m. Sunday, December 14
The Exiles
Shot over three years in the late 1950s, writer-director Kent Mackenzie's The Exiles is just now receiving a proper theatrical release. A neo-realist-inspired film about a group of transplanted Native Americans living a hardscrabble existence in downtown Los Angeles (the now-razed Bunker Hill neighborhood, to be precise), The Exiles treads a fine line between fiction and nonfiction. It's also a sterling example of American independent cinema before that term was even coined. At times, it's hard to tell whether Homer (Homer Nish), Yvonne (Yvonne Williams) and their friends are playing themselves or characters who just happen to share the same name.
Not much happens over the course of the movie's 12-hour, dusk-to-dawn time frame. Yvonne, Homer's wife, cooks a dinner of pork chops for her husband and his buddies before they head out for a night of heavy drinking at some of L.A.'s least fashionable saloons. For her part, Yvonne takes in a movie at a spookily desolate downtown movie palace before winding up at the apartment of a lady friend. Interestingly, it's Yvonne's voice we hear most frequently in the film's intermittent voice-over narration. She may be doubly disenfranchised in life - as an American Indian and a woman - but Mackenzie never allows Yvonne to be completely silenced. The ravishing black-and-white 35 mm cinematography is as hauntingly seductive as the wonderful period doo-wop overheard on a series of radios and jukeboxes. Together they impart an almost mystical never-neverland quality to The Exiles that helps make it invaluable as both anthropology and cinema. Kudos to the University of California's Film and Television Archive for restoring a movie that rightfully belongs in the same American-indie pantheon as the early works of John Cassavetes and Robert Frank. - Paurich Cleveland Institute of Art Cinematheque At 9:15 p.m. Friday, December 12 and 7:25 p.m. Saturday, December 13
Fear(s) of the Dark
I like a horror flick that delivers the blood and guts as much as the next guy, but I also appreciate movies that take a quieter approach to scaring audiences. Films that fall into that second category are rare these days, though. That's part of the reason I was looking forward to Fear(s) of the Dark, an animated, black- and-white anthology from France that seemed to promise thrills and chills of a more subtle and psychological nature. The other thing the film has going for it is that one of the segments is by underground comic artist Charles Burns, a guy whose cartoonish style belies a twisted sensibility. Burns' segment, in which a strange insect finds a host inside a shy young man's girlfriend, is definite nightmare material, and the 3D animation perfectly brings his work to life. The segment directed by Richard McGuire best captures the essence of the film's title. I'm not entirely sure what's going on in his tale, but it looks great and, more importantly, generates a creepy vibe. Unfortunately, these two segments account for only one third of the film.
Marie Calliou's story about a girl who moves into a house that may be haunted by a samurai really pulls you in, but lacks an ending. In fact, the way it's split into parts makes you expect it to come back and finish, right up until the credits roll. A boy whose friend may have transformed into a were-alligator or something tells Lorenzo Mattotti's tale. While the segment has a certain poetry to it, it's not at all scary. Blutch's recurring motif of a man attacking people with dogs certainly has a disturbing edge to it, but it's more of an exercise than an actual story. The other recurring sequence, by Pierre di Sciullo, in which a series of abstract shapes forms and changes while a narrator whines about his neuroses, is just flat-out annoying. Overall, the artistry and intent of Fear(s) of the Dark is admirable, and the Burns and McGuire segments are quite good, but it's not enough to make the film worthwhile. - Robert Ignizio Opens Friday at the Cedar Lee Theatre