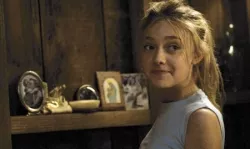 TORONTO - As one of the highest paid actresses in Hollywood, 14-year-old Dakota Fanning usually gets what she wants. So when she decided she wanted to portray Lily Owens in the film version of Sue Monk Kidd's award-winning novel, The Secret Life of Bees, it wasn't like anyone was about to tell her no. And that was a couple of years ago, when she wasn't even old enough to play the character.
"I read the book a while ago, and I've been attached to this movie for about four years," says Fanning during roundtable discussions that took place at the Four Seasons during the Toronto International Film Festival last month. "I had to wait a bit to be old enough to play Lily, but that was OK. As an actress, this was like a dream-come-true character to play, because she goes through almost every range of emotion possible. It's a challenge to dig deep within a character and conjure these feelings I might never feel."
Director Gina Prince-Bythewood (Love & Basketball) was interested in taking on Kidd's book early on too. The novel was sent to her six or seven years ago, before it was even published. She didn't bother to read it, however, until a couple of years ago, when an actor friend of hers told her she was about to audition for a role in the movie.
"I got incredibly jealous," recalls Prince-Bythewood. "I thought, 'Wait. That's supposed to be my movie,' even though I hadn't read the book yet. I went home one night and read it in one sitting and was pissed off about an opportunity that got away. Then I got a call from my agent, who said it was available again, so I went after it."
The story, which is set in segregated South Carolina in the '60s, isn't exactly kids' stuff. Raised by an abusive father, Lily runs away from home with her caretaker, Rosaleen (Jennifer Hudson), and eventually ends up meeting the honey-making Boatwright sisters, an African-American family led by the matriarchal August Boatwright (Queen Latifah), a proud woman whose thriving beekeeping business has given them an unusual amount of autonomy. August and her sisters - June (Alicia Keys) and May (Sophie Okonedo) - struggle to protect Lily from her abusive father, as well as from the racist locals who don't like the fact that a white girl is living with an African-American family.
"In my mind, this was the kind of black family I would want to be part of," says Queen Latifah. "They have their own business, they have their own land and they're respected in their community, despite all of the racial tension that, of course, existed at that time."
Prince-Bythewood, who wrote the screenplay, went to great lengths to make sure the film looked real. All the actresses attended beekeeping school, so they look like they knew what they are doing when they handle the insects. The director also made some of the actresses take cooking classes, so the scenes in which they prepare food would also seem real.
"She's very hands on, but it all paid off," says Hudson of Prince-Bythewood. "The hardest thing was to roll the honey on the spoon. It took an hour or two just to get that right. I had to take a course just to know how to spread some honey on some cornbread."
And in order to get Hudson accustomed to the kind of racism that existed in the South prior to the civil-rights movement, Prince-Bythewood put her in a situation where she'd be discriminated.
"That feeling of being invisible was the thing that she took away from the experience," she says. Prince-Bythewood hired actors to work at a store and pretend to ignore Hudson because she was black. "That was really great for her acting."
But in the end, whatever Prince-Bythewood (who gave cast members a "'60s care package" to help them prepare for their respective roles) put the film's stars through was worth it, they say.
"Doing crap scripts is difficult, and doing good scripts really isn't difficult," says Okonedo, who plays the emotionally unstable May. "It's energizing and drives you. I had to pinch myself, because I was so happy to be involved with the film. Doing rubbish is what can be exhausting."
jniesel@clevescene.com