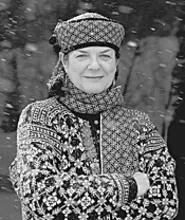 Ski champ Jeannie Thoren takes some time off from the slopes to talk about (what else?) skiing.
10/13-10/16
When she was a national skiing champ in 1964, Jeannie Thoren grew frustrated with the tools of her trade. Made to fit men's feet, her skis were too long to swoosh down the slope in record time. "Women are not small men," says Thoren. "Our weight is in our rear ends. We can't flex forward, if our weight is over the wrong half of the ski." For 25 years, Thoren has lobbied ski manufacturers to design female-friendly equipment. "I'm a dumb Yooper," says Thoren, a native of Michigan's Upper Peninsula. "I'll knock on every door until someone hears my screams." Thoren discusses her career and plight Thursday at Geiger's Clothing & Sports (14710 Detroit Avenue in Lakewood), Friday at Geiger's Ski & Sport Haus (50 Shopping Plaza in the Chagrin Shopping Mall in Chagrin Falls), and Saturday and Sunday at Boston Mills Ski Resort (7100 Riverview Road in Peninsula). All appearances start at 10 a.m. and admission is free; call 216-521-1771. -- Cris Glaser
Look! Up in the Sky!
SAT 10/15
Matthew Kolodziej's three kids inspired him to Define the New Superhero as they sat in front of the TV and watched Yu-Gi-Oh and Pokémon. "I feel like we need new superheroes that are more practical," says Kolodziej, a professor at the University of Akron's Myers School of Art. "And kids need to help define what those are going to be. I'm looking for a new Justice League." At Saturday's drawing workshop, Kolodziej will guide kids -- from 5 to 14 years old -- in sketching their versions of the next Superman and Spider-Man. "It could be Super Reader or somebody who's really good at cleaning his room," says Kolodziej. "They just have to have something that gives them super powers." The workshop takes place from 1 to 3 p.m. at Summit Artspace, 140 East Market Street in Akron. Fee is $10. Call 330-376-9185 for more information. -- Cris Glaser
If They Only Had a Brain
SAT 10/15
The only things that frighten us more than clowns are scarecrows. We still can't watch The Wizard of Oz without curling up into a ball and whimpering. So imagine the horror when we learned of Saturday's Scarecrow Picnic. Turns out it's just a workshop on stuffing scarecrows and carving pumpkins. And little ones can make mini-scarecrows to take home. It happens from noon to 2 p.m. at the Botanical Garden, 11030 East Boulevard. It's free with paid admission -- $7.50 for adults, $3 for kids; call 216-721-1600. -- Michael Gallucci