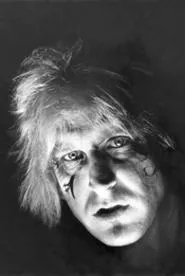 Altar ego: Lou Vogel, still bearing the scars of Catholic education.
Sitting in the loft space of a commercial building in the Flats that numerous local musicians and artists call home, Lou Vogel is assessing a performance that's gone awry. Vogel, who plays keyboards with Quazi Modo (and occasionally sits in with local acts such as Cobra Verde, the Hurricanes, the Tellers, and the Chargers), has played a handful of shows as Louberace. As Louberace, Vogel paints his face to look like a primitive Phantom of the Opera, teases his bleached hair into a Rod Stewart-like 'do, and puts on the wackiest outfit he can find.
When he performed at the Beachland Ballroom a couple of months ago, he had several organs and pianos, as well as a fake confessional booth that he turned into a shrine where female fans could worship at his feet. For this show in the Flats, he's taken over the building's elevator shaft, which he decorated with black garbage bags, white sheets, an American flag, and a couple of black lights. The music sounds like organ music you might hear at a roller rink, only with an acid-rock twist to it. If you listen closely, you can hear bits and pieces of rock songs by former Yes keyboardist Rick Wakeman (whose 1973 release The Six Wives of Henry VIII is an inspiration) and Booker T. Jones (who made the organ the central instrument on Green Onions, an album his band Booker T. & the MGs released in 1962). And then there are the Louberace originals -- like the one he calls "Key of F" because of its repetitive chord progression -- but because he plays only the parts of the songs he likes, it's often hard to make out the difference between Vogel's own material and the covers he plays.
"The goal is to pick up a song and put my own twist on it," he explains.
The show at the Beachland mystified the audience, but the anticipation here, at an informal fashion show hosted by local clothing company More Than Mammal, is high, and a crowd has gathered when Louberace starts playing. But the discordant music quickly drives nearly everyone away. Although it's tongue-in-cheek, there's something dark and menacing about Louberace; even the duo of roller girls who wear tight shorts and spin in circles while he performs aren't enough to keep the audience's attention.
"That didn't go so well," Vogel says afterward, still wearing the red "spacesuit" in which he performed. "I've done enough dumb things in front of people that they're gonna come watch." But to encourage them to stay and listen, "I want to get a bass player and drummer to get a real R&B background, like a Booker T. type of thing. Maybe have a soulful female singer. There's a market for it."
Louberace performs again later that night, closer to 3 a.m., and while the party is still going strong, only a handful of patrons come to watch. Someone bangs a tambourine and dances, but the enthusiasm for Louberace isn't there. He stops, citing his tired hands, and goes to another room where loud dance music is playing and finds a dance partner whom he twirls around in some kind of half-ass ballet.
A product of Holy Cross, a Catholic grade school in Euclid, Vogel was always the class clown. He would pull stunts like getting the entire class to jump out the window to hide from the teacher. As a result, he wasn't popular with his instructors.
"Those teachers fucked with me," he says, admitting that the organ music he heard in church has been a major influence. As some form of revenge, Vogel plans to put on a show called "Nunzilla," in which a group of women clad in nun habits would sing backing vocals while he plays church music on the organ. "Those nuns were so scary. That's why I think they'll make the best horror show."
Often so drunk at shows that he falls off the stage, Vogel is known for his unpredictable behavior -- even when he's not performing. When the Descendents played at Nautica four years ago, Vogel went to the show on a mission. He had read an article in which the band -- which was then touring in support of an album called Everything Sucks -- said the true punk spirit didn't exist anymore. Vogel was out to prove them wrong -- he urinated on the stage while the band was performing and had to be dragged out of the venue by a couple of bouncers.
"I wanted to tell the band what I thought, but I couldn't," he recalls. "So I found another way. The cops carried me out with my dick hanging out. I was still pissing."
Since Vogel's performances as Louberace are often spur-of-the-moment, he's not sure when he'll be playing next. But he's plenty busy. He says he's working on a screenplay about vampires who worship the sun (they use tanning beds as their coffins), and he's got plans to record a Louberace single. He's also hoping to play more with King Nixon, a local group that features ex-Dead Boys guitarist Jimmy Zero and ex-Pere Ubu guitarist Jim Jones.
Ultimately, Vogel says he's really just doing the Louberace thing because he's bored. But you can bet that, in the punk tradition, he'll keep playing, even if the crowd doesn't like him.
"That's what's cool," he says. "When you go play where you're not wanted."