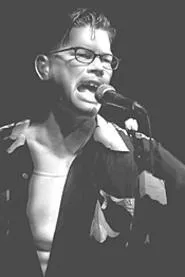 Slammers compete for a trip to St. Louis.
SUN 5/30
Sunday's Citywide Cleveland Poetry Slam Championship gathers 10 champs from the past year's worth of local slam-poetry contests. The top four placers get to represent Cleveland at the National Poetry Slam in St. Louis in August. "This is the big kahuna," says organizer Michael Salinger. But don't place any bets. Salinger says that each of the competitors has a chance of snagging a spot. "It's a good opportunity to take a handful of poets and ship them out of Ohio," he offers. Get ready for some poetic beatdowns (and hamburgers) at the Beachland Ballroom (15711 Waterloo Road) at 7. Tickets are $15 (which includes a picnic buffet); call 216-383-1124. -- Michael Gallucci
Ragin' Romance
MON 5/31
DJ Russ Romance plays music fast and loud at Punk-n-Pie, a free all-punk program that happens every Monday. "There are no fancy mixing tricks," Russ says. "When Pabst's a buck, getting records cued up in the dark is enough of a challenge." It starts at 7 p.m. at Capsule, 13376 Madison Avenue in Lakewood; call 216-227-7853. -- Melody Caraballo
Are You Going?
SUN 5/3
Apollo's Fire's lively Scarborough Fayre proves that not all 16th-century music is boring. "It's on the lighter end of what we do," says the group's Yvonne Frindle. Hear for yourself at 3 p.m. Sunday at Baroque Music Barn on Chagrin River Road in Hunting Valley. Tickets are $50 to $75; call 216-320-0012. -- Cris Glaser