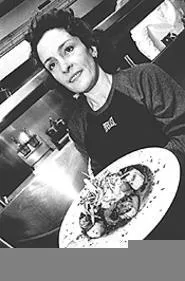 Karen Small with one of her artful creations.
Slipping through the doors of Karen Small's Ohio City restaurant, Flying Fig, is like entering a cocoon of good tastes. Sparsely decorated walls, painted the earthy colors of herbs, wild mushrooms, and sundried tomatoes, soothe the eye while stimulating the palate. Rich, meaty aromas caress the olfactory sense. And the foods, an eclectic blend of American, Asian, and Mediterranean flavor notes, wash over the tongue in wave after wave of complexity.
Open only since early September, the restaurant is indeed a Small culinary wonder, a spot where nearly everything comes together so easily, and deliciously, that a meal here can almost seem like a tiny work of art.
Not that there is anything stuffy or coy about the Flying Fig. Long and narrow, with a lengthy bar leading into the medium-sized dining room, the restaurant has a bustling, urbane air about it that reminded at least one of my companions of Greenwich Village eateries. With its full house of hipsters, foodies, and folks just counting on a great meal, the energy level (not to mention the noise level) is palpable, and the atmosphere is authentically exciting.
Much of the sense of welcome comes from the waitstaff, a group of smooth, friendly operatives who have mastered the art of providing attentive yet unobtrusive service. Even on a busy Saturday night, we were allowed to both linger over cocktails and chatter over coffee and dessert, while courses appeared, plates were cleared, and water glasses were refilled efficiently.
Small's one-page menu undergoes daily as well as seasonal permutations, although certain items, like Crispy Duck Ravioli, make frequent appearances. Nonetheless, garnishes, sides, sauces, and preparation techniques may vary, depending on what looked good at the market that morning, and on the state of Small's imagination. Prices are fair, with most entrées checking in at less than $20. An assortment of homemade breads gets diners off to a grand start; housemade desserts make for a sweet ending. And some dishes, like a platter of French cheeses (part of the bounty imported by Paul Minnillo, chef/owner of the Baricelli Inn), accompanied by assorted fruits, breads, and wafers, are seldom seen on area menus, but are a welcome addition to the local dining scene.
During our most recent visit, tasty starters included Sweet and Spicy Glazed Chicken Dumplings: four fat little pasta pillows filled with ground chicken in a light, sweet, broth-like sauce that sparkled, but did not overwhelm, with the flavors of ginger, sesame, and red chile oil. The dumplings were set off with a colorful stir-fry of bok choy and red peppers, although the shiitake mushrooms mentioned in the menu's description of the dish had apparently been overlooked.
Two salad selections -- the Wild Greens and the Coriander and Black-Pepper Roasted Pear -- were very good. The first, dressed in a bright but subtle roasted tomato vinaigrette, included plentiful sliced kalamata olives, thinly sliced rings of pickled red onions, and creamy, organic feta cheese, as well as a nice selection of impeccably fresh greens. The only misstep was the presence of a large, impenetrable crostini -- a slice of toasted bread that was so hard and dry that we could not dent it with tooth or fork, and eventually resorted to flinging it aside. The second salad featured mixed greens in a fruity port vinaigrette, sided by a fan of warm roasted pear slices that had been subtly touched with coriander and ground black pepper, and topped with a generous sprinkle of robust Maytag blue cheese. A wonderful mélange of flavors and textures, this salad was an unconditional delight.
In our breadbasket -- actually a napkin-lined white stoneware bowl -- we found slices of dense potato bread, caramelized onion bread, tomato-topped focaccia, and vaguely sweet raisin and walnut bread, served with a bowl of light, fruity olive oil seasoned with freshly grated Asiago cheese and herbs. The olive-oil blend was a nice complement to the savory breads, but seemed ill suited to the sweeter raisin bread; we requested real butter for those slices and were pleased with the results. But if we encountered a few flaws in some of the earlier courses, those oversights were more than remedied by the delicious main events. Small's menu this evening contained only 11 entrées, but each sounded so luscious that it was hard to make a decision. But there is, after all, only so much that one (or four) can eat. We reluctantly passed up the rich penne with smoked chicken, arugula, cream, and Fontina cheese, as well as the Mediterranean-inspired Chicken Tagine with Israeli couscous, and instead decided to sample an assortment of fish, beef, veal, and pork dishes.
Yet once we were served, we were happy with our choices. Horseradish-crusted, pan-roasted sea bass was tremendously tasty. Beneath its delicately seasoned crust, the glistening fish filet was moist and melt-in-the-mouth tender. The sea bass rested on a massive portion of creamy, garlic-scented mashed potatoes, as well as roasted asparagus, carrots, and earthy, slightly bitter turnips. A modest amount of red-wine reduction sauce ringed the dish, pulling all the complementary flavors into a complex and comprehensive whole.
Three thick, succulent tenderloins of grilled veal, on a barley and oyster-mushroom risotto, ranks among the best veal dishes we have ever encountered. The medium-rare meat was superb -- tender and delicate but unmistakably flavorful, with its natural sweetness set off by the grill. Beneath it was the barley risotto, with a delightfully firm texture and layers of flavor from the oyster mushrooms, the veal jus, and more of those deeply roasted vegetables. On the side, a bit of sweet-tart cranberry chutney blended with the other, more savory flavor notes, again producing a sumptuous overlay of taste.
Likewise, a grilled New York strip steak was an excellent piece of meat: tender, beefy, and full of flavor, even before a topping of roasted cippolini onions and melted Great Hill blue cheese brought it to a whole new plane of richness. Creamy mashed potatoes and roasted vegetables rounded out the satisfying-and-then-some dish. Our final entrée selection, a grilled long-boned pork chop in a fruity "Asian BBQ" glaze, was good, if not spectacular. Our pork eater ordered the chop cooked "medium," and the kitchen pulled off the notable feat of delivering it juicy, moist, and bursting with flavor, despite its thorough grilling. A side of braised greens was also perfectly done and added a nice counterpoint of crispness. However, we thought the assertive flavors found in an otherwise-tasty serving of Tex-Mex-style corn-and-green-chile bread pudding, which accompanied the meat and greens, just didn't mesh with the more delicate quality of the other items on the plate. As a result, the dish failed to reach quite the same heights of perfection as the others that we enjoyed that night.
Just as it caters to carnivores, the Flying Fig's menu offers plenty to tickle a sweet tooth. A generously sized Caramel-Walnut Tart was outstanding, with plenty of gooey nut filling in a rich, chewy pastry crust settled on a puddle of thick cappuccino-flavored custard sauce and topped with a dense cloud of real whipped cream. A big block of Bittersweet Chocolate and Dried Cherry Bread Pudding was also yummy: Moist, tender, and flecked with bits of chocolate and pieces of dried fruit, the bread pudding was nicely accented with a smooth, eggy custard sauce. Premium ice creams from Cleveland's Honey Hut -- including its signature Honey Vanilla -- offer an alternative to the freshly baked goodies.
We were also pleased with our cheese plate, an assortment of creamy French cheeses including wedges of delicate Reblochon; smooth, piquant Jacquin Chabiquet goat cheese; runny L'Edel de Cleron; pungent, organic aged Munster; and silky Camembert. The addition of one or two hard cheeses would have made the platter seem even more European, we thought. Slices of crisp Northern Spy apple, perfectly ripe pear, and raisin-walnut bread, as well as two different types of wafers, accompanied the cheeses and made a tasty dessert for the two of us who shared it. The cheese platter would also serve as a fine appetizer or light dinner, especially when accompanied by a selection from the restaurant's wine list, which includes single-glass pours and an even better international collection of reds and whites by the bottle.
(When the restaurant opened in late summer, Small limited her markup to $8 over the state's minimum retail price; now, the markup has risen to $10, but in an arena where many restaurateurs more than double the retail figure, the wine list still contains a number of fairly priced choices.)
After years of having to choose between stuffy, overpriced "special occasion" spots and the neighborhood greasy spoon, Cleveland diners now have a wealth of hip, casual, and top-quality restaurants to relish. Amid this abundance of culinary gifts, there are few that rise to greater heights -- in ambiance, service, and food -- than Flying Fig.
Elaine T. Cicora can be reached at ecicora@clevescene.com.