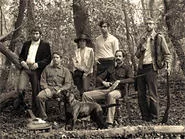 Everyone eyes each other nervously as I descend the stairs into the Six Parts Seven's practice space, the basement of guitarist Allen Karpinski's house. The area is just about the size of a ticket box office, barely accommodating six people with instruments. If someone didn't shower, you'd know it -- but the concern here isn't the B.O.
"We spent so much time working on Richard Buckner's stuff, we haven't learned our own," explains keyboardist Steve Clement, loading up his gear.
The Kent instrumental sextet will be the backing band of singer-songwriter Richard Buckner, a critical darling whose gruff voice has graced eight albums of folk and country-rock. This is the first time he's toured with so much as a drummer in a dozen years.
The band's excited, but unfortunately the snow has played havoc with its pre-tour schedule. Guitarist Tim Gerak tried to see the doctor about his unsightly fingers (they're swollen like overripe fruit), but the office had closed. Other nagging duties and tasks were also waylaid by the mid-February storm, forcing the band to scrap one of its two nights of practice before tomorrow's departure. Needless to say, the obligatory eve-of-tour anxieties have multiplied.
"[Buckner's] a really laid-back guy, so he said, 'You can arrange the songs however you want. They don't have to sound like they do on the CD. I trust you. Do whatever you want to do.' To the point where it freaked us out a little bit," admits Allen.
Relocating upstairs to the kitchen, we're down to just Gerak, Allen, and Allen's brother and SP7 drummer Jay Karpinski. Everyone looks exhausted. Buckner drove in from Brooklyn a few days ago, and they all spent the entire day in Parish Hall running over the songs.
"It really gave us a chance to stretch out and play some things that are different and really wouldn't work in the context of Six Parts Seven," says Allen, sitting on the floor, propped in front of the stainless-steel fridge. "Hopefully, the Richard Buckner fans out there will appreciate what we're doing with his songs."
Their own album, Casually Smashed to Pieces, came out at the end of January. And unlike many of their instrumental peers, it isn't an exercise in dynamics. There's no fuse connecting a quiet beginning to an explosive climax, and no rails for neck-snapping turns. The music is best described as creamy, bright, and expansive, buoyed by melodies desperately missing from other vocal-less acts.
"I honestly identify more with the different singer-songwriters out there, just because the whole point of music to me is to create a mood, and you can do that with or without vocals," Allen says.
The interplay of guitarists Allen and Gerak keys the sound, as they don't play chords, but let the musical figures rise from twin-guitar lines reminiscent of New York acts Band of Susans and Television. Though the guitar parts intertwine like vines, their creation isn't planned. "When we're together, we just know how to complement each other," says Allen.
While generally dismissive of comparisons made with other post-rock acts, what the guitarists cite as their true touchstone may be surprising. "More than any instrumental band, Richard Thompson has an influence on us," offers Gerak.
Allen explains how their sixth full-length album showcases a slightly different approach. The idea was to create something more upbeat. The introduction of brass and woodwinds contributes to Casually's warm pop air. And whereas prior albums were conceived of as whole pieces of music, this one is episodic and song-driven.
"We would just start at Point A and end up at Point B," explains Allen. "This time there is more repetition of parts, and we thought more about how to write a hook."
But Allen doesn't much care if the change is too subtle for listeners -- a complaint he's been fielding since 2000's Silence Magnifies Sound.
"There's a lot of criticism floating out there that our records don't change that much from album to album, that the music becomes a little more refined and nothing else," Allen says. "And I kind of agree with that -- but I just don't have a problem with it."