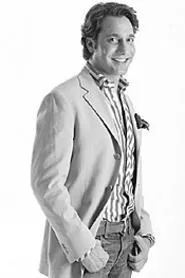 Thom Filicia: Straight talk from a gay guy.
If we were to follow a whole Beatlesque analogy with
Queer Eye for the Straight Guy
's Fab Five, then fashion fop Carson is take-charge leader John, groom-master Kyan is cute-one Paul, and culture-vulture Jai is oh-so-disposable Ringo. Which leaves foodie Ted and interior decorator Thom as the group's go-to utility guys -- like George. They're the quiet ones, the fellas who get things done.
Thom Filicia doesn't mind. His job is to make better men of the straight guys on the hit Bravo show. "I'm pretty accessible and easy to talk to," says Filicia, who appears this Saturday and Sunday at the NARI Home Improvement Show. "And I think my work on the show reflects that."
Filicia, a New York native who is head of his own design company, says Hip Tip No. 1 for renovating is simply understanding what it is that you're trying to do. "People have to have the confidence to make the first step," he explains. "It's not just about getting tips from other people. It's about figuring out what ideas are appealing to you. It's about empowering the individual to move forward."
Though he prefers clean and minimal surroundings -- what he calls "classic simplicity" -- Filicia decorates differently for himself than he would for clients. "I design for the architecture, the location, the person, and the age of the person," he says. "It has to be appropriate for the person who lives there and the people they bring into that environment."
Filicia, recently named among House Beautiful's "Top 100 American Designers," cautions against overextending yourself: Look for things in your life that you can bring to your living spaces. It's always best to let designs come naturally. "There really are no mistakes," he says. "Look inward and figure out how you live, what you live in, and how you want to use it.
"Once the ball is rolling, things will happen. Don't sit around and labor over 'What's my favorite color? They did this on this show, they did this in this book.' Don't overwhelm yourself."
He realizes that style isn't for everyone -- whether it's Queer Eye's superhairy heteros or the type of do-it-yourself weekend renovators he encounters at home-improvement shows. "It's not about people as much as it is about their situations," he says. "I don't like false realities about a certain time or place. Things should be beautiful, stylish, and interesting, but also practical, smart, and appropriate.
"[Queer Eye] is about giving people the tools to make their lives a better place. Your home is a reflection of who you are. I walk people through the steps to actually make things happen. And I like to leave people with some sort of map, so they can do the same things on their own."