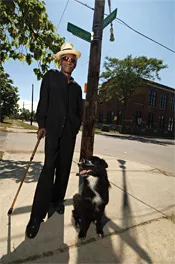 Even Mayers guide dog is cooler than you.
On his new CD, Why Don't You Give It to Me?, veteran soul man
Nathaniel Mayer
is backed by retro-lovin' rockers from the Black Keys, Dirtbombs, and Outrageous Cherry. The Detroit native cut his first single more than 45 years ago. He never really hit the big time, but he gained a cult following over the years (the fact that he hasn't recorded much adds bonus hipster points). Why Don't You Give It to Me? is smothered in scratchy riffs and grimy production, making it sound straight outta 1966. But this is no mere throwback to old-school R&B. The band (including the Keys' Dan Auerbach, playing some very dirty guitar licks) kick-starts the 63-year-old Mayer, whose ravaged voice lends the songs the weathered rasp they require.
Sat., Oct. 27, 9 p.m., 2007