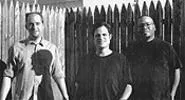 In search of Sammy: Scott Schrade, Jeff Hardy, and John Lee (from left) of C.D. Truth.
C.D. Truth singer and guitarist Jeff Hardy knows he has a high-pitched voice. Delightfully, it's not only a high singing voice, but a high speaking voice. Talk to Hardy on the phone, and you nearly want to ask, "So, is your daddy home?"
"People say it's somewhere between Mickey Mouse and [Dead Kennedys vocalist] Jello Biafra," Hardy says. "I keep waiting for it to change, but it's not doing it yet."
If Hardy's voice does change (seems unlikely; he's 32), C.D. Truth will lose the magic of his nasal, paranoid tenor. Nominally a punk band, Akron-based C.D. Truth has a British Invasion influence as well as an appreciation for modern-rock gods like Sonic Youth and the Pixies. Hardy knew he would get along with drummer Scott Schrade when they first met, because Schrade was wearing a Who T-shirt. "The Who was always a big thing for us," Hardy says. "They're kind of like the ultimate rock band. We can never get to their status, but it's fun to think about, like "What would the Who do?'"
The two met when Hardy was a member of Germ-Free Adolescence. He left the band after an awful trip to New York — their van was robbed, and they never got to play their scheduled show. "I came back and just hibernated after that," Hardy says. When his winter of discontent thawed, in 1990, Hardy and Schrade began working together. Bassist John Lee joined later.
Last year the band released its first full-length record, Seedy. Two songs with local references stand out: "I Hate Rt. 8" and "We Got the Blimp" (sample line: "Don't call it a zeppelin/John Bonham drowned in his own vomit"). Hardy says the original idea behind "We Got the Blimp" was to write new lyrics to the Go-Go's' "We Got the Beat." "We realized we really couldn't play that song that good," Hardy says, "so we played it to a jam we had been working on." The blimp song is the most heavily requested when the band plays live, but "even when we're not playing, people yell it out, like when I'm walking down the street, somebody will yell it out their car window," Hardy says.
The second half of Seedy is a sort of rock opera about "Samuel," the band's imaginary friend. Samuel started as an inside joke. If one of the band members sported a new coat, it was a gift from Sammy. If one of them was unaccounted for the night before, he was watching videos with Sammy until four in the morning. But after a series of strange coincidences, "we realized Sammy was much bigger than we originally realized," Hardy says, describing the character as "sort of a misguided prophet who has an incredible amount of luck, but who always seems to be held back by the authority powers that be."
Intelligent, funny, melodic, and a little strange, C.D. Truth is one of the most underrated rock bands in Northeast Ohio. This week, Clevelanders have two chances to see them live. Friday, September 10, C.D. Truth plays the Symposium with five other bands who appear on Sundog Records' new local music compilation. Wednesday, September 15, they play at the Euclid Tavern.
Who says lawyers are only good for burdening society with stiltedly written paperwork? Guitar slinger Mason Ruffner headlines a benefit for the Cleveland chapter of the Volunteer Lawyers for the Arts, a group that assists budding artists in the area. The VLA funds scholarships, sponsors seminars and events like the High School Rock Off, and consults with local arts organizations.
Ruffner will play at Wilbert's at the Diamondback Thursday, September 9. Donations/tickets are $25, though we hear the cold-hearted can get in for $8. Alan Greene opens.
Robert Lockwood Jr. contributes "Bring It on Home" to Whole Lotta Blues: Songs of Led Zeppelin, which will be released September 21 by the House of Blues Music Company. Whole Lotta Blues features blues cats like Lockwood, Clarence "Gatemouth" Brown, Magic Slim (with Billy Branch and James Cotton), and Joe Louis Walker recreating the muddiest moments from Zep's hallowed catalog.
Are you a musician who dreams of one day playing the Nautica Stage? It might help to befriend a big-league ballplayer. The Cleveland Indians are flying in the inconsequential Magic Bus, the Seattle band team members jammed with while in town to face the Mariners, to play Nautica Saturday, September 18. Yes, the Indians are home (dueling with the dreaded Yankees, no less), so expect to see Mark Langston and Richie Sexson assisting on guitar, Omar Vizquel on drums, and Jim Thome on some unobtrusive percussive instruments. Ticket sales (they're $10 a crack) benefit Cleveland Indians Charities.
Speaking of the Indians, Soundbites is miffed the team hasn't used one of our suggestions. Earlier this season, we remarked to someone who works in the scoreboard room of Jacobs Field that Lindsey Buckingham's "Trouble" would be a great song to play when the opposing pitcher is on the ropes. Alas, it's after Labor Day, and we've yet to hear the beautiful strains of "Trouble" on our visits to the Jake. All is forgiven if four Indians-Yankees tickets (club level, preferably) happen to find their way to the desk of a certain music editor who works at 1375 Euclid Avenue.
By our count, ten Northeast Ohio bands will perform at the College Music Journal Music Fest in New York City September 15-18. They are 7th Plague, Aloha, Cobra Verde, D'Nitra, Hilo, Ivet, Jim Greer, the Plastics, Viva Caramel, and Western Electric. Pray for enlightened performances, enthusiastic crowds, and the locks on their vans.
Becky Montegomery, who owned the Anchor Inn in Akron, undergoes delicate brain surgery September 13. Montegomery does not have health insurance, so the Iron Saddle (which is what the Anchor Inn is now called) is holding a daylong benefit concert on Sunday, September 12. Scheduled to perform are Last Call, Dejavoodoo, Jak, Jammin' Paul, Slick Willy, Overdrive, and Blizzard of Oz . . . Hip-hop band Jaymeer hails the release of its first CD, Who's With Us, Saturday, September 11 at the Sports Page in Canton . . . We often receive materials from out-of-town acts whose names bear a striking, if not exact, resemblance to the names of Northeast Ohio bands, but this one particularly caught our attention. Last week we obtained a CD from an electronic artist in Toronto named Dean Williams. He performs under the name Quasimojo — not to be confused with Cleveland garage rockers Quazimodo, who also just released a new CD, Magnavox. — David Quasimartin
Send local music info and the pipes of Pan to dmartin@clevescene.com.