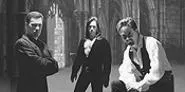 Midnight Syndicate: Dark in a Danny Elfman sort of way.
Ed Douglas's Willoughby Hills apartment looks normal enough. He's got framed Ansel Adams prints on the walls and pictures from his wedding on the entertainment center. But once you step into the room called "The Lair," you realize Douglas, who hosts an '80s metal show on WJCU-FM/88.7 on Friday afternoons and plays in the Goth group Midnight Syndicate, has a serious dark side. Black light illuminates the posters on the walls of the bedroom- converted-into-a-studio, where he has been writing and recording music for the next Midnight Syndicate album, slated for release in March 2000 (he says the mixing takes a good deal of time).
With a glowing plastic Crypt Keeper as his muse, Douglas, who also works as a shipping and receiving clerk during the daylight hours, spends several hours a week composing the dark orchestral music Midnight Syndicate plays. This year, the group is cashing in on the haunted house market, and its 1998 album Born of the Night is being used as the theme music for haunted houses at Universal Studios, Busch Gardens, and Cedar Point. Sound cheesy? Douglas couldn't be happier.
"My parents called me from Universal Studios and said that, when you go to buy tickets for their haunted house, you can hear our music blasting," he says. "And when you go down Main Street, you can hear it too. They called me from a pay phone and held it up so I could hear the music. I wish I could go down there. I'm a huge fan of that park."
Initially, Douglas, who learned to play organ as a child, was interested in film. In 1996, he made a straight-to-video film called The Dead Matter, but discovered that he liked doing the music for the soundtrack more than the actual filming. As a result, he joined up with Gavin Goszka and visual artist Joseph Vargo (who does all the band's artwork and runs his own company, called Monolith Graphics -- his website is www.monolithgraphics.com) to form Midnight Syndicate, which released its first, self-titled album in 1997.
With everything from rockabilly to pop, Midnight Syndicate is all over the map -- most of the vocals are so hokey, they're laughable. But with Born of the Night, Douglas concentrated on exploring a Gothic theme -- specifically, a haunted castle. The music, mostly Danny Elfman-like instrumentals (think Beetlejuice), even got airplay on both new age and classical radio stations. Douglas says the next album will be set in a "village by the sea," and the fourth album, for which he has already started writing material, will be about an asylum. He's not ashamed to admit that dark castles and gargoyles give him goosebumps.
"I myself am a Goth," admits Douglas, dressed casually in blue jeans and a black T-shirt. "I don't always dress the part, but that's where I get my inspiration -- from all the Gothic imagery and literature. My favorite band is Sisters of Mercy. I don't have a problem with the whole Goth thing. There's lots of different things that are classified as Gothic. Some of the new Gothic music sounds really poppy, and I guess the lyrics are the only thing that make it dark or spooky. The way we look at it, Midnight Syndicate is as close to traditional Gothic as you can get -- classical music with gargoyles and castles and stuff like that."
While Midnight Syndicate rarely plays live -- it did one show last year at Cabaret Dada that involved film footage and live actors -- that hasn't stopped the band from developing a cult following. Last year, the group sold over 2,000 copies of Born of the Night in Ohio alone (Douglas estimates total sales at 13,000) and sold the disc in 44 states and five countries. For ordering information, consult the band's website (www.entityprod.com). The band will be signing copies of Born of the Night and meeting fans at Borders (30121 Detroit Road) in Westlake on Sunday, October 17, from 3 to 5 p.m. While Midnight Syndicate gets plenty of attention during Halloween, Douglas maintains that the haunted house contingent is only one part of the group's fan base.
"I don't know if there's any other Gothic band doing what we're doing, which is movie soundtrack orchestrated music with sound effects blended in," he says. "You have that with industrial music or techno, but not straight out. It works as really good atmosphere music -- it's not just for Halloween. People write us letters telling us that they come home with their girlfriends, light some candles, and put on the CD. That's exactly what it's about -- closing your eyes and letting the music take you to a castle."
· · ·
Rick Kennedy and Randy McNutt, authors of the book Little Labels -- Big Sounds: Small Record Labels and the Rise of American Music, will be in town to give a slide presentation and lecture at 2 p.m. on October 17 at the Rock and Roll Hall of Fame and Museum. In Little Labels, Kennedy, a media relations manager, and McNutt, a reporter with the Cincinnati Enquirer, put meticulous care into uncovering the history behind independent labels like Sun, Gennett, and Dial Records. While noting that most label owners were white and most recording artists were black (Gennett even pressed records for the Ku Klux Klan), Kennedy and McNutt fail to draw any conclusions about the racial politics of the music business. They even sound apologetic when writing about Dial Records owner Ross Russell, who has been widely criticized for his treatment of jazz great Charlie "Bird" Parker. Soundbites hopes that, with the assistance of slides, they'll be better able to make an actual argument about their research and not just reminisce about the so-called glory days of little labels and big sounds.
· · ·
Loud-mouthed hecklers take notice: By sheer coincidence, two local bands will be recording their shows here this week for future release as live albums. Joe Bell and the Swing Lizards will be recording their performance at the Savannah in Westlake on October 15. The resulting live album, scheduled for release in the spring of 2000, will also feature several cover songs. The Cowslingers will also be recording a few area performances for future release as a live album that will be issued in Spain on Rock N Roll Inc. and domestically by Drink N Drive Records. They'll record their show at the Grog Shop on October 15, as well as gigs in Cincinnati on October 16 and in Champaign, Illinois, on October 23. The CD will be released in March of 2000. Who knows? If you shout loud enough to make it onto the final cut of either album, you might just become famous, like that guy who yelled "Judas" when Bob Dylan played electric for the first time. -- Jeff Niesel
Send local music info and black eyeliner to jniesel@clevescene.com.