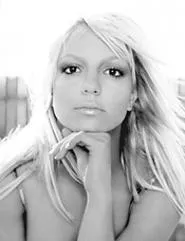 Girl, you'll be a woman soon: Britney blossoms.
She could just as easily be the girl next door. Talking excitedly about her life, calling herself "dorky" when she stumbles over her words, prefacing many of her comments with "honestly," and munching on a bag of potato chips, Britney Spears is surprisingly casual for a 19-year-old who's sold 40 million albums, written two books, hosted
Saturday Night Live
, signed the biggest soft-drink endorsement contract since The Gloved One 15 years ago, and is about to release her third album, do her first HBO special, and star in her first film.
"I trip and burp and fart, just like everybody else," Spears laughs with an ease that suggests she doesn't take herself too seriously. The teen superstar is growing up, a fact she references in "I'm Not a Girl, Not Yet a Woman," one of the songs on her new album, Britney.
"To me, 'not a girl and not yet a woman' means someone who hasn't experienced life to the fullest potential yet and is still growing," Spears explains. "A woman has grown and gained all the wisdom she needs. She knows herself in and out. I think I'm kind of right in between there. I'm on the verge of being a woman."
Brimming with Southern charm and wielding a body that sizzles like the sun in her native Louisiana, Spears is, for some men, the feminine ideal. But she's also been somewhat embattled in her two-and-a-half-year run atop the charts. First, there was the heated debate over the authenticity of her breasts. Then, there was the controversy that erupted in the wake of Spears's flesh free-for-all at the 2000 MTV Video Music Awards -- and the fact that shock-rocker Alice Cooper has taken to lampooning Spears during his concerts.
"I just have to laugh it off when stuff like that comes up," Spears says. "I find it interesting that they find me so interesting."
In that regard, she's much like her spiritual forebear, Madonna -- a noted Britney fan who's had her own public tribulations over the years. Like Madonna, Spears is attempting to blaze a path of independence and self-assertion, making Britney a reflection of her artistic growth and even penning some of its tracks.
"I couldn't do Baby One More Time No. 3. For me, I had to change it up a little bit. This album was inspired by a lot of hip-hop and R&B, going to clubs and stuff. It's music that suits me and who I am. The first single just stood out."
That track -- the slinky, libidinous "I'm a Slave 4 U," written by hip-hop horndogs the Neptunes -- is a departure from Spears's anthemic, unflappable pop. But for a singer who came to fame clad in a schoolgirl's outfit in her first video and whose coffers are filled with the allowances of millions of pubescent girls and boys alike, is Spears's move toward less buoyant, more bootylicious R&B a case of growing up too fast for her audience?
"It's not something I really think about," she says. "I don't know what I will be like tomorrow, and I don't know what they will be like tomorrow. I just do my thing. Hopefully, they will be inspired by me."
Besides, Britney isn't entirely produced by heavy-breathing hip-hoppers. Other producers and writers on the album include the more pop-savvy Justin Timberlake, Max Martin, Wade Robson, and Rami and Rodney Jerkins. Songs range from "What It's Like to Be Me" and "Overprotected" to "Cinderella" and a cover of Joan Jett's "I Love Rock 'n' Roll." Spears also sings the Jett anthem in a karaoke scene in her upcoming film, Crossroads, due in February.
"I sing that song all the time," Spears says. "It just made sense for me to do that. It's a very girl-empowering song."
Just as empowering are Spears's staggering record sales, which have made her a prime mover in the music industry. Her success has also elevated expectations for Britney to almost unreachable heights.
"It's kind of hard to top something like Oops! . . . I Did It Again [10 million-plus in sales] and Baby One More Time [13 million]," Spears says. "I'm praying this album does something like that. I put my whole self in it. When I rehearse it and get to sing songs that I wrote, it means so much more. I don't know if I'm the best songwriter in the world, but I've had a lot of fun doing it. I'm getting better, and I've grown."
Spears hopes that people who listen to her album and attend her concerts will see her in a different light.
"This music I'm singing right now is such a reflection of me," she says. "I really think people will come to the show and get a good idea of who I am. The main thing is that I'd like people to forget about their day and everything going on in the world, and just have a fun time."