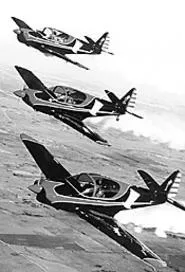 Before the advent of powered flight, most forms of air transportation involved the magic of flying carpets or broomsticks. But if it seems that all the dazzle has gone out of aviation, now that the sound barrier has been broken, don't fret. The divide between the mystical and mundane is being filled this weekend at the Cleveland National Air Show, where the
Swift Magic Aerobatic Team
will rely on a little hocus-pocus to help get its act off the ground.
"We do precision formation aerobatics and try to make it look fun," says right-wing man Dewayne Upton. "And once we get on the ground, we do magic tricks."
Performing at the Cleveland air show for the first time, the team flies World War II-era GC-1B Swift aircraft -- updated with smoke systems and larger engines -- and dresses in tuxedos and top hats. Before Upton's addition in 1991, the Swift Aerobatic Team was just another airborne daredevil show, but his fashion sense, magic act, and sense of humor gave them the edge they needed. In the air, Upton introduced a sketch in which the announcer pretends he's flying Upton's aircraft via remote control.
"Obviously, he doesn't drive so well," says Upton. "We're on the PA system the entire time, and he's telling me he's doing the best he can, and I'm telling him he's going to kill me -- and, you know, it all goes downhill from there."
After performing their aerobatic maneuvers, Upton, left-wing man Lowell Sterchi, and Captain Michael Kennedy then employ "a little misdirection and illusion" as an analogy to teach youngsters about flying.
"People are told that what we do is too hard," says Upton. But he figures everyone knows magic is an illusion, making it the perfect medium to demonstrate that even the "magic" of flying is easy, once you know the trick. "I like to show young people that we're not doing anything they can't do."