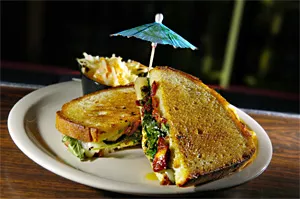 Grilled Cheese No. 4, stuffed with arugula, pesto, and sun-dried tomato, is a No. 1 hit.
It's a blustery Saturday night in Akron, and Main Street is so empty, you could heave a bowling ball down the middle of it without striking a single soul. It's the kind of frigid night that calls for cozy shelter, someplace where the service is warm, the beer is cold, and at least the remnants of that $20 bill folded in your pocket may survive to see another day.
So zip up your coat, pull on your mittens, and shiver your way into The Lockview, Danny Basone's friendly restaurant and bar inside his former indie-music venue, The Lime Spider.
Drummer, sound engineer, and entrepreneur, Basone closed the six-year-old Spider in September, after break-ins, declining biz, and a few too many 80-hour workweeks. Still, the gregarious owner needed a place to party with his peeps, and as everybody knows, "Ya gotta eat." Thus emerged the concept for The Lockview, an unpretentious eatery that debuted in November after a flurry of remodeling and redecorating.
Gone are the stage, the room-length bar, and the up-and-coming indie bands. In their place are snuggle-worthy booths, black tablecloths, and crimson oil lamps, along with strings of lights dimmed down low — infusing the shoebox of a space with the feel of a 1950s picnic pavilion.
A vintage terrazzo floor, a jukebox filled with hits, and a flat-screen TV, tuned to the Food Network, add to the homey vibe — a friendly feeling that the eager servers do nothing to dispel.
There's still a bar, of course — although now it's just a 16-seater. Behind it, a blackboard recounts the rotating list of 12 beers on draft, including brews like Stella, Sam Adams White Ale, Bass, Guinness, Blue Moon ($4), and Rogue Hazelnut Brown ($4.50). Another 100-or-so beers are available in bottles, and Basone is working on a wine list, a mix of familiar and not-so-familiar labels at prices rarely pushing the $30 mark.
An icy night like this, though, somehow calls for bone-dry martinis — Bombay Sapphire, up, olives — which arrive at the table well-made, generously poured, and priced at a reasonable $7.50.
Plus, if you aren't usually a martini gal or guy, you might be surprised at how well they go with the above-average bar noshes — freshly made, deep-fried tidbits like the slim, chewy sweet-potato fries; the panko-crusted croquettes of mashed spuds and cheddar cheese; or our fave, deep-fried mac 'n' cheese slabs, all crisp and golden outside, rich and moist within. A dipping portion of sriracha-spiked ketchup on the side helps crank up the heat.
We also find simple comfort in generously sized crocks of homemade soup — a bright but creamy tomato soup and tonight's bowl du jour, hearty corn-and-potato chowder — served steaming hot.
Equally soothing is the house specialty: grilled-cheese sandwiches in nine assorted guises, featuring such savory options as goat cheese, pepper jack, pesto, and pepperoni, and slowly griddled on the flattop to perfection.
It doesn't take a five-star chef to make a great grilled cheese. On the other hand, it does take someone who gives a damn about the details: high-quality cheese, artisanal breads, an even melt, a golden crust, and that irresistible confluence of butter and salty snap. Happily, that's just what the kitchen delivers.
Consider the No. 4, a mellow melding of mozzarella, arugula, pesto, and sun-dried tomato spread on thick slices of buttered, parmesan-dusted Italian bread, grilled to amber goodness. Or the No. 6, an autumnal grouping of cheddar, grilled apple slices, and bacon, served on hearty slabs of chewy pretzel bread.
The menu gives a nod to non-cheeseheads too, with items like a (slightly dry) panko-crusted chicken sandwich, mini-meatball sliders, and the Lockview Burger, a one-third-pound beef patty perked up with garlic, Worcestershire sauce, brown sugar, and Dijon mustard. And for the non-carnivorous crowd, there's a hummus-and-veggie-stuffed pita, the ubiquitous garden burger, and several ample salads.
Sweet endings are rarely the forte of casual restaurants-cum-bars, and that holds true at The Lockview, where dessert is nothing more exotic than a pair of Pop-Tarts — warmed on the flattop, drizzled with raspberry sauce, and dusted with crushed hazelnuts. I sneer when a companion insists we order some, but surprise, surprise: Maybe it's just the martoonis talkin', but after a dinner of tomato soup, crackers, and a grilled cheese sandwich, those faux pastries taste remarkably "not bad."
Three months after opening, Basone is still tinkering with his concept, adding a few new sandwiches, knocking off an underperforming salad or two, and making plans to relaunch live music — probably a mellow jazz band slated for every other Saturday. That may not be enough to lure back the indie crowd. But for anyone seeking winter's solace, The Lockview could melt your heart.