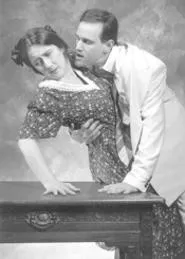 Sandy Kosovich and Tim Koles make do with watered-down Williams.
Those who delight in perverse oddities can't afford to forgo the Willoughby Fine Arts production of
Spring Storm
at the Corning Theatre. Seeing this early Tennessee Williams writing exercise is much like viewing the embryo of a future genius.
Wunderkinds rarely pop out of the shell with full plumage. To prove this, there are warehouses full of unearthed juvenilia. Here, tender young seedlings, destined to bloom into greatness, cohabit with the weeds of callow youth and inexperience.
Williams, who became the 20th century's most passionate, verbally gifted, and self-obsessed playwright, spent his apprenticeship dredging up the bromides of '30s pulp, including the purple masochism of Warner Brothers prison epics and the florid passions of True Romance magazines.
In writing his early works, Williams (referred to as "the Glorious Bird" by Gore Vidal) detoxed himself of the minutiae of the outside world so he could spend the rest of his career tapping the pure neuroses of his own psyche and family history.
He wrote Spring Storm in 1937 (when he was still known as "Tom") for a playwriting class at the University of Iowa. Later in his memoirs, he would relate how he stupefied his classmates with his hominy-accented recitation of the amorous travails of the impassioned Heavenly Critchfield, a blue-blooded daughter of the Southland, the first to wage his relentless battle between flesh and spirit. After the reading, his bemused professor's only comment was: "I suppose everyone needs to paint his nudes."
Considering that Williams, who spent his career recycling his plays, kept this youthful indiscretion locked away with his old jockstraps, one can only conjecture that its present reemergence would find him howling with embarrassment in the hereafter.
Written before the Master learned how to control the flow and intensity of his magnolia-scented hysteria, it has moments that are unintentionally funny. On the other hand, there are also traces of Williams's special brand of insight and compassion.
Every character in the play is an archetype of a later, greater Williams creation. The cumulative effect is one of such overwhelming contrivance that it can be best imagined as some strange form of Southern Gothic board game: First, spin the Mendacity Wheel and send Depraved Maggie the Cat figure four spaces into the arms of Gentleman Caller. Spin again and next player moves Repressed Miss Alma spinster figure onto the square of Sensitive Poet. Pick a card. Poet is instructed to get drunk and indulge in a fit of self-loathing; devastated spinster throws herself under train. Next player takes turn and sends Kowalski figure two spaces ahead to life of aimless wandering. Next move sends Genteel Old Family into bankruptcy. One more turn sends Blanche token three spaces into trap, where she loses both her suitors and is sentenced to a life of frustrated spinsterhood on the front porch, with Kindness of Strangers just over the horizon. Game over.
Even on a Ziegfeld budget, with magna cum laude graduates of the Royal Academy of the Arts to fill the ranks, the evening could be little more than a bizarre hallucination to satiate the esoteric whims of the Glorious Bird's most ardent disciples.
Director Lenny Pinna, until now, has been known for his gossamer touch when dealing with works chronicling the disenfranchised. Here, along with his technicians, he is overwhelmed; they cannot answer the riddle to defeat this sphinx of a play, which is as much a lost artifact as grandma's snood and as pixilated as Arsenic and Old Lace's Brewster sisters.
Pinna sends 21 foolhardy performers unarmed into the lion's den. Among the victims, Doug Rossi tries to feign the archetypal Williams he-man by spreading his meaty thighs like the Jolly Green Giant. Marcia Mandell attempts the mellifluous spinster with little more than a pitiful chirp. Janet Shank does a resurrection number on the last bastion of Southern gentility, emphasizing the wrinkle-nosed disdain of a snooty dame smelling Limburger cheese. A half-dozen actresses are called upon to play mean-spirited DAR matrons with nothing to sustain them but attitude. Sandy Kosovich, with just a shade less cast-iron pathos, would have been ideal as the suicidal librarian.
The only undisputed victor of the evening is a golden newcomer named Meg Kelly, who has the facial planes and disdainful hauteur of a vintage Vogue goddess. She has the radiant star quality to embody all of Williams's lost Southern belles and enchanting nymphomaniacs. It is her grace that redeems this unsanctioned tomb robbery.
---
Fugitive Pieces, by Caridad Svich at Cleveland Public Theatre, is another in the Beckett tradition of surrealistic sob stories about the plight of alienated hobos. Downcast Mary, played by the ever-vibrant Ebani Edwards, is tired of being whipped for her kleptomaniac ways. Subsequently, she decides to ride the rails with Troubled John, a victim of brotherly incest. As played by Sean Booker, he suggests one of those velvet paintings of wide-eyed waifs.
The production is directed by Ann Kai with stinging Picasso imagery. It is magnificently designed with forlorn bulrushes and the suggestion of a rotting boxcar by the resourceful Oliver Söhngen. The overall impression is that of a convention of Fellini's raucous circus performers yukking it up with Beckett's cantankerous tramps.
In spite of a vibrant presentation, there's a lack of freshness in the material. We keep waiting for Godot to show up to serve a suit for plagiarism.