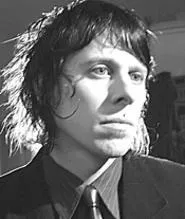 Ken Stringfellow contemplates his hectic schedule.
SUN 8/1
On his new album, Soft Commands, Posies frontman Ken Stringfellow has finally owned up to his destiny. The title, he says, states as much. "Generally, my approach to music is on the gentle side," he says. "But sometimes, something that is softer commands your attention. It draws you in." And "I'm making a joke about my possible adult-contemporariness," he adds. He's also a very busy guy. In addition to his solo career (and a summer acoustic tour), Stringfellow also gigs around with R.E.M. (he plays on their upcoming album and tour), his old band (the Posies have a new CD due next year), and the reformed Big Star. "Each one exercises a slightly different area of my creativity," he says. "They keep things moving, and I get to interact with different people. I wouldn't want to clock in to the same job every day." Stringfellow's at the Beachland Tavern (15711 Waterloo Road) at 9 p.m. Sunday. Tickets are $10; call 216-383-1124. -- Michael Gallucci
Spear and Magic Helmet?
SUN 8/1
It's not a slight on our country when Bugs Bunny on Broadway creator George Daugherty states, "90 percent of America had their first dose of classical music from Looney Tunes cartoons." It's a pop-culture fact. "The Rabbit of Seville," "A Corny Concerto," "What's Opera, Doc?" and other classic Warner Bros. cartoons will screen at the Blossom Festival on Sunday, while the Cleveland Orchestra -- under the direction of Daugherty -- plays music by Wagner, Strauss, Suppé, and others. All this, plus a frenetic piece called "The History of Warner Bros. Cartoons in Three and One Half Minutes." Says Daugherty, "I am just the custodian, re-performing these cartoons." Show time is 8 p.m. at Blossom Music Center, 1145 West Steels Corners Road in Cuyahoga Falls. Tickets range from $8.50 to $37, available by calling 216-231-1111. -- Lucy McKernan
Mighty Mouse
TUE 8/3
After toiling in hipster obscurity for a decade, Modest Mouse finally found itself in the big leagues (MTV, Letterman, and Conan appearances) with this year's Good News for People Who Love Bad News, a brilliant, scattered, and surprisingly listenable work that's gone gold. The Issaquah, Washington group was all set to play Lollapalooza this summer, before the plug was pulled on that tour. Modest Mouse is now on its own, giving Isaac Brock's fractured, stirring songs the space they deserve. Hear them at Scene Pavilion (2014 Sycamore Street) at 7:30 p.m. Tuesday. Tickets are $19.50 and $23; call 216-241-5555. -- Michael Gallucci