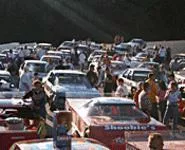 Feudin' spouses and fast cars collide at this weekend's Hawaiian Cavalcade Nationals.
10/14-10/16
Ex-spouses set aside their disputes this weekend by bending fenders at the Divorcée Demolition Derby at Lorain Speedway's Hawaiian Cavalcade Nationals. The Sunday-night race pits divorced couples against each other in cars painted black (for the guys) and pink (for the gals). "Across their front hoods are going to be their former married names," says the speedway's Tom Kurtz. "On the roof will be matching numbers, so you'll always know who was married to whom."
Besides the just-for-fun races for spectators, an estimated 200 professional racers from around the Midwest will compete throughout the weekend on the oval, 3/8-mile asphalt track. After Friday night's practice session, they'll rev up the next afternoon for 10-lap qualifying rounds. The 10 fastest drivers in five divisions then advance to Sunday's big race.
The weekend ends with the 15-lap finals; the winners split a $30,000 purse. "You show up for a party, and a race goes on," says Kurtz. "It's like NASCAR happy hour." Events start at 6 p.m. Friday, 10 a.m. Saturday, and 11 a.m. Sunday at Lorain Speedway (on State Route 58, south of State Route 113 in Amherst Township). Admission is free on Friday, $12 for adults and $5 for kids on Saturday, and $15, $5 for kids on Sunday; call 216-447-7888. -- Cris Glaser
In the Chill of the Night
Cyclists hit dark trails.
SAT 10/15
At Saturday's Last Night Ride through Cuyahoga Valley National Park, even cyclists who know the Towpath Trail like the back of their Pearl Izumi Gel Lite Gloves will discover something new. "It's a very different ride at night," says Lois Moss, co-owner of Century Cycles, which hosts the final evening trek of 2005. "It's a lot quieter. Things are still, even with deer watching from the side in the dark." The rides typically last a couple hours. And be sure to bring something to light your way. It's not only safer that way, says Moss, but "Even in the dark with a small light, you can appreciate the changing foliage." It starts at 8 p.m. at Century Cycles, 1621 Main Street in Peninsula. Admission is free. Call 800-201-7433 for more information. -- Lucy McKernan