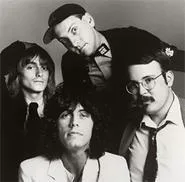 To dislike Cheap Trick is to flush your mom's apple pie down the toilet.
There exist few bands
all
rock fans embrace. But Cheap Trick has to be one of them. Not even Bob Dylan, the world's no. 1 rock deity, attracts burly metalheads, classic-rock dudes,
and
indie brats to his concerts. This, Cheap Trick has done since the late '70s, when it was marketed as new wave but toured with Boston.
Now that's populism.
Epic Records released Cheap Trick's debut in 1977. To celebrate 30 years of awesome records -- as well as more than a few that totally sucked -- four of Scene's most devoted Cheap Trick fans reminisce about their all-time favorites.
At Budokan, 1979
At Budokan served as the soundtrack for my hormonal awakenings. In the summer of 1979, I was 12 years old and attending day camp in Monticello, just north of Los Angeles.
Like scenes from the flick Meatballs, we camped, roller-skated, and flirted at pool parties, while radios in the background constantly blasted the live album's three-song centerpiece: "I Want You to Want Me," "Ain't That a Shame," and "Surrender."
"I Want You to Want Me" served as the perfect soundtrack to a session of spin the bottle, which precipitated my first serious macking session with this pretty little girl.
I was too young to appreciate the salaciousness of "Surrender," with its line about parents on the couch, "rolling numbers" and "rock and rolling." But I guarantee you I screamed along when Robin Zander crooned, "Got my Kiss records out."
That summer ended with a big dance, where I climbed on stage with three others dressed as Kiss and lip-synched those three songs for the other campers. I kissed that girl goodbye that day, and a week later, my family moved across the country.
I never saw her again, but every time I hear At Budokan, I remember that endless summer. -- Chris Parker
Cheap Trick, 1977
I once attended a Cheap Trick show for the opening band, indie-pop idols Guided by Voices. Although I was a longtime fan of Cheap Trick, my expectations were low. This was the late '90s, long after the band's heyday -- or so I thought.
Cheap Trick took the stage and taught me a lesson about the arrogance of youth. The band unleashed a torrent of mind-blowing pop rock that swept GBV and its indie desperation out to sea. Robin Zander's voice hit so hard, I thought he must be singing to a backing track.
Late in the set, Cheap Trick played "Hot Love," which reminded me of how much I love its self-titled first record from 1977. I agree with the rest of humanity: "Surrender," from Heaven Tonight, the band's third LP, is its masterpiece. But "Hot Love" along with "He's a Whore," both off the debut, approach that level of quality. Plus, they're a lot gnarlier. The melodies are shrouded in Rick Nielsen's surprisingly raw guitar work.
Zander wasn't all pretty boy either. His vocal performance on "The Ballad of TV Violence (I'm Not the Only Boy)" reminds me of Paul McCartney going nuts on "Oh! Darling." -- Bryan Charles
Lap of Luxury, 1988
Lap of Luxury is Cheap Trick's most despised record. It's the pop-metal turd of the band's discography, infamous for the fluffy single "The Flame." But the album sounded great in 1988 and still does. If I had been only a few years older at the time, spinning the record would have gotten me laid. Lap of Luxury is the band's chick record.
Whether or not the disc sucks isn't really the issue, however. Cheap Trick apparently hated "The Flame," which it didn't even write. The band recorded the power ballad, its only no. 1, in order to remain signed to Epic. Cheap Trick was in commercial free fall at the time. The '80s saw the hot-shit arena rockers devolve into total has-beens.
But Lap of Luxury sold millions and literally saved the band in the process. By the mid-'90s, Cheap Trick was untouchably cool -- a true rock icon. It recorded the theme song, a Big Star cover, for That '70s Show, and Stone Temple Pilots took the band on tour.
Next time all you Cheap Trick fanatics hear "The Flame," don't curse it -- thank it. -- Matt Wardlaw
In Color, 1977
I was a teenager in the early '90s who desired citizenship in the "alternative nation," a wave of underground rockers conquering the known universe. So I did what any American snot does when discovering a new music trend: I gutted my music collection. Goodbye Damn Yankees; hello Pixies.
Of course, the Cheap Trick cassettes were also scheduled for disposal. After all, you could hear those dinosaurs on classic-rock radio.
One day, however, I relapsed. After weeks of mainlining MTV's 120 Minutes, the propaganda ministry for my rapidly expanding nation, I retreated to my bedroom to crank something from the old world -- a budget-line copy of In Color, Cheap Trick's second record.
The sounds astonished me. What once served as the ultimate air-guitar throwdown now rocked with modern edge, like the new stuff -- the Pumpkins, the Jesus and Mary Chain, the Pixies. "Downed," my fave tune on the record, used to shake me with arena thunder. But my newly tuned ears now detected Robin Zander's brooding moan and cryptic lyrics: "I'm gonna live on a mountain/Way down under in Australia/It's either that or suicide."
Alterna-icon Steve Albini wouldn't produce Cheap Trick for several more years. Until that time, when the band became hip with indie dorks, I flew flannel by day. But at night, I turned . . . in color. -- Justin F. Farrar