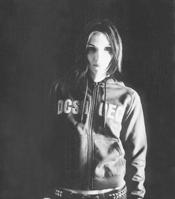 Sage: No prissy catalog girl.
For every DJ who makes a living flying from city to city to play late-night dance clubs, there must be five who never make it past practicing in their bedrooms. In fact, it can take some DJs 10 years to build a solid career. But 25-year-old San Francisco-by-way-of-Belfast resident Laura Totten, who spins drum 'n' bass under the alias Sage, is the first to admit that her career arose from an innocent flirtation with vinyl and not from extravagant dreams of jet-setting from club to club. Totten didn't even consider making a career out of rocking parties until five years ago.
"It was totally accidental," Totten confesses. "I lived with [DJs] Noel and UFO!, and they had their turntables there, and I would just mix, because why not? I mean, there were records there, there were two turntables, and it was fun."
Evidently Noel and UFO! liked what they heard. They offered Sage an opening slot at Phunckateck, their weekly drum 'n' bass residency at San Francisco's Cat's Club. She accepted, and after that first booking, the gigs just kept rolling in.
It's hard not to be amazed at such an "overnight" success story, especially given the ease with which Totten picked up the requisite skills for mixing records.
"At first I couldn't differentiate the records," she admits. "But it only took me a day or something, because all my life I was studying rhythms. So I knew the natural patterns of how things fell with music, which is what a lot of people can't get when they start DJing."
Ask her to elaborate on her musical studies, and Totten runs down a list of instruments long enough to fill a county phone book, each of which she has spent some time learning to play. She started with piano when she was 4, then took up the violin at 5 and stuck with it until she was 19, also finding time to pick up a bass guitar and get behind a drum kit while playing in punk and indie-rock bands in high school. She participated in the high school choir, as well as the school's Irish traditional club, for which she learned the wooden flute and tin whistle. Her passion for playing led her to study pop and jazz at the Northern Down and Ards College of Further Education in Belfast, focusing on drums and violin. The program even provided her first taste of electronic music production, introducing her to Cubase and some basic sampling equipment.
In 1995, only a couple of months after finishing school, she moved to San Francisco. She had always had an idealistic impression of the city, and spending a vacation there shortly after graduating confirmed her feelings that she wanted to live there. So when she got back to Belfast and found out that Virgin Megastore, where she was working, was looking for employees interested in transferring to a new store in San Francisco, she packed up and moved out right away. At first, her musical interest was invested in the punk and indie-rock scene. But she started listening to more and more electronic music and quickly made friends with people in the drum 'n' bass scene, which led to her auspicious start as a DJ.
Even after a year or two of DJing fairly regularly, Totten was hesitant about dedicating all of her energies to a career in dance music. While she worked full-time at Virgin, she was also moonlighting as a model in the San Francisco area. At the suggestion of several of her friends at Virgin, she approached an agency that could turn the modeling gig into a full-time job, and it took her on the spot. Within the first month, she had made $10,000. But even though she enjoyed the shoots, her enthusiasm didn't last long.
"The agency that I was with tried to make me into somebody that I wasn't," Totten confides. "They tried to make me into this prissy catalog girl, even though I was getting all these jobs without a book, with me just being me. And I was kind of following along with it, because I was younger at the time. But then it just started to kill me. I had to constantly get my hair cut, you know, keep my body in trim shape, like 'can't eat this, can't eat that.' Just bullshit. And at the time, I was a total tomboy, and it was just not happening for me."
While Totten's modeling experiences grew increasingly frustrating, her profile as a DJ was growing rapidly.
"I was really satisfied with the way things were going with DJing and getting out-of-town gigs," she says. "It just got to a point where I couldn't juggle two careers or two potential careers. And I was told that I had to move to either New York or London [to model], and I didn't want to go to either. I had such good supportive friends here, and I love this city. It's so creative and beautiful."
Now a resident at Eklektic, a new weekly jungle night at the Cat's Club, Sage has been living solely off of DJing for about three years and has bookings in cities around the world anywhere from one to four nights a week. In the last few years, she has made the natural progression into producing as well. While the tracks that she has finished up have been slow in finding their way onto shelves, she has records coming out on Vortex, Position Chrome, Green Label, and Skunkrock. Along with a B-side called "Rapture," which she co-produced with her studio partner, Elektra, her latest tune, "Agent Orange," is set to be the second release on the Phunckateck collective's new Phylum Recordings imprint. But despite the fact that she and UFO! -- now her fianc´ -- have built their own studio in the Haight-Ashbury house that they share with DJ Abstract, Sage has produced only a handful of tracks over the last two years.
"I am a dance-floor producer/engineer," she says quite forcefully. "I'm making tunes specifically for the dance floor. And it's because I play out so much. I was first and foremost a DJ before I really got into producing, and that's always in my head when I'm making a tune right now."
Whether or not they're geared toward the dance floor, tunes such as "Rapture" and a remix of UFO!'s "Scandalous," which was also done with Elektra, have a refreshingly organic, earthy feel. Both tracks feature breathy female vocal snippets and pulsing bass vibrations that evoke warmer, more passionate emotions.
"I honestly believe it's a female thing," she explains. "Me and Elektra like things to be really repetitive, very technoey, with small changes . . . just pumpin'. Even how we mix it down, it sounds so much different to us than it does to guys, and it makes me realize that we hear things differently from guys. I've had guys say to me, 'Oh, your bass line's too repetitive; you should make it more melodic,' but we like it like that. We feel it like that."
While some might be quick to criticize Sage for her fixation on moving bodies, she offers few apologies for it.
"It is limiting, but right now, at the stage I'm at, I realize how important it is for me to be playing all this music out and just exposing Phunckateck stuff as a whole," she says. "I think all of us are like that. We've been trying to build what we're doing for years, so there are just things that are a priority for us."