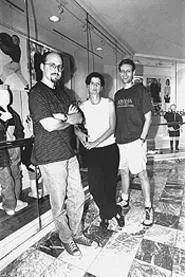 Three bards and a cloud of dust: Hansen, Morton, and Coble.
Between late August and mid-September, Cleveland theater imitates Mother Hubbard's cupboard by going bare. While nervous fund-raisers put finishing touches on their annual grant proposals, and casting directors seek likely prospects for their plays, forlorn theatergoers have little to do but wait in anticipation of the new season.
Fallow times like these have an advantage, however, in that they offer breathing space: an opportunity to take stock of the local theater scene and a chance to celebrate the talent in our midst.
To that end, we bring you three of the staunchest defenders of the Cleveland stage — Eric Coble, Sarah Morton, and David Hansen — all of whom share a strong link. They're all on the happy side of thirty, with experience on both sides of the stage. And all share a miraculous attribute for a hard-nosed sports town: They neither chant "Go Tribe" nor bark like a dog. Finally, not one of them suffers anything as mundane as a day job, earning their subsistence solely through their artistic endeavors.
It isn't the easiest thing to do in this town. "I believe Cleveland theater artists take themselves very seriously — but fear no one else does," says Hansen.
On the other hand, he adds, "This is a great time to be working in Cleveland theater. Companies are springing up like weeds, and talented actors, directors, and designers are at a premium. As a result, a lot of folks who haven't been given a second look are getting their opportunity to shine."
For Hansen, Morton, and Coble, there'll be plenty of opportunity for shining in the upcoming season. Here's a look at the major projects they have on tap:
Eric Coble: The Samuel Clemens of the Cuyahoga River uses history as a pulpit to show human foibles. Sometimes it's in the form of a fanciful near-future wasteland, as in his political Triage trilogy about the Internet. In Truth, he chronicles an ex-slave's journey from chains to triumph as a world-famous evangelist.
His latest work, Under the Flesh: The Final Descent of Edgar Allan Poe, an adaptation of several Poe short stories, started life as a children's play. In this format it has been successfully produced at several major national theaters. Taking it beyond children's theater, Coble has come up with a staggering concept that is sure to thrust Poe back into the public consciousness, much as Amadeus did for Mozart. It's an eerie piece of Gothic romanticism, a sort of Dark Shadows meets Henry James.
In the play, Poe is in a coma, hovering in a netherworld between the living and a hellish afterlife, where he plays out the grotesqueries of his fiction. His fiancée is his dark muse, resurfacing as all his damned heroines. Then there's a doctor eager to cut into Poe's brain to discover his secrets. "But," says Coble, "who will end up burying whom in this nightmarish walk with the original master of terror?"
Those who sat through this play's reading last year found themselves both horrified and enthralled. It will be presented at the Cleveland Play House for a week, appropriately the one leading up to Halloween. It's directed by Scott Kanoff and stars Laura Perottta as Poe's fiancée.
Sarah Morton: Like Coble, Morton also has a new play opening this season. In all her impressionistic works, she has a knack for dramatizing her personal demons, making them almost hallucinogenic pranksters, including a Cupid who would cut off his own wings for love. In her best creation, an interpretation of herself in The Eighth Wonder of the World, she was a female Holden Caulfield, dealing with her obsessions and turning her neuroses, à la Woody Allen, into comic Roman candles.
Her upcoming play, Thrillsville, opens at Cleveland Public Theatre's newly renovated Gordon Square Theater in May 2000. Originally commissioned by the Play House, which found it a little too thrilling for its bluehairs, the play takes place on the eve of the opening of a new amusement park ride, The Scream. The ride's designers, Percivable and Tilda Geronimo, in an effort to raise the ride's flagging "thrill quotient," end up on an accidental journey through the cosmos. There they encounter everyone from flying fortune tellers to Gap sales clerks to Michelangelo, all of whom force the two to confront their motives behind the pursuit of the ultimate thrill. "A surreal, spooky, comic love story," swears Morton. "It'll be one hell of a ride!"
The production will be directed by Randy Rollinson, who has personally turned Cleveland Public Theatre into a haven of the odd and fascinating, and it is to be designed by Oliver Sohngen, the Teutonic Picasso of set designers.
David Hansen: A gentle, kindly social-worker de-meanor belies a dark sense of lunacy that could envision a play about rock vampires set loose in a singles bar. Hansen has the air of someone of implacable re-sources, who could parlay an ice-cream sandwich into a multimillion-dollar dessert factory. Instead he has chosen to play Pied Piper, leading local Generation Xers through theater portals. He is the founder of the Guerrilla Theater Company, which pandered paranoia and re-creations of game shows to doting pierced adolescents. Then he cofounded Dobama's Night Kitchen, where he assembled a soap opera-style improv venture. Always on the move, he is most recently the founder of the Bad Epitaph Theater Company, where he has already turned out a film noir Hamlet that played to sold-out houses, thrilling those who could barely get through their Cliff's Notes in high school.
His second production, Sin, will take place at Inside, an art gallery in Tremont, October 8 through 31. Written by Kenyon professor Wendy MacLeod, Sin is set on the eve of the 1989 San Francisco earthquake. It's a contemporary morality play whose main character, Avery Bly, is a traffic reporter who keeps herself literally and figuratively above humanity. Each of the other characters (her alcoholic, soon-to-be-ex-husband, her envious co-worker) represents one of the Seven Deadly Sins. (Somewhat Brechtian, it uses Everyman as a model.) It will be directed by Chicago's Roger Truesdell.