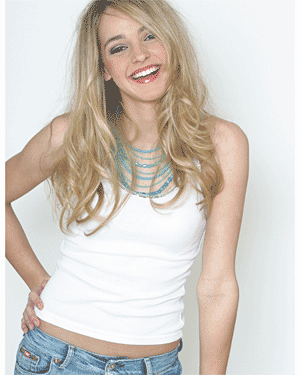 Teen pop isn't dead; it just took a short vacation. During its hiatus, it got more serious about its aspirations. No longer content with TRL appearances and chart-showing, today's teen popsters have world domination in sight. Blame Kelly Clarkson. "I want to play big arenas," says 16-year-old Katelyn Tarver. "And I want to do some acting. I'm very active in my career."
Tarver, a Georgia native, started in much the same way Clarkson did. She was a finalist on American Idol spin-off American Juniors in 2003 before recording her debut album, Wonderful Crazy, and hooking up with the Radio Disney gang for a nationwide tour. "I love pop music," she says. "My mom is a singer, my dad plays the guitar. Music has always been around." Tarver also found time to portray every little girl's fantasy in The Barbie Diaries, a DVD employing motion-capture animation (the same technology used in The Polar Express) to be released next month. "This is as southern as Barbie's gonna get," says Tarver.
Sat., April 1, 3 p.m.