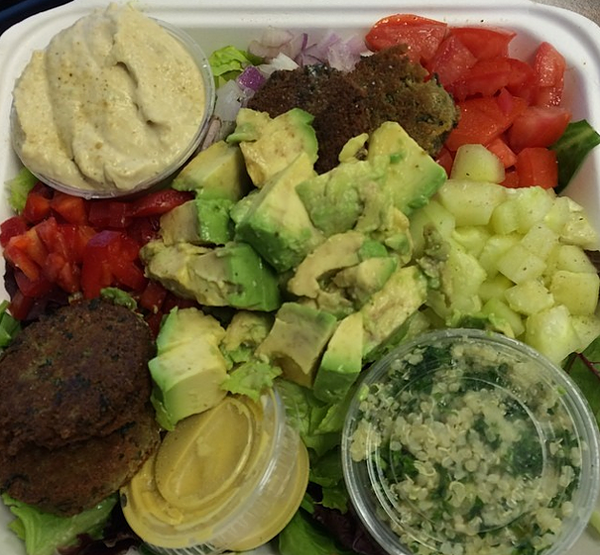 Photo via Adam Rosen, Instagram
Located in the 5th Street Arcades food court, this all-vegan West African eatery is one of downtown Cleveland's best kept lunch secrets. Order the daily special or the live salad plate for a variety of unexpected flavors. If you like it hot, ask for a side of their homemade hot sauce - it will blow you away! (Pictured above, live salad plate)
Photo via Adam Rosen, Instagram
Situated smack dab in the middle of Public Square, tens of thousands of people walk by this place every day without noticing the amazing all-vegan food offered inside. Open for breakfast, lunch and dinner, you can grab a quick smoothie or kombucha and a snack or meet a friend for a meal you won't soon forget. The double pizza burger is a go to, but I can't stop getting the Asian vegetable wrap with tempeh. (Pictured above, the double pizza burger)
Photo via beetjar, Instagram
This all-vegan juice bar is a welcome addition to the veg food scene in Cleveland. The Hinge Town café pumps much more than fresh juices. Try the Signature Sandwich with smokey coconut, greens, cashew mayo, red onion and avocado on toasted sourdough and top it off with the Chocolate Avocado Moouse for dessert. You won't regret it! (Pictured above, the signature sandwich)
Photo via Yelp, Deborah L.
Ms. Julie in Akron is somewhat of a vegan legend. She survived a heart attack and serves up food that she credits for saving her life. She takes local to a whole 'nother level and has a massive urban garden where she grows most of her own vegetables. I usually stick with the daily specials, but also try the Hempwich Patty or the Mac and Cheese. (Pictured above, the mac and cheese)
Photo via No Whey! Chocolates, Facebook
I always say that non-vegan chocolate is watered down and diluted chocolate. No Whey! makes Vegan Candy that tastes so scrumptious you won't believe that a cow was NOT involved in the process. For special occasions or just when you need a treat, get the good stuff from their shop on Mayfield in Lyndhurst, farmers markets or online.
Photo via Vegan Sweet Tooth, Instagram
This bakery in Eton Plaza on Chagrin makes cakes, cupcakes, cheesecakes, and muffins that you'd never know were all-vegan. Choose from a huge variety of sweets in their display case or custom order to suit nearly any dietary restriction. I recently had their Chocolate Cakepops and nearly passed out they were that good.
Photo via Instagram, Anna in the Raw
Anna is well known around town for her life-changing juice cleanses, but visit her Café in the IMG building for unique raw dishes, snacks and a big dose of life from the passionate owner. Go for lunch and try a healthful salad, house-made soup, wrap or sandwich. Her Macaroons are more like truffles, delicate and packed with flavor. Don't forget to grab some kale chips too!
Photo via Yelp, Amy H.
This Lakewood coffee shop has long been a local favorite with vegans and has developed quite the reputation for folks visiting the city. Featuring much more than premium coffee from local roasters, try one of their vegan baked goods or a breakfast burrito. Better yet, go on Thursday for Raw Food Night and enjoy creative gourmet raw cuisine unlike anywhere else in Cleveland.
Photo via Adam Rosen, Instagram
This new addition to Clifton Blvd. near 117th pumps out some amazing cuisine with a Cuban flair. Their vegan menu features some incredible hummus (it takes a lot to say hummus impresses me), a Grilled Cesar Salad and my favorite, the Caribbean Veggie Tostadas. Don't eat too much, because the Chocolate Peanut Butter Cake is worth the trip alone. (Pictured above, Caribbean veggie toastadas)
Photo via Yelp, Olga S.
It's true that most Asian spots do a variety of veg friendly dishes well, but this gem tucked away in a small Lakewood strip mall goes above and beyond. The "Zen" menu features mock chicken, beef, ribs, duck, lamb, and a variety of seafoods like shrimp, scallops, lobster and squid. Don't believe me? Try them for yourself and the seasoned wait staff will be happy to customize just about anything.
Photo via Adam Rosen, Instagram
Happy Dog is a staple of the Gordon Square/Detroit Shoreway neighborhood. But did you know they feature the artisan grain meat company Field Roast's vegan sausages and tons of vegan toppings? For $5 you can customize a monstrosity of a vegan sausage and enjoy your favorite beverage. No need to leave the vegans at home!
Photo via Yelp, Jaime L.
Tommy's on Coventry was veg friendly way before it was cool. This landmark restaurant still does it with the best of them, all the way down to vegan milkshakes. Try a taco salad with their homemade vegan chili, load hummus or baba and a milk shake with homemade peanut butter.
Photo via Adam Rosen, Instagram
Ty Fun in Tremont has an extensive vegan menu packed with creative dishes, many of which can be made without any added oil. The wait staff is friendly and you feel like you're eating in your grandmother's kitchen, if your grandmother was Thai and she could offer you 15+ vegan entrees. Try a curry or my favorite, the Tofu Ma Mung.
Photo via treehugger_ak, Instagram
This family owned and operated organic grocery store also features an amazing restaurant upstairs that caters to vegans. The food is fresh and locally sourced and the menu is clearly marked. Try their amazing tempeh ruben, coconut bacon BLT and quinoa nachos. And you can shop for all your vegan grocery needs when you are done!
Photo via Adam Rosen, Instagram
You wouldn't think that Medina was home to one of the best vegan restaurants Northeast Ohio. You also couldn't imagine how nearly all of the vegan options are also oil free. Main Stree Café on the quaint Public Square in Medina does it all. Try the Mushroom Bruschetta, the Soba Noodle Salad with Tempeh and save room for the Vegan Carrot Cake or Vegan Chocolate Zucchini Cake for dessert.
Photo via Adam Rosen, Instagram