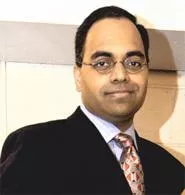 Says attorney general candidate Subodh Chandra: "You listen to them and think, "How can they do such a thing with a straight face?'"
Here's how it works: Whore A gets caught taking money from Whore B. Fearing blowback, the remaining skanks of the alphabet scurry for cover.
They are shocked -- Holy Christ! We can't believe it! -- that one among them would breach the sanctity of whoring. But let's remind ourselves, they will say: These are just a few bad apples. And they have yet to see their day in a court of law. (The phrase "court of law" should be said in a somber, reverent tone, as if adjudication will come from the highest saints, not some frat buddy from Yale.)
The leading whores will exhibit leadership . . . by holding news conferences. They will speak of reform, committees, legislation -- America's leading substitute for action. "Believe us, Mr. and Mrs. [insert people who need placating]. We're as angry about this as you are. And we're gonna make sure this never happens again!"
The TV cameras will go dim. Reporters will recount the moment with obedient stenography. And the whores will return to whoring.
If you haven't kept abreast of the Abramoff scandal -- starring Congressman Bob Ney as the man who loved golf too much! -- don't bother. This is how it's going down. Because this is how it always goes down.
Here in Ohio, such scandals are as common as Lifetime movies featuring a woman-who-confronts-unspeakable-crisis-but-eventually-triumphs-through-sheer-determination. Only our stories never end happily.
Last year, after innumerable state officials were caught laundering campaign money through third-party bagmen, Republicans in Columbus enacted their own "reform." It might as well have been titled The Let's Just Make Our Whoring Legal Act. Instead of having to funnel large contributions through obscure party funds -- the better to circumvent campaign laws -- they decided to just raise the individual donation limit from $2,000 to $10,000.
They were obviously responding to the outcry among everyday Ohioans, who'd already spent their two grand, but still had eight large with no place to go.
Under the new "reform," if you're married with three kids, you can now donate 10 grand in the name of each family member. In Ohio, $50,000 not only buys your favorite legislation; you'll also receive a personal state senator to do your laundry and pick up the kids after school.
At least legislators were thoughtful enough to bar kids under age seven from donating. This must be where the reform part comes in.
"It really is Orwellian," says attorney general candidate Subodh Chandra. "You listen to them and think, 'How can they do such a thing with a straight face?'"
Yet whoring is a nondenominational religion. Though Democrats are the Cleveland Browns of politics -- now in their 12th year of rebuilding -- their skank skills haven't atrophied.
Last fall, when a referendum to reform the "reform" was on the ballot, party leaders didn't lift a finger to pass it. They control the cities -- which means they whore for the sugar daddies who buy municipal governments. And while they may head "the party of the people," the people ain't picking up their checks at Johnny's.
The measure lost in every Democratic county.
Then there's the infamous Noe scandal, in which a small-time coin collector bombed Columbus with steaks and cash, and was suddenly given $50 million to play with.
Like any decent American, he blew it on wine cellars and Florida vacation homes. The whores asked no questions -- as long as the money and steaks kept coming.
When the scandal broke, they scurried like roaches confronted by light. "It's an outrage!" they said. "Reform!"
You know how this is gonna turn out, boys and girls.
State Senator Tim Grendell (R-Chesterland) knows too. He's been pushing a bill that bans no-bid contracts and keeps those with ethics convictions from lobbying or serving on state boards for five years.
It seems such a simple measure. Surely the whores will pass it, if only to appease us till they're caught again, right?
"I hope it does," says Chandra, "but I'm not extremely optimistic."
In the meantime, a convicted governor remains in office. The governor's convicted henchman, Brian Hicks, still lobbies and serves on the Ohio State University board. "The man is driving an expensive car and making a lot of money on the contacts he made illegally at the governor's office," says Grendell, his tone a mix of awe and disgust.
Yet Taft still sprints for the cover of reform.
Last week, he announced a new round of "education reform." Presumably this plan will be better than the last, when the state created charter schools, which now fail at seven times the rate of the public schools they were supposed to reform. But at least the law allowed Republicans to shovel $110 million to one of their sweetest sugar daddies, David Brennan.
Chandra may be the straightest man in politics. He believes it could all be fixed so easily -- if officials just said no. The former federal prosecutor recalls the night he and some FBI agents were working late on a case. Defense lawyers kept offering them cookies. They kept saying no.
"All of us had been salivating over the cookies, because we hadn't eaten for hours," he says. "Would we have been corrupted if we ate the chocolate-chip cookies? No. But it's the professional culture we come from."
The whoring culture knows no constraints. From Washington to Columbus, City Hall to the county commissioners office, they've been skanking so long, they wouldn't know the public good if it bit 'em on the face. So they take the dinners, vacations, and golf junkets. They trade million-dollar projects for a check with a few zeroes. And whenever they get caught, they trot out the veil of "reform."
At which point the cycle starts all over again.