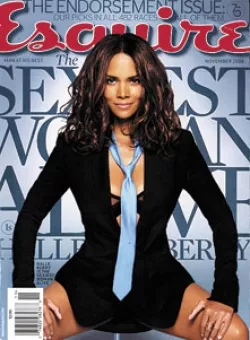 Cleveland can now claim the Sexiest Woman Alive on its list of famous former residents: In its November 2008 issue, Esquire named Halle Berry its Sexiest Woman Alive. The accompanying article, photo spread and cover shot make a convincing case.
Aside from the obvious fact that she's totally way hot, it's a bold pick. As she notes inside, she's 42 and just had a kid, and she still looks like a buff 20-year-old in the interior spread. The photos are accompanied by an "acceptance speech" that starts with skeptical musings on whether she is the hottest woman alive. For the sake of conversation, she tries on the mantle, and what follows is some bubbly chat about lingerie and orgasms (which reads curiously like the brisk, punchy prose of an Esquire editor - but hey, she's a busy person).
The Bedford High alum ultimately concludes, "So, yes, there are times when I feel like the sexiest woman alive, but would I ever argue that I am the sexiest woman alive? Of course not. I figure at one moment the sexiest woman alive is a waitress in Abilene, Texas. And, in the very next second, it's a woman in the bush of Vanuata. Then, right away, somewhere else. Sex and sexiness. It's all about the moment." Which says, the way I read it, the leggy Map Room bartender in the tall boots really did look that good at lunch. - D.X. Ferris
GO HOME, SNOOPER, GO HOME
It's come to light that the Bush administra-tion has for six years secretly snooped on the Oregon offices of an Islamic charity that they believe might have had ties to "terrorism" - without the warrant required by the Foreign Intelligence Security Act. Chief Federal Judge Vaughn Walker recently called the warrantless spying felonious. And, we would add, dickish. Combine this with recent allegations that lefty anti-war groups across the nation were infiltrated by government agents doused in patchouli, and what we have here is a clear reemergence of McCarthyism.
Bush has been sued by the now-disbanded Islamic group, the Al-Haramain Islamic Foundation, which was tipped off to the spying by the accidental release of a government document alluding to the ongoing surveillance. (Somebody at NSA is peeling potatoes for sure.) But these are just the secrets that slipped out.
Brush up on all this at 5 p.m. Wednesday, November 12, as Patrick Radden Keefe, project director for the Century Foundation think tank and author of Chatter: Dispatches From the Secret World of Global Eavesdropping, delves into FISA abuse using the Al-Haramain case as his centerpiece. The free forum will be held at Cleveland-Marshall College of Law (1801 Euclid Ave.). Try to ignore the middle-aged ass-douche in the back corner trying to cover his crew cut with a Slipknot trucker hat. With any luck, he won't be there much longer. - Dan Harkins
ELECTION LESSON: A HAM SANDWICH COULD TAKE MASON IN '12
Cuyahoga County Prosecutor Bill Mason sailed through his reelection bid on Nov. 4, beating out Republican opponent Annette Butler. But the numbers should still give Mason some pause.
Butler, a former assistant U.S. Attorney with little political experience, claimed about 35 percent of the more than 536,000 votes cast. While not nearly enough to win, it's an impressive showing, considering her low name recognition and almost laughably small campaign war chest - about $5,000 as of April, compared to Mason's half-million.
Butler hardly campaigned - she was reached at home during the Columbus Day Parade - and yard signs were scarce. Seasoned pol Mason, meanwhile, made frequent public appearances, and his name was everywhere, including TV. So sure was Mason of victory that he ignored invitations from the City Club of Cleveland to debate Butler until Scene called him out (and The Plain Dealer followed suit).
And still Butler nearly doubled the percentage of the vote won by Mason's '04 opponent, who took just 20 percent. At that rate, he might actually have to start answering to Cuyahoga County voters as soon as the next election. - Charu Gupta
scene@clevescene.com