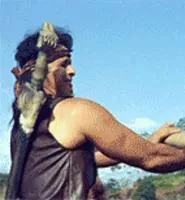 Barry Prima, like youve never seen him before.
The Devil's Sword
(Mondo Macabro)
Few trash movies live up to their reputation, but here's a balls-out wonder that surpasses it. Grab a 12-pack of Bintang and cue up this jaw-unhinging slab of Indonesian sword-and-sorcery circa 1983 -- a start-to-finish feast of martial arts, mullets, flying heads, vestal virgins, dry-ice fog, and discount psychedelia, accompanied by a synth-cheese score that threatens any second to bust into Heart's "These Dreams." Barry Prima, the Patrick Swayze of Jakarta, plays it cool as the mystical ass-kicker who defies the Crocodile Queen and her rubber-suited minions to seize a super-powered sword. Words can't do the movie justice, unless they're blaring from a drive-in speaker.
SEE!
Exploding mushrooms! Interpretive dance! A death battle between a flying guillotine and a witch!
HEAR!
Endlessly quotable dialogue, such as "You polluted bitch-hound!" Essential.
-- Jim Ridley
Find Me Guilty (Fox)
Sidney Lumet (Dog Day Afternoon, Twelve Angry Men) is one of the great Hollywood directors, but Good Lord, his latest film is like a birdhouse built by a retired architect. Everything feels small and cheap, like a movie-of-the-week with f-bombs -- and still it's never less than watchable. A courtroom comedy based on a true story, it stars Vin Diesel as a mobster who defends himself in a 20-defendant, 73-count racketeering trial. There's no drama, and the laughs rarely rise above a chuckle, but the movie's enough fun to make you forget you're rooting for real-life mobsters to beat the rap. Diesel is charming, but showing up with a paunch, fake hair, and old-guy makeup doesn't exactly signal that next great step. This should feel like an end-of-career film for eightysomething Lumet, but for Diesel? -- Jordan Harper
Caché (Sony)
Cool and simple, but resonating invisibly out into our lives like an x-ray, Michael Haneke's Caché (Hidden) is a mystery wrapped in a tangle of sightlines -- you are rarely confident about what you're watching and never sure that watching will be enough. A Parisian couple (Daniel Auteuil and Juliette Binoche) are inexplicably haunted by videotapes taken of them, by cameras that cannot have been present; eventually, the ensuing paranoia begins not only to unravel their family, but to reveal sins of the past. All the while, Haneke implicates us in the surveillance; we're never sure if what we're watching is live or Memorex, and whether the point of view is ours or someone else's. Caché has a devilish structure that makes every cut an occasion for what-is-it-now heebie-jeebies. -- Michael Atkinson
1000 Years of Popular Music (Cooking Vinyl)
"I've never thought of you as an entertainer," Richard Thompson is told during a break in this concert film shot at Bimbo's in San Fran, where The Greatest Living Singer-Songwriter starts with a circa-1260 ditty and ends with a Bowling for Soup single. It's not meant as an insult; the interviewer just means the former Fairport Conventioneer doesn't pander, hence the playlist of 22 ancient tunes ("Blackleg Miner") and top-of-the-poppers ("Oops! . . . I Did It Again") and in-betweeners that all sound right out of Thompson's own kit bag. The oldies are goodies, but it's the weight he brings to the disposable entries that makes this folk-rockumentary indispensable. Included are two audio discs and a wonderfully annotated booklet; of Ray Davies' "See My Friends" he writes, "Usually considered the first 'oriental' pop song." Uh, okay. -- Robert Wilonsky