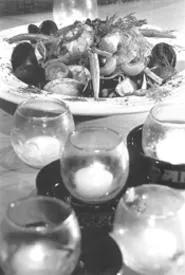 At the Hi & Dry In, lush flavors and textures await.
Dim and smoky, Tremont's
Hi & Dry In
has always been a prime spot for people-watching, and a recent Saturday night found it true to form. A solemn-looking fellow with a tangled mane and thick glasses sat huddled at the bar, sipping cola and devouring pages of music theory. On his right snuggled a well-groomed couple in their 60s, giggling and making goo-goo eyes at one another over glasses of Merlot. To the fellow's left was what appeared to be a father with his adult son, manly specimens in their flannel shirts and work-boots, their rumbling conversations regularly punctured by giggles erupting from two wriggling kiddies settled between them. A raucous flock of spiky-pink-haired youths had come in for a landing at a table in the back; in the front was what looked to be the weekly meeting of the Studious Gay Artists Society. And in between sat everyone else, including several pretty young blondes in furs and a guy with a studded leather collar and Frank Zappa mustache.
Vive la différence, indeed. Yet as diverse as the capacity crowd appeared to be -- in age, interests, and lifestyle -- they all shared a common bond, a question that united them in a hungry, heartfelt brotherhood: "Where the hell's my food?"
At least that was the thought uppermost in our minds as we sat . . . and sat . . . and sat . . . at the bar awaiting sustenance. Judging by the hustle and bustle in front of the minuscule kitchen, Chef Chuck Mosley and his staff were making a valiant effort to get the orders out. Still, it clearly wasn't enough. It took an hour before we got our appetizer -- a simple trio of tapenade-like dips served with wedges of pita and slices of second-rate French bread. Another 40 minutes passed before our side salads showed up. And our entrées -- one of Mosley's nightly specials and a two-fisted, cheese-and-onion-drenched Tremont Burger -- finally lurched out of the kitchen nearly two hours after we had first grabbed our seats.
"Just so you know," confided one of the kohl-eyed servers, in case we hadn't noticed, "the kitchen's all backed up. We got several large parties in that we weren't expecting, and the kitchen's running about an hour behind."
Not that the delay didn't have its up side. It gave us a chance to chat with members of the Shirley Cook and Company jazz quartet, who were performing at the Hi & Dry that evening, and to savor their luscious sounds. On the other hand, it also exposed us to some sights we would rather not have seen, like the grimy condition of the kitchen after a night of nonstop cooking, and our friendly, frazzled barkeep's propensity for scooping up ice cubes and plopping them into drinks with his bare hands. "You know," whispered an ashen companion, "I'm glad the lights are dim: I don't think I want to see much more."
However, despite the lengthy wait and the less-than-immaculate conditions, I'm inclined to give the spot the benefit of the doubt, mostly because, during an earlier visit on a quieter weeknight, the self-taught Mosley -- who also doubles as a musician -- charmed us with his big, homey cooking. (And no, the menu's caveat that "the kitchen is very small . . . . For those of you who are impatient by nature . . . remember, the cooks have knives!" had no impact on my judgment whatsoever. I'm reasonably certain that that's meant to be a joke.) For instance, a nightly special of two tender grilled lamb chops, done to a succulent medium-rare, drizzled with a red-wine reduction, and served forth with cumin-scented smashed potatoes and a pile of moist ratatouille, was full of deep, dark, and comforting tastes and textures. Roasted red-pepper ravioli from Ohio City Pasta, stuffed with sun-dried tomato and tossed with pine nuts, garlic, olive oil, and fresh basil, was rich and robust. And a thick 10-ounce New York strip steak, attentively done to order, was well-trimmed, juicy, and full of flavor, if not exactly falling-apart tender; a scattering of onion rings, crisp wedge fries, and a luscious fresh salsa of chopped tomato and basil made tasty crowning touches.
On the whole, Mosley's menu is an impressive gathering of interesting dishes that avoids nearly all the usual bar-food clichés. Among the appetizers, for example, a delicious grilled vegetable plate with mouthwatering slabs of zucchini, red pepper, eggplant, onion, and portobello mushroom, finished with a thick balsamic reduction and a handful of mixed greens, was a lively alternative to ubiquitous Buffalo wings. And two crisp, golden, Parmesan-coated risotto cakes, topped with a lush fresh-herb and cherry-tomato compote and sided by spears of grilled scallions, were ever-so-much better than dreary Mozzarella sticks.
Everyday dinner entrées include an assortment of gigantic salads, as well as veal meatloaf, grilled duck breast, and paella. If that's not exotic enough, Mosley's recent specials have gone everywhere from beef satay to molasses-cured tuna, and from grilled giant sea scallops (four buttery medallions with a wonderfully sweet taste and custardy texture, served with a timbale of wild-mushroom-and-leek risotto and a decadent oyster cream sauce) to those to-die-for lamb chops. And while prices aren't exactly cheap (a couple can easily rack up a $50 tab for dinner and a couple of beers), portions are large, and entrées include a crisp house salad of mostly iceberg lettuce, garnished with sliced onion, tomato, and shredded cheddar cheese. For an extra $2, diners can substitute an even better mesclun salad, with creamy rounds of fresh Mozzarella and a mellow white-balsamic vinaigrette dressing.
As for the booze, the bar offers a small and inexpensive wine list, a relatively larger selection of bottled domestic and imported beer, and a few brews (Bass Ale, Black & Tan, and Guinness Stout among them) on tap. There's no martini list, but the Hi & Dry stocks all the best gins, including Bombay Sapphire and Tanqueray 10. An oversized, top-shelf martini, so large it requires three olives, will set you back $8.50, but at that size, you won't need a second one.
It's a wonder, of course, that Mosley can coax so much good food out of that cramped little kitchen, and no wonder at all, then, that he has no pastry chef on hand to create lavish desserts. Still, a massive wedge of pumpkin cheesecake from a local baker, decked out with a squirt of Redi Whip, was a cut above average and put a sweet spin on our weeknight repast. (After two and a half hours on a bar stool on that ill-fated Saturday night, dessert was understandably the last thing on our minds.) A trio of dessert wines and port are also available for those demanding a final taste of something sweet and wet.
Current owner and caterer Mark Pariano purchased the Hi & Dry last spring, joining a long line of proprietors to oversee this vintage property. Despite the change in ownership, the old brick walls and high ceilings exude the same friendly vibe that has led followers to this neighborhood watering hole for years. Even better, today's updated menu is impressive by barroom standards, and the food is good. Now if only Pariano can see his way clear to giving Mosley the type of kitchen that his cooking deserves, Saturday-night meltdowns could probably be avoided. Oh, and Mark, one more request: Could you please pick up some ice scoops for the bartender?