For the general public, the Greater Cleveland Regional Transit Authority (RTA) is merely a brand name on the buses and trains that make up the system. If the buses and trains are safe and on time, what else matters? Why question the brand?
But RTA has been in the news a lot lately: First, the decision by the board of trustees, enacted earlier this month, to raise fares and cut a small number of routes in order to plug a $7 million budget hole; later, the forbidding news about changes to Ohio's tax laws, which will result in even deeper financial holes and deeper service cuts in 2017 and 2018; finally, the decision by Mayor Frank Jackson to gather traffic data downtown in order to determine if the new $50 million Public Square, designed specifically with RTA buses in mind, might be better off without them.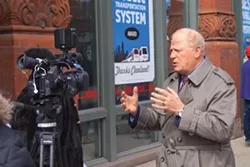 Photo by Sam Allard
Joe Calabreese
You may have heard the name Joe Calabrese. He's RTA's CEO and general manager. He stands atop a workforce of roughly 2,350, many of whom work in operations. They drive the buses, they fix the buses, they order the parts. Several current and former employees came to Scene to talk about what they see as problems at RTA. Though RTA maintains a clean public face, it is allegedly dirtied by the same behind-the-scenes muck that has afflicted this region's governmental and quasi-governmental entities for decades: racism, patronage, incompetence. Many of these issues suggest not only a flippancy with company policies, but a flippancy with taxpayer dollars.
THE MAFIA
Bryan McIntosh was notified on September 15, 2015, that he'd been fired from RTA. Technically, he'd been placed on "crisis suspension, pending termination," but all that meant was there'd be a hearing the following week to make things official.
By mid-September, the 30-year-old McIntosh had been working at RTA for more than a year and needed no further evidence that his relationship with superiors at the Central Bus Maintenance Facility (CBM) had drifted beyond rescue or repair. This wasn't even the first time he'd been fired in the past six months.
McIntosh was a quality assurance specialist, working at the expansive CBM on Woodland and Woodhill, RTA's operational nerve center, if not its headquarters. There, McIntosh was assigned to liaise with Hayden Garage, RTA's bus garage in East Cleveland, and with Paratransit, the service for riders with disabilities. Like the other employees who worked "upstairs" at CBM, McIntosh's job was administrative. He did a lot of paperwork and made a lot of phone calls: reconciling order discrepancies, ensuring the successful delivery of parts shipments and, in his words, "inspect[ing] and solv[ing] issues pertaining to all things dealing with operations."
But from McIntosh's vantage, the office environment at CBM was strained, adversarial, cliquey to a fault. And acceptance and success were particularly elusive for a guy like him, one of the few black faces in the cubicles. He didn't know it when he got hired, but he'd entered a pernicious sphere controlled by what is known, among RTA's operations rank and file, as the CBM Mafia.
(Note: 'CBM Mafia' is a nickname, and doesn't in this instance connote organized criminal activity.)
If you ask current employees or those who've recently parted ways with RTA, the CBM Mafia goes all the way up the operations chain of command. Not all the way up to CEO and general manager Joe Calabrese, perhaps; but Calabrese, who makes $270,000 per year, is regarded by employees as the agency's figurehead, a politician more than a manager, "the ribbon-cutting" and "handshake" guy who one former employee hastened to add was "actually pretty nice." With his contract up in 2020, the perception of Calabrese is that of a man clutching his boogie board as he rides the wave of his career to shore. He's brooking the indignities of a budget collapsing beneath his feet by seeking Band-Aids — to use the popular policy metaphor — and reflecting on the bright spots of his 16-and-a-half years in RTA's top position. He's certainly not making a stink about the city's campaign to remove buses from Public Square.
"Really, the Mayor just wants to do the right thing," said Calabrese, on that topic, in a recent interview with Scene.
But the CBM Mafia does reportedly go all the way up to RTA's No. 2 man, Michael York, the deputy general manager of operations. Like almost all of RTA's upper management, York neither lives in Cleveland nor takes public transit to work (though all RTA employees get to ride for free). York drives 35 miles from his home in Stow up to RTA headquarters on West Sixth, and he enjoys the second-largest salary ($187,280) in the organization. York is part of the executive management team, a cabinet of divisional directors who all report directly to Calabrese. And though Calabrese told Scene that York is not officially the No. 2 — "There is me. There is no 'Assistant Me,'" he said — operations is nonetheless RTA's biggest division, and for better or worse employees view York as RTA's second-in-command.
At CBM, York has purportedly been grooming Ronald Baron, the director of fleet management, to take over as DGM of operations. York is thought to be on his way out, after all. The rumor was that York had intended to retire in 2015, but when Cleveland was selected as the host city for the RNC, he decided he'd stay on to oversee operations during the convention. Calabrese disputed this.
"All Mike York has told me is that when he decides to leave, he will give me adequate notice so that we can have a smooth transition period," he said. "I have no knowledge if that's this year, next year or in five years."
But the speculation is that York's hot to trot, and when he leaves, RTA will have a critical hole to fill.
"Operations covers everything," Bryan McIntosh told Scene in one of more than 10 interviews with him conducted for this story. "Bus routes, drivers, mechanics, materials, rails, BRT. You get a new operations GM, it's like getting a new King. It's a changing of the guard."
And York is presumed to want to coronate a successor in his own image. Ron Baron's his protege, formerly a logistics guy with L'Oreal, but a CBM Mafia capo since he was hired in September 2005.
Baron's not the only presumed candidate for York's job, though. Per RTA policy, the position will be publicly posted and all applicants will be ranked. The top three candidates will be interviewed (in theory), and their responses will be rated numerically by a panel of current employees. Calabrese put the odds that the position would be filled internally at 50-50. Another former employee who spent 20 years at CBM agreed.
"It's a coin flip," he said.
But others say it's all but certain RTA will make an internal hire. Calabrese himself said that RTA, "like most good companies," encourages and promotes the upward mobility of its employees. And if Ron Baron's in one corner, Floun'say Caver's in the other.
Photo courtesy of RTA
RTA board chairman George Dixon III
Dr. Floun'say Caver is the district director of Hayden Garage. (Note: The city of Cleveland's historical segregation — West = White, East = Black — is dramatized in the personnel of RTA's two bus garages: Triskett is white, Hayden is black). McIntosh calls Dr. Caver "RTA's Obama." He's a rising star among Cleveland's black political class: Ph.D.-credentialed; member of Leadership Cleveland's 2017 bumper crop; and, for good measure, an Alpha Phi Alpha, the same fraternity as RTA board chairman George Dixon. Caver's not going anywhere, but the question for the CBM Mafia is just how fast he'll rise.
At stake is the very culture of the Regional Transit Authority. Employees, already hip to the entrenched old-boys-club mentality of RTA upper management, fear that if Baron gets the job, he'll operate with what they described as York's political-patronage style.
When contacted by Scene, Floun'say Caver forwarded all on- and off-record questions to Linda Krecic, RTA's media relations manager, and to Michael York.
Page 2, Sec. 100.05, of RTA's most recent employee manual decrees that all media requests be directed to the office of media relations, which isn't unusual, but it means that current employees who spoke with Scene did so anonymously, and even then with fear of retribution.
"I'm sitting here praying to god that some of these things won't make it obvious who's saying what, or that my name won't pop up," said one current employee familiar with RTA's personnel across all districts. "People are scared and fed up, but they would never say a word."
The race for York's job is still just theoretical, though it may be having tangible effects on the organization — see The Saga of #3318, below — but for now, Baron is much more concerned about Bryan McIntosh.
McIntosh's lawsuit against RTA is currently alive in federal court, and Baron wants it dead. Rumor has it RTA is trying to get the suit settled without a trial. No surprise there: Though Baron wasn't McIntosh's direct supervisor, he coordinated the termination. Publicity of the case could damage Baron's eventual candidacy for York's job, especially because part of the lawsuit — two of the seven total counts — alleges racial discrimination. And even though there's currently almost zero African-American representation in CBM management, (an estimated two of more than 70 non-union employees), Baron likely wouldn't withstand a court co-signature on existing perceptions of bigotry. And he certainly wouldn't stand a chance against Dr. Caver, given that the operations DGM oversees a workforce of drivers and service workers who are predominantly black.
The firing of McIntosh, along with other alleged HR practices at CBM, are all the more significant now, given RTA's grim financial outlook.
One might argue that, at least with respect to Bryan McIntosh, Ron Baron should have seen the thorny situation on the horizon. But on the other hand, why would he? The firing exemplified, rather than departed from, recent alleged HR practices at CBM. The Mafia just never expected McIntosh to put up a fight.
***
BAD BRAKES
Bryan McIntosh was initially hired by RTA in August 2014. And he wasn't fired for the first time until the following May, shortly after he'd filed a discrimination complaint with the office of Equal Employment Opportunity (EEO).
"Since I started working here at RTA," McIntosh wrote in a letter to an EEO rep dated April 20, 2015, "my experience hasn't been the best one."
McIntosh had benefitted from connections with black political families locally, but before his gig at RTA he'd done well enough on his own. He was a Wright State alum; an Air Force reservist; one of the original founders of Social Society Cleveland, the local networking organization for young professionals. And he viewed RTA, like a lot of young ambitious black Clevelanders do, as a pathway to power, not just a steady job but a foot in the door. Plus, it was good money. With McIntosh's college degree, military background and recent sewer district experience, he qualified for the Grade-25 position (G25), one that paid $45,000 to $55,000 per year.
You may have seen McIntosh's name in the news. Shortly before he was hired, he had been violently assaulted outside the Vada Nightclub on St. Clair by Kevin Conwell Jr., the son of Cleveland city councilman Kevin Conwell and county councilwoman Yvonne Conwell. Around 3 a.m. on July 5, Conwell Jr. skidded into the Vada parking lot, headlights afire, and sprang at McIntosh with a hammer. (Girl problems.)
So McIntosh arrived at work with a scar on his forehead — a wee United Kingdom above his right eyebrow — and a target on his back. But even without the external factors, his work experience would've been a challenge.
According to the EEO account, in his first month on the job, co-workers referred to him pejoratively as an "affirmative action hire." He began to see his supervisor, Frank Campbell, spying on him through file cabinets and windows, a practice he might've interpreted as comedic if it weren't so "creepy, uncomfortable as well as embarrassing." McIntosh wasn't sure why, but the spying continued. He notified CBM upper management — Dan Dietrich, the manager of fleet planning and engineering, and Ron Baron — of his discomfort, but nothing was done.
Campbell, meanwhile, habitually wrote up McIntosh for minor infractions: arriving late to work, for instance, even though McIntosh's contract permitted flexible hours. Moreover, Campbell would reportedly go weeks without communicating with McIntosh. Still, McIntosh completed RTA's standard six-month probationary period and was alarmed that even afterward, Campbell's behavior persisted. He complained to upper management on several occasions.
"But their response was that Frank [was] a weird person and you have to play the game to get on his good side," he wrote.
The straw that broke the camel's back, in the EEO account, was a business trip to San Francisco during which Campbell made several disparaging remarks about the Quran and Muslims. McIntosh, though not particularly devout, was a practicing Muslim at the time and took offense.
"[Campbell] has a paranoia about them taking over the country and how the Quran will be in every hotel and school building," he wrote. "I became even more deeply concerned about who I was working for ... .
"At this time, I no longer believe my relationship with Frank Campbell can be fixed or mediated. I am formally requesting a transfer to a different work location, or [that] RTA re-evaluate Frank Campbell's qualifications to see if he still qualifies to be in a position of his status."
On May 7, 2015, RTA's EEO office notified CBM management of the investigation into Campbell. The very next day, McIntosh was placed on crisis suspension, pending termination — effectively fired —and a hearing was scheduled, per protocol. But at the hearing, the limp charges against McIntosh, that he had "turned in forms late," proved to be untrue, and McIntosh was reinstated. He promptly amended his EEO complaint to include a retaliation claim.
The next few months were the most tense and frustrating of McIntosh's professional career. The silence from his superiors at CBM felt strategic, he said. He described feeling ignored and excluded from everything. And it wasn't just a feeling. Among other things, he'd been removed from the departmental trips to California, where the quality assurance team was sent to inspect buses before a major purchase. RTA sent the department's other three quality assurance specialists, but not McIntosh.
A mediation was required. And so on August 31, the EEO office informed both McIntosh and CBM management that theirs had been scheduled for September 9. No dice, said McIntosh. He was an Air Force reservist and would be away that week on military orders. No problem, the EEO office replied. The mediation was rescheduled for September 15.
At some point between Sep. 8 and Sep. 11, while McIntosh was gone, Ron Baron asked the EEO office to postpone the meeting yet again, suggesting that mediation might no longer be necessary. EEO, taking the suggestion in good faith, postponed the mediation to a later date: "TBA."
Meanwhile, on Sept. 9, Frank Campbell allegedly discovered defective brake pads, pads which allegedly came from a box that Bryan McIntosh had okayed on August 31. McIntosh, who was out of the office, was unable to verify the credibility of the claim, but when he returned to work he was notified first, on Sept. 14, that the EEO mediation had been canceled and second, on Sept. 15, that he'd been fired for okaying defective parts.
At the termination hearing the following week, McIntosh showed up with a lawyer and demanded evidence proving that the parts were defective: Could RTA produce the parts themselves? Were there photos? Was there anything beyond McIntosh's own inspection form and the word of Baron, Campbell and Dietrich that the pads were somehow less than adequate?
There was not, and yet word came down two weeks later: McIntosh had been officially terminated.
McIntosh managed to secure a year of benefits when the Ohio Department of Jobs and Family Services determined that he'd been fired without just cause. RTA appealed that decision, but the Unemployment Compensation Review Commission sided with McIntosh, especially since, as hearing officer Jared Wade noted in his report, RTA had abandoned the brake-pads narrative.
And with good reason.
As a quality assurance specialist, McIntosh was intimately familiar with RTA protocol as it pertained to defective parts. When you got bad parts, you shipped them back to get replacements.
"Quality assurance has to return the parts," McIntosh told Scene. "It's policy."
So he got the order number of the alleged defective brake pads and contacted AxleTech International, the supplier, to inquire about the order.
"She got a little panicked on the phone," McIntosh smiled as he recalled the conversation with the AxleTech rep. "But no, man, nothing was ever returned."
ANOTHER ONE BITES DUST
Shortly after Bryan McIntosh was fired for the first time, another black employee at CBM was unceremoniously shown the door. His name was Wayne Simmons, and he was a material planner. He was fired on May 28, 2015, for poor performance, having been advised through his tenure, and indeed at the end of it, that he wasn't "innovative enough."
Simmons had been hired in 2012, though he almost wasn't. The material planner position was a G26 and required a college degree. RTA claimed on Tuesday that the position does not now, nor did it ever require a college degree, but that's at odds with Simmons' version. He said RTA wanted to verify that he was a college graduate.
Simmons had graduated from the University of Phoenix in January 2011, but due to flaws in the online university's "processing," he'd never received a physical diploma.
"I was told that my transcript wasn't good enough," Simmons told Scene, describing the hiring process. "They said they needed the actual diploma."
Simmons managed to get the dean of Phoenix to send a signed letter to RTA, certifying that Simmons was a graduate and that the lack of a diploma was merely an administrative hiccup on their end. But to Simmons' surprise, the letter didn't pass muster. Only after he'd received the diploma in the mail and sent it to RTA was he offered the position.
"I got a call the day after," he said. "So that's how I knew they were so particular about needing that college degree."
Much like McIntosh, Simmons' experience at CBM began on a sour note, and didn't much improve. He said that on his first day, he was told that his boss, inventory planner Dave Vegh, hadn't wanted to hire him at all. Vegh was an adjunct at Cleveland State University and had been eyeing one of his former students for the position, Simmons said. But RTA's hiring panel had ruled that Simmons was the more qualified candidate.
(Note: The running joke and Catch-22 at CBM is that if you're trying to get a job there and you're not a friend or family member of the CBM Mafia, well, then you'd better be a diversity hire. But if you're a diversity hire, once you arrive, all you can do is bide your time until they find a way to get rid of you.
Darryl Key left RTA several years ago, but worked there for 27 years and called CBM's atmosphere "unbelievable" in this respect. "There's some people of color who don't pull their weight," Key said. "And I'm not going to make excuses for them. You've gotta do your job. But there are just as many whites not pulling their weight, and they're not getting wrote up.")
Simmons was assigned to the rail district for his first eight months, which meant he worked out of CBM, but was tasked with making orders and tracking down missing parts across the rail district. Beyond the fact that rail gets no respect at RTA — "It's the craphole of the system," Simmons said — no supervisor would work with him directly, he said. And there were no African-American supervisors he could appeal to for help or support. He was never given an official orientation and said that when requests for training were denied, he frequently ventured downstairs to the warehouse and mechanics' shop to learn basic information about the job.
Another material planner at the time, Michelle Berry, refused when Simmons asked her for guidance, Simmons said. His interpretation was that Berry resented the fact that they were both G26s, making comparable salaries, when she had so much more experience.
The only thing Simmons did get plenty of, he said, were reprimands for mistakes.
"It was like my mistakes would be plastered all over a billboard," he said. "I had my share of mess ups, but I kept thinking, 'What's the standard? Perfect?' They would pick me out of a lineup every time."
Not without a keen sense of irony did Simmons note that a central aspect of his position was correcting others' mistakes. But others would seldom get blamed for losing parts or shipping them to the wrong place; he'd get blamed for not finding them fast enough.
If it wasn't clear from the bi-annual evaluations that Simmons was unwelcome at CBM, an internal audit conducted in April 2014 left nothing to the imagination. Simmons said he was described as the "laziest employee at RTA" and that facts were misrepresented (or fabricated outright) to characterize him as a scourge on the authority. He said it was written, for instance, that he routinely drove his personal vehicle through the rail district at East 55th and Broadway as a shortcut to work.
"But I took the bus to work," Simmons said. "I didn't even own a vehicle at the time. And Dave Vegh knew that. He saw me getting off the bus almost every single morning. I stayed in South Euclid, and my wife would sometimes drop me off, but why would we triple our trip going down to East 55th and Broadway?"
(Scene tried to obtain the audit in question via a public records request, but RTA claimed that no such audit existed. They said on Tuesday, after our print deadline, that "there was an investigation following concerns that Wayne Simmons was not performing his job properly," and that a summary of those findings could be found in an RTA pre-termination hearing letter.)
Dave Vegh soon retired and Michelle Berry was promoted, which meant Simmons' days were numbered. He said that despite the challenges of his job, he'd managed to achieve a few notable successes: He established a spreadsheet with a warehouse supervisor to streamline the needs of the inventory department and said it was the first time such a document existed. This greatly enhanced the efficiency of the warehouse. When Simmons was transferred from rail to core parts, he said he'd cultivated positive relationships with vendors and even managed to get refunds on old parts that vendors "had no business taking back."
But with Berry in charge, he could see the writing on the wall.
"With her, my performance was just never up to par," he said. He heard from coworkers that Berry was trying to push him out, and had even started training other material planners while Simmons still had the job.
In a last-ditch effort to try something innovative, Simmons suggested that he move downstairs, from his cubicle to the warehouse.
"This way, if there was a question about a part, I wouldn't be a phone call away, I'd be a couple hundred feet away," Simmons said. "I could get my hands on parts as they arrived."
But Michelle Berry said no. And after three years and 14 days of struggle at CBM, Wayne Simmons was booted from RTA.
"I don't have to make any of this up," Simmons said. "They blackballed me and pushed me out, and never even trained me."
Asked, then, if he attempted to appeal his dismissal, Simmons said he didn't bother.
"I threw up my hands," he said. "Even if I had appealed it and they said, 'Okay, Mr. Simmons, you can have your job back,' why would I want to go back and work for her? Why would I want to work for RTA?"
What bothered Simmons most of all was the manner in which his position was filled after he'd left. Lauren Bobich, one of Michelle Berry's acolytes and personal trainees, was promptly hired for the job. She'd been a G22 inventory specialist, making $12.50 per hour, and was suddenly in Simmons' post, a G26, taking home a salary in the upper-50s.
Why this was especially irksome to Simmons: Bobich didn't have a college degree.
"All those hoops they made me jump through to prove I had my bachelor's?" Simmons said. "Lauren Bobich didn't even have her Associate's."
(RTA told Scene on Tuesday that Bobich does have her Associates, but that claim is vigorously refuted by current and former employees.)
Update 9/1/16: The RTA has now changed its story. In an email update, a spokesperson confirmed that Bobich is "still completing" her Associate's Degree, and is expected to graduate in 2017.
THE DOG AND PONY SHOW
According to current employees and one recently fired employee from RTA's HR department, filling positions with desired candidates like Lauren Bobich, qualifications notwithstanding, has become habitual at CBM.
"It's nothing but a dog and pony show," said one current employee.
To cover their tracks, RTA allegedly changes job postings (sometimes after the fact), tailoring requirements precisely to candidates they intend to hire. (Several instances were brought to Scene's attention. We'll refrain from printing specific names and positions until RTA provides documentation responding to the allegations.)
Employees say that job-posting edits are chiefly legal precautions. HR can, if challenged, dig up hiring paperwork and prove that a chosen candidate met required criteria, thereby preventing lawsuits.
Even Joe Calabrese, though he refused to comment on specific cases, admitted that job postings could be changed. He suggested that doing so was standard operating procedure.
"For any job that's open," he said, "the job is posted, and the job description is looked at to see if it needs to be modified."
Still, tailored specifications might not mean that a desired candidate is the most qualified candidate. Hiring less qualified people (and in more than one instance, according to internal sources, the least qualified person) requires more direct pressure.
At CBM, employees familiar with the process allege, management has tapped a recurring roster of panelists for the hiring process. Panelists are then instructed how to rank applicants. (Again, we'll refrain from printing specific allegations because RTA has not yet provided requested documents. Nearly three months have intervened since Scene's first requests seeking job postings, resumes and hiring documents. RTA has maintained that the documents are prepared, but that their legal department has been overtaxed with other requests and has fallen behind on document examination and information redaction.)
Joe Calabrese, then, was asked to address the allegations, but he said he had no knowledge of the individual cases.
"There's no way," he said. "We have 2,350 employees. I have no knowledge of that so I'm not going to speak to it. All I will tell you is that we have procedures and we do our best in every case to follow those procedures to the best of our ability."
One former employee who spent 20 years at CBM said that, contrary to these allegations, he didn't see abuses in the hiring panel process when he was there. He sat on panels many times, he said, and found hiring to be "fair and efficient."
Linda Krecic told Scene by phone that "95 percent of what RTA does is very straightforward."
"Sure, we make mistakes," Krecic said, speaking in general terms, "but things here are not as colorful as you think they are."
Scene has no reason to suspect that Krecic and the communications team gave anything less than a sincere effort to address our unwieldy batches of questions and records requests, but Krecic insisted throughout that the information Scene had come by was little more than gossip and vengeful untruths from "disgruntled employees bending [our] ear."
Meanwhile, Darryl Key, whose final eight years at RTA were spent at Hayden Garage, said favoritism and nepotism were so common at CBM that he was no longer even scandalized by it: "That's just one of the things they do. It's politics," he said. "It's all over the place."
With respect to McIntosh's situation, Key said he saw a cultural dynamic beyond race at play.
"He's part of this new young millennial generation," Key said. "And these millennials, they don't understand. When you deal with people from an older machine, there are tricks and games they play. And I'll be honest with you, when you're a man of color, there are things you've got to work differently than other folks, especially when they start attacking you. You've gotta cross your Ts and dot your Is. Back in my day, we were more of a captive audience. We learned how to fight and maneuver around it. But they're still playing all kinds of games."
***
THE SAGA OF #3318
Whether or not there are games afoot at CBM, ineffective employees within RTA operations can cost the authority serious money. Take, for instance, the case of Bus #3318, about which there seems to be not one solid attributable fact.
For background, the #3318 is a Compressed Natural Gas (CNG) bus purchased through a Congestion Mitigation and Air Quality (CMAQ) grant and delivered to RTA in the spring of 2015. Its stripped carcass is thought to be idling — or more like decomposing — at Hayden Garage, where vandalic ne'er-do-wells throw rocks and worse at the buses parked there too long.
Though not confirmed by RTA — RTA answered no questions and confirmed nothing related to #3318 before our interview with Calabrese, professing to be "stumped" by our line of inquiry — the #3318 is presumed to have been among the first of 60 40-foot-long, Gillig-brand buses purchased at a cost of $28.9 million as part of the grant (reported by the Natural Gas Vehicle organ NGV Today). That's just less than $482,000 a pop.
Some time in the late autumn of 2015, shortly after the most recent hires at CBM described above, the #3318 was alleged by current employees to have been stripped for parts to repair other CNG buses at Hayden Garage. Stripping a bus for parts is a last resort under ordinary circumstances, but doing so to a brand-new bus is bewildering, especially because (via a Hayden source) it complicates the warranties.
"These buses are still under warranty," said the employee. "But because these parts that we're trying to turn in for warranty don't match the serial number, RTA is forced to purchase those parts instead of getting a warranty part."
The situation at Hayden was described to Scene as dire — hence our unsuccessful efforts to contact Dr. Caver. Among other things, it is RTA's largest garage but has the smallest stockroom, and parts have regularly been arriving late. Exacerbating issues caused by delays, hazarded one employee, might be inexperienced mechanics. Under pressure to repair buses to meet expected pull-out times, mechanics may have removed parts from the #3318 experimentally trying to diagnose issues and fix other buses.
Competing theories about the #3318's dismantling have circulated among RTA employees. One blames new CBM employees for incompetence, one blames a particular employee who might have an interest in making another particular employee appear less equipped for leadership; but RTA wouldn't entertain any of them. They wouldn't even confirm that the bus was no longer in service. Joe Calabrese, the moment we uttered "3318" in our interview, professed to have no knowledge.
"I don't know," he said. "What I've heard ... I'll tell you what I've heard. I've heard that there was a CNG bus, one of the newer buses, whose windows got broken by vandals and the windows were or are on backorder and while that bus was out of service because we couldn't put the bus in service without windows, another part or parts were needed to keep other similar buses in service, serving the public. And although we don't like to do that, if you have to take a part off of one bus that is down for other maintenance reasons and put it in another bus, to serve the public, as opposed to having two buses not serving the public, that's something we would do. Other than that, I have no comment.
"Matter of fact, I talked to the salesman, the representative from the company," Calabrese continued, unprompted. "And I said, 'I know we've got some windows on backorder, how's that coming?' And he said, 'Windows are a long lead-time item.' And I had that conversation with one of our sales guys last week because I heard the bus was down for windows that were broken by vandals."
It's certainly possible that Calabrese talked with a sales guy last week — Scene has been inquiring repeatedly about this issue — but our sources said the #3318 was stripped months ago, possibly in late 2015. If the stripping happened after windows were broken by vandals, as Calabrese said he's heard, new windows would be a very long lead-time item indeed. Scene tried to clarify: Additional parts from #3318 were used to repair other buses, to maximize the number of —
"I don't know if other parts or a part," said Calabrese. "I'm not sure. Again, if you have two cars that are exactly the same in your garage and one is down because it needs brakes and the other car that's working needs windshield wipers, would you take the windshield wipers off the car that's broken for brakes to put it on the other car so you can drive it safely in the rain? The answer is probably yes. And that's the type of thing that happened."
(On Tuesday afternoon, RTA spokeswoman Linda Krecic said that the #3318 bus would be "back on the street Thursday."
THE BUDGET
"Now for the bad news," said commuter Marco Fikaris on March 21, at the first of RTA's 16 public meetings on proposed fare hikes and service cuts. "I haven't heard anything from anybody here about administrative cuts. I mean, I'm assuming you looked at this."
Protesters gather outside of RTA headquarters.
The capacity crowd chuckled. The public comments until that moment had been somber and direct. Prominent among them were stories of physical struggle and financial strife, pleas to maintain routes on the chopping block, and assurances that the 25-cent, one-way fare increase would be devastating for low-income, transit-dependent riders.
Several Paratransit riders hobbled painstakingly to the microphone to make their comments with the aid of walker or personal assistant. Their labored treks across the RTA board room on the first floor of the main office, in full view of the public and the suited execs, invited visions of other riders and the longer walks — half or three-quarters of a mile — that they might now have to endure on their way to the nearest bus stop.
On June 7, of course, RTA's board of trustees voted 8-1 in favor of fare increases and service cuts in order to fill a $7 million budget hole. In late May, Cuyahoga County Council joined the discussion and urged the RTA to exhaust all possible options before casting a final vote.
But what options, RTA might have wondered, were there left to exhaust? It was the proverbial 11th hour, far too late to meaningfully consider alternate funding sources.
Calabrese's favorite punching bag, during these months of handwringing, was the state of Ohio. In public meetings, he often presented a graphic showing the negligible contributions from Columbus. In 2015, Ohio contributed a mere $7.3 million for public transit statewide (63 cents per capita), among the lowest in the nation and a drastic decrease from its contribution of $43 million in 2002.
And it's true that this is lamentable. Infuriating, even. But when Calabrese explained the situation to Cleveland City Council's transportation committee, Ward 2 councilman Zack Reed rolled his eyes and essentially told Calabrese to get real. It's not like the die-hard Republican state legislature is suddenly going to about-face on public transit and flood Cuyahoga County with dollars. Reed told Calabrese that the region was going to have to be serious about raising funds on its own.
Sixty percent of RTA's operating budget comes from a one-percent county sales tax, and that tax is no longer generating the same revenue that it did back in the 1970s and '80s. Population loss and the great recession has dampened the region's commercial vibrancy and crippled its spending power. When the state stops collecting tax on Medicaid-managed care services next year, RTA will find itself in an even deeper financial hole, one that could result in a 7- to 10-percent service reduction and around 170 layoffs.
In short, money is and will continue to be extremely tight, and it's the region's overtaxed transit riders who find themselves having to foot an increased percentage of the bill. They're frustrated by the recent fare hike and terrified by the prospect of the additional hike in 2018. There's an expectation that if they're being called upon to pay an increased share, the Transit Authority itself must have done everything in its power to optimize operations, tighten belts, and prevent this additional burden on riders.
But the board would prefer to point fingers at the state of Ohio, move the ball to someone else's court, tell voters that the state of transit is in their hands. If only they'd write passionate letters to their representatives; if only they'd get out there on election day and put legislators who care about public transit in office ... .
Meanwhile, the board itself wouldn't even agree to a sunset clause on increased fares. Newburgh Heights mayor Trevor Elkins, the newest board member and lone nay vote, proposed one. His thinking was that when RTA found a longterm sustainable funding source, the fare hikes should be discontinued. He told Scene it put the onus on the board, where it ought to be, to find a solution. But his suggestion was dismissed out of hand. Board member Georgine Welo called the clause irresponsible, though she didn't elaborate.
Meanwhile, transit riders need assurances that RTA has examined its own spending. Marco Fikaris was voicing that message on March 21. He spoke with a heavy accent and poked at RTA leaders with a refreshing wit, given the gloomy circumstances.
"You must have looked at this and looked at that," Fikaris said, "at the salaries and everything else, before making these cuts in service and routes. But could someone please address that? It doesn't have to be publicly. You could email me. But I'd like that information."
So would we all, Mr. Fikaris. So would we all.