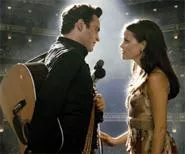 Joaquin and Reese pucker up for Oscar.
Walk the Line
(Fox)
No matter what a junkie does with his spare time -- say, redefine country music, or forge one of history's most enduring personas -- movies about junkies are a drag to watch. So it's too bad this Johnny Cash biopic is a by-the-numbers fall-and-redemption tale. A terrific film could've been made simply about Cash's early tour with Elvis, or about the legendary Folsom Prison concert that's good for about three minutes here. Of course, with Cash's music, and with Reese Witherspoon as wife June (safe money for an Oscar, by the way),
Walk the Line
isn't bad. But it's not worth director James Mangold's self-impressed commentary, which opens with his dramatic reading of the screenplay. That's about all you get from the single-disc version; you'll have to pony up extra to get the documentaries. Bet Johnny would have thrown them in gratis.
-- Jordan Harper
Pride & Prejudice (Focus Features)
This adaptation of the Jane Austen classic won heaps of praise, and it is fun -- to the point of silliness; the final 15 minutes are so falsely romantic, you're likely to laugh where you're supposed to cry. Still, most of the movie is a sprightly romp through gorgeous English countryside and teen-girl psychology, and the DVD improves upon it all. Most of the extras are intelligent mini-docs featuring the actors (including Oscar nominee Keira Knightley) speaking about their roles. Best of all is the commentary from director Joe Wright, in which he explains his choices about casting, camera angles, sets, lighting, etc. with admirable candor. Funny and humane, Wright is also attractively humble about his accomplishment. -- Melissa Levine
Lady and the Tramp: 50th Anniversary Edition (Disney)
Walt Disney was making DVD extras some five decades ago, using his TV show to demonstrate everything from storyboard sequences to songwriting sessions; hence, there's little mystery to the history of his movies, which arrive every so often as deluxe sets overflowing with special features. This one, though, is particularly special: Lady and the Tramp is often considered Disney's warmest and most human movie, not least of all because it's set in Walt's Missouri hometown. He also lived with this movie for years -- from the late 1930s till its 1955 release, at the height of the animation department's powers. And with its visual scrubbing and audio overhaul, Lady's never been more lovely to look at or listen to. -- Robert Wilonsky
Dog Day Afternoon (Warner Bros.)
A quintessential American New Wave masterpiece, this 1975 Sidney Lumet character-study-cum-tragicomedy may be the most convincing movie ever shot in New York. All of the era's long-lost qualities coalesce, from the gritty street realism, to the fearless focus on working-class losers, to the breathtaking acting. Indeed, there's a sense in many scenes that Lumet and star Al Pacino -- playing a neurotic Brooklyn bank robber whose holdup turns into an all-day media debacle -- are consciously trying to reinvent American movies, prioritizing sweat-soaked truthfulness and the character's naked emotionalism over drama, plot, or narrative. As a submersive actor, Pacino may have peaked in this absurd, based-on-a-true-story scenario. Included is an extensive making-of documentary and commentary by Lumet. -- Michael Atkinson