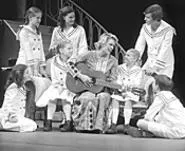 The ensemble brings all the old favorites to life.
There are few Broadway musicals quite so easy to love -- or hate -- as
The Sound of Music
. Some who compulsively adore this classic have seen the play or movie upward of 100 times, while detractors scoff at the starry-eyed romance of an ex-naval officer and an ex-nun as sugary brain rot, dubbing it "The Sound of Mucus." With the über-popular film starring Julie Andrews entombed in late-night-TV oblivion, it's up to local and regional theater companies to revive the special magic that resides in the songs by stage-musical icons Richard Rodgers and Oscar Hammerstein II.
The current production of The Sound of Music at the Carousel Dinner Theater in Akron excels at bringing forth the humanity of the von Trapp family, forced to abandon their home and flee to the U.S. in 1938, just as the Nazis were goose-stepping their way through Austria. But the show, directed and choreographed by Mitzi Hamilton, narrowly misses some of the smaller moments, both dramatically and musically, that can wring a tear or two out of the most hardened cynic. The result is a solid staging of an old favorite that doesn't quite bring up all the goose bumps it might.
The story by Howard Lindsay and Russel Crouse is as familiar to most as The Three Little Pigs: The mother superior of her religious order sends the irrepressible young postulant, Maria, to fill the position of governess to the seven children of the widowed Captain Georg von Trapp, a control freak who treats his home like his former command, ordering around his family and staff with a bosun's whistle. Everyone trots about like trained spaniels, until Maria arrives and tells Papa Trapp (most decorously, of course) where he can stick his squeaky pipe. This gets the old dude's heart rate elevated, and soon it's clear that he'd like to play "Dock the Ship" with Maria, who's just a few years older than his eldest daughter, Liesl. Further complicating the captain's new love interest is his engagement to the wealthy socialite Elsa Schraeder, a baroness who would love to add the von Trapp mountain aerie -- and its master -- to her luxurious lifestyle.
Using the vast expanse of the Carousel stage to maximum effect, director Hamilton creates postcard-pretty tableaux and helps shape a few intriguing performances. In the critical role of Maria, Cristin Mortenson gets off to an uncertain start in the signature song "The Sound of Music," not quite conveying her character's devil-may-care spirit as an apprentice nun. But she soon loosens up and crafts a convincing portrayal of a lively young woman who simply adores people and the music of life. Although Mortenson's voice lacks the lyrical upper registers, she imbues her songs with enough personality to sell such great tunes as "My Favorite Things" and "Do-Re-Mi."
Ray Luetters is somewhat less successful as Captain von Trapp; he downplays the ex-officer's martinet tendencies, so that he comes off as more of a distracted dad than a disciplinarian. His first costume, composed of a too-tight double-breasted blazer and baggy pants, didn't help establish the father's rigid insistence on crisply tailored formality. But Luetters sings with power, and his dance with Maria, during which they feel the first twinges of attraction, is loaded with barely restrained passion.
The seven von Trapp children are played by kids who never get so cheek-pinchingly cutesy as to trigger an involuntary gag reflex in audience members -- a real danger with some productions. Elizabeth Fye perfectly embodies Liesl, and "Sixteen Going on Seventeen," her duet with Rolf (Adam Crawford), captures adolescent yearning. Stephen Carder is goofily gawky as 11-year-old Kurt, and Sharon Pearlman and Lucy Anders are endearing as Louisa and Brigitta, respectively.
In a score filled with monster hits ("Climb Every Mountain," "Edelweiss," "So Long, Farewell"), there is one tune that doesn't get its due. The witty "How Can Love Survive?", sung by the opportunistic Max and Elsa, is a wry lament on the fate of two wealthy people, the captain and Elsa, doomed by their affluence to a life without romance. They note that "when you are poor, it is toujours l'amour" but the rich have it tougher: "He's fond of bonds and he owns a lot/I have a plane and a diesel yacht/Plenty of nothing, we haven't got/How can love survive?" Nicole Halmos is bracingly amusing as Elsa, never turning her character into an ogre, and Jay Rogers is a hoot as fey Max, tweaking von Trapp as he mooches meals and sidles up to the emerging Nazi power structure.
Even though the escape of the von Trapps into Switzerland is presented amid the beauty of misty peaks and a starlit sky on set designer Robert A. Kovach's elegantly imagined stage, the reality of the fascist takeover is palpable. And it is that undertone of approaching doom that has kept The Sound of Music resonating for many people over the years.