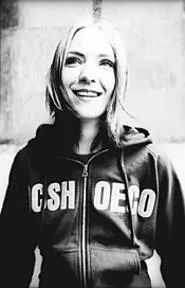 DJ Sage gets to the bottom of things at Spy Bar Wednesday.
WED 6/25
Anyone who saw Howard Stern's autobiographical film, Private Parts, is sure to remember the scene in which Stern helps one lucky female listener reach the climax of her day, using nothing more than the bass vibrations of his voice. Philadelphia's DJ Sage, a music-school grad turned professional model turned professional DJ, must be trying to give her female fans a similar experience, judging by her latest bottom-heavy mix disc, Drum-n-Bass Elements.
The mix's mood swings from fast and furious to tense and spaced-out, as Sage weaves between tracks with towering industrial breaks and more streamlined percussion. There are tracks from Stateside producers such as Hive, Echo, and John Tejada, as well as from British big boys like Cause for Concern, M.I.S.T., and Calibre, but the one constant is the endless stream of swollen bass waves that twist, tumble, and churn throughout the program.
In person, as on disc, Sage keeps revving her low-end assault all night long, guaranteeing any girl smart enough to plant her body right in front of the massive speaker stack Wednesday a stimulating evening. DJ Sage is at the Spy Bar (1261 West 6th Street in the Warehouse District) at midnight. Tickets are $5 and $10. Call 216-621-7907 for more information. -- Steve Boughton
The Hulk's Big Break
FRI 6/20
Chat rooms are abuzz with talk about The Hulk. The trailers, some say, have gotten the monstrous green superhero all wrong; others back up director Ang Lee's psychological approach to the story of a scientist who's exposed to deadly gamma rays and therefore turns big and green when he gets pissed. "I hope it's good," says Kyle Hotz, a former Hulk illustrator for Marvel Comics. "You never really know what to expect, though, when it comes to a character you really love. But it's pretty hard to have any misconceptions about the Hulk. He gets mad and then goes and breaks things. He's pretty straightforward." The Hulk opens everywhere Friday. -- Steve Albanese
Purrfect Strokes
6/19 - 6/29
Emmett T. Stump is a grouch, one-eyed Homer is an adventurer, and Belly is a gentle giant. And all of them are cats -- the inspiration for A Cat's-Eye View (left), artist Laura Dumm's collection of 33 acrylic paintings and wooden boxes that reveal her pets' personalities. "Cats can be mystical and comical in the same breath," she says. "The common thread that runs through all my work is color. It's always done with a bright palette and a sense of fun." Cat's Eye View is on display through June 29 at Smart T'art Gallery, 2336 West 11th Street. Hours are 2 to 6 p.m. Thursday, 6 to 10 p.m. Friday and Saturday, and 1 to 4 p.m. Sunday. Admission is free; call 216-622-2630. -- Cris Glaser
Night Music
THU 6/19
Akron's Downtown @ Dusk summer concert series kicks off tonight with a performance by folkie Anne E. DeChant. The popular weekly music fest, now in its 19th year, offers picnic-style food from area restaurants and caterers (Aladdin's is selling tonight's eats). It's also Family Fun Night, with a lineup of hands-on activities geared toward kids. An ArtTalk, about the Cape Cod paintings of William Merritt, is scheduled between DeChant's sets. Downtown @ Dusk happens every Thursday through August 28 from 6:30 to 8:30 p.m. at the Akron Art Museum (70 East Market Street in Akron). Admission is free; call 330-376-9185. -- Michael Gallucci