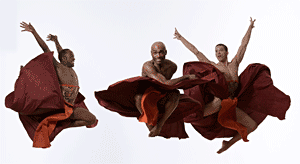 For the first time in its eight-year history, the Cleveland Contemporary Dance Theatre gives its male hoofers center stage this weekend at
The Men's Project: Men in Motion
, part of Cleveland Public Theatre's DanceWorks series. "We rarely see full-length evening concerts devoted to the male dancer," says Michael Medcalf, the troupe's founder. "It's even more rare that we see an entire cast of African American men dancing together."
Medcalf has divided the program into four premieres, beginning with "To Have and to Hold," a 15-minute piece by the Shapiro & Smith Dance Company of Minneapolis about platonic relationships and lasting friendships. "I am moved by the emotion they're able to pull through that work," says Aseelah Shareef, the theater's associate director. "They have to figure out what their relationships are all about."
The troupe then segues into the war-themed "Church of Nations" by Chicago choreographer Kevin Iega Jeff. That's followed by an untitled piece by Paloma McGregor, a Case Western Reserve University dance graduate. Medcalf rounds out the program with his original work, "Last Man Standing," which pits the dancers against one another in a testosterone-fueled battle of endurance. As many as 10 men leap and twirl through each number. "The energy of the company is totally different than what it was from last season, when we did have an ensemble with female dancers," says Medcalf. "Male energy in itself possesses the dynamics of athleticism, power, and strength. The ensemble is definitely smaller in size, but the dynamic seems to be bigger."
And Medcalf doesn't know why he didn't think of the no-girls-allowed concept sooner. "Having an all-male ensemble brings different dimensions that you wouldn't get in a gender-mixed cast," he says. "When we think of male dancers, we think of rough and rugged. But that's not always the case. There's quite a bit of beauty in male dancing as well."
Sat., March 18, 8 p.m.; Sun., March 19, 3 p.m.