Page 3 of 3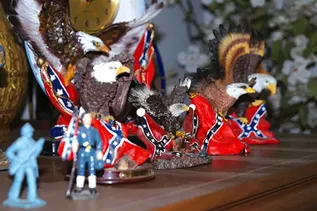 Don't tell that to Mayor David Anderson. He graduated from South High in 1970, and says his whole yearbook is full of Confederate flags. Like most of his classmates, he remembers the flag fondly. But he says when the school district made the decision to ban it in '93, he stood by them, even when residents begged him to intercede on their behalf.
"People stopped me in the grocery store and asked me why I wasn't standing up for them," Anderson tells Scene the day before his meeting with Rice. "And I said I've got to stand with the district on this. We've got students coming into our gym to play basketball, to play volleyball, and we don't want them to feel uncomfortable."
Anderson acknowledges that the flag has been used as a symbol of hate by groups like the Ku Klux Klan and the American Nazi Party — he says he watched a terrific HBO documentary on the subject ­— groups that South High ought not to be associated with.
But what about the city of Willoughby itself?
Maggie Rice and the activists of Organize Lake County feel very strongly that the Sons of Confederate Veterans' float at the Last Stop Willoughby Parade in August cast Willoughby in a negative light, especially for the "newcomers" who the parade was billed as trying to attract.
Scene was not at the parade, but read about the float in Rice's op-ed in the News-Herald:
"A mini-van pulled a small trailer, with a wooden silhouette of a kneeling soldier, and flying above, several flags: an American flag, a Confederate national flag (which consists of the familiar stars and bars, as well as a white rectangle and a red stripe), and confusingly, an Alabama state flag.
"This parade said to people visiting Willoughby, particularly people of color (including the young girls of the predominantly black dance team who performed), that Willoughby is not for them; that we don't welcome them, and that our city is not a safe environment for them."
Curtis and Gloria Early ardently disagree. They've been residents of Willowick for 40-plus years and have been marching in Willoughby for at least 15.
"And every year we get welcomed," Curtis Early tells Scene. "They even call us. I was sick this year for the Mentor parade, and they called and said, 'Where are you? We hope that you didn't stop coming because of what happened down in South Carolina.' We march in every parade around and we win trophies like mad."
Scene can confirm. The Earlys have converted an addition on their home, built in 1984 for Mr. Early's elderly parents, into a bona fide museum of revisionist history, celebrating Early's own Confederate ancestors — Gen. Jubal A. Early among them — and black partisans who either fought for the South or who currently claim membership in the Sons of Confederate Veterans. Also included among the photos and battle-flag paraphernalia are trophies and medals the Earlys have acquired through the years.
The Earlys are nice people, by which we mean they welcome Scene into their home and engage in conversation without violent personal invective. Curtis Early's easygoing voice is less a Southern twang than it is a backwoods Appalachian drawl: "Flowers" is flars. But they are also parrots for a host of Tea Party, Lost Cause Movement and battle flag-thumping sources that purport to explain the "true history" of the United States. Curtis Early is the treasurer of the Akron Camp of the Sons of Confederate Veterans — one of Ohio's seven outposts — and he believes fervently, for example, that the Civil War was fought over taxation and states' rights.
"But they wanna make it about Lincoln and the slaves," he tells Scene, moments after we set foot in his home.
The "they" he continually references is unclear, but is most likely represented by the Yankee government and its agencies and attaches, not the least of which is the education system.
"Our public schools are being taught by our government," Early later confides in Scene. "They're allowed to teach the 'politically correct history,' that slavery was the cause of the war. You've gotta watch yourself."
To right this grievous wrong, the Earlys travel around the region and give presentations on "what life was like" in the 1800s. This work is apart from Mr. Early's involvement in the Sons of Confederate Veterans and, in fact, is much more about life in coal-mining towns such as the one from which he hails. "Poop pots and mine rats as big as dogs," is the gist.
But during Scene's trip to the Early museum, Mr. Early focuses much more on African Americans, and their involvement in Confederate causes.
"There's a lot of black people who do know the true history," Mr. Early says. "They don't want you to know it, but there was between 60 and 100,000 blacks who fought for the South willingly, and that's the false part of history. They want to take our flag down because they don't know the true history. We got quite a few black members in Sons of Confederate Veterans. They don't want you to know that either."
For 30 minutes, Scene watches an online video at the Earlys' invitation of a speech by one H.K. Edgerton, a black member of the Sons of Confederate Veterans and a theatric supporter of the Confederate flag. The video appears on a Tea Party website. On the wall behind Mr. Early's computer are more than 50 numbered binders, which comprise the ongoing research for the Earlys' next book. It will focus on "rich black slave owners," he says.
Throughout our conversation, Mr. Early identifies both the NAACP and the ACLU as "hate groups." He also calls Organize Lake County a hate group, and says, with respect to the News-Herald editorial, that Maggie Rice doesn't know what she's talking about.
"I know she's about 23 years of age [sic]," he says. "What does she know about history at 23? Where's she getting her information?"
The Earlys take exception to just about everything in the piece, but in particular to Rice's misidentification of the flags on their float. Mr. Early says that he has been cutting back on the use of the Confederate battle flag and that the flags they flew were all "legal state flags." He holds them up for Scene on his back porch in succession: the U.S. Civil War flag from 1865; the Mississippi state flag; the "Bonnie Blue Flag" which was used briefly by Mississippi during its secession; the North Carolina state flag; and the Alabama state flag.
"And the one that's on my flagpole now is Irish," Early says. "Because 40 percent of the Confederate Army was Irish and I'm 100 percent Irish."
Even as we depart, Mr. Early, through his screen door, continues to loft factoids about the "War of Northern Aggression."
---
Much less aggressive than the purported advance of the Union states into Dixieland is the toothless offensive scheming of the Eastlake North Rangers. Despite the best efforts of QB Zane Bunnell, they're getting trounced by the South High Rebels in the annual "Border Battle" at Classic Park, home of the Lake County Captains, on Oct. 2. The score after one quarter is South 24, North 0.
South High has beaten their former Union classmates in this matchup every year since 2004. The dominance is so humdrum by now that the 'rivalry' talk is mostly ironic. Case in point: The theme of the Rebel Families spirit wear this evening is, "Let's Make it a Dozen." Emblazoned on the back of the T-shirts and sweatshirts is a Rebel soldier, arms akimbo, embossed over "04, 05, 06, 07, 08, 09, 10, 11, 12, 13, 14 ..."
One assumes that the South High football fans appareled as such, who continue to swarm into the stadium in the biting Lake County winds, are nowhere near as ideologically entrenched as Curtis and Gloria Early. But they still don't take kindly to the small group of Organize Lake County demonstrators, Maggie Rice among them, holding signs, beating a drum and passing out literature outside the gate.
"The City of Willoughby continues to endorse the display of Confederate imagery," reads a handout, topped by an image of Dylan Roof.
Scene observes no altercations between the protesters and the fans. Many ignore the demonstration, though a few make a show of crumpling up their handouts and hurling them at nearby garbage cans. Organize Lake County, much like those on the issue's opposing side, frames its presence as an effort to "educate the public." But Rice says few people seem all that amenable to engagement.
"I had one guy who asked why I don't like the flag, and I said because it's been flown at lynchings," she tells Scene; the anecdote is now posted on the Organize Lake County Facebook page. "As he walked away he said, 'What if I like lynchings?'"
Inside the stadium, we spot the Confederate flag on a handful of letter jackets and on the baseball caps of a few grizzled dudes who look amenable to engagement indeed. But otherwise, the atmosphere is that of a very basic Friday night high school football game.
But when the Rebels score — when, for example, wide receiver Devannaire Conliffe catches a 40-yard touchdown pass from quarterback Mike Federico — and the crowds explode, so too does a cannon situated on the Classic Park warning track. A real cannon. It is a much-beloved school tradition and it's one in which the student section delights repeatedly this evening.
For Scene, the frequent blasts and the attendant smoke italicize the football field-as-battlefield metaphor. But we suspect the students are content to interpret that metaphor in a general way. We suspect that after the removal of the Confederate flag as the official school flag in the '90s, the tides' turning would have been implicit, and the conflation of racist pride and school pride would thereafter have required a sin of commission.
We suspect, in fact, that on the Venn diagram of South High fans (students, alums, whomever) and Confederate flag diehards, only the overlapping few would relish this carnage of South over North as a kind of revenge.