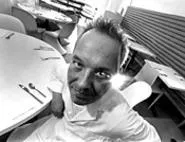 Capsule chef Frank Wielgosiek boldly goes where Morton TV dinners have gone before.
On the day that the
Enterprise
finally lands in Lakewood, Spock, Bones, and Captain Kirk will beam themselves directly to the bar at
Capsule
. Resting their elbows on the stark white countertop, the space travelers will order drinks -- a Green Martian Martini, probably, with Midori and vodka -- and gaze wearily into the colorful image of a nebula that decorates the wall. "Right there, in that farthest quadrant," Kirk will say, motioning past the bottles of Tanqueray 10 and Grey Goose, "is where we first encountered the Klingons." And before Spock or Bones can argue the point, an ethereal orchestra will strike the opening chords of the theme to
2001: A Space Odyssey
, and an astronaut, in his puffy white space suit and moon boots, will go bouncing by in long, low arcs.
At least, that's the type of over-the-top fantasy that a trip to Capsule can provoke. The small restaurant and bar reflect a fanciful 1960s-style notion of the future, from its molded white commander's chairs (which attentive diners may recognize from the former OZ) to its gently arched ceiling, washed with neon-pink light. N.A.S.A.-orange upholstery covers the tops of the barstools and a long dining banquette, then climbs halfway up the dining room wall in fat, padded rows. Two panels of chartreuse Plexiglas form eye-catching brackets at each end of a long row of plain white tables, as undisturbed and featureless as a Martian ice field.
Space music, electronica, and the occasional Dido tune fill the air, sometimes a bit too loudly for easy conversation. And don't expect frilly touches, like flowers or candlelight. Judging by the labels on the bottom of the dishware, the decorators did a lot of their shopping at IKEA and Pier 1, coming back with sleek white plates and bowls, artsy salt shakers, and pared-down flatware that would have looked right at home on Jane Jetson's dinner table. Here and there, you'll spot a dessert or salad plate made from shimmering opalescent glass, or a bowl in sunny yellow. But that's pretty much it for froufrou. Even the staffers dress monochromatically, in black -- although we admit we'd love to see them in space suits and moon boots.
The overall effect is smart and amusing, even if it might not wear well day in and day out. And against this theatrical backdrop, chef Frank Wielgosiek's menu of mid-century comfort food intentionally commands a sly chuckle. Dishes like city chicken and Salisbury steak, salmon patties and turkey tetrazzini make perfect tools for dredging up suppressed memories of Sunday-night TV dinners, eaten during Disney specials predicting we would all travel in hovercraft by 1999.
Value-conscious diners should note that while entrée prices are only in the $9 to $11 range, the menu is entirely à la carte: Nothing, not even bread, is included in the price. And although the retro-inspired entrées, like curly cavatappi shellacked with creamy cheddar cheese, and saucy chicken and vegetables topped with golden homemade buttermilk biscuits, are well executed and good tasting, they are more campy than imaginative. Rather, the really interesting treatments are reserved for the appetizers and bar snacks, a compelling collection of international goodies that range from vegan sushi to Buffalo chicken croquettes. Won ton samosas -- won ton wrappers stuffed with fragrant curried potatoes and peas, fried until golden, and served with a tzatziki-like cucumber-and-yogurt dipping sauce -- were deliciously global affairs. Crisp breaded calamari, sided by a bowl of not-too-spicy chipotle barbecue sauce, was lush and flavorful. And crunchy mushroom fries (tangles of wild mushrooms dipped in light tempura batter and deep-fried), topped with fresh rosemary, a drizzle of pungent white truffle oil, and two superfluous peeled grape tomatoes, practically launched us out of our seats with their intense, earthy flavors. Next time, in fact, we may compose our meal from the clever starters alone and skip over the more mundane entrées.
Besides serving lunch and dinner Monday through Saturday, Capsule offers Sunday brunch. As with the entrées, the brunch options are tasty, if less imaginative than the decor. Preparations are constructed around the usual eggs, potatoes, bacon, and breads; soup du jour and a few sandwiches round out the selection. Good bets include the hearty baked sausage frittata, stuffed with fennel-spiked roasted Italian sausage, sweet peppers, onions, and melted mozzarella, and served with a mess of mouthwatering home fries and two buttermilk biscuits. The Capsule version of eggs Benedict was also a hit, with two barely poached eggs resting on a layer of thickly sliced pepper bacon and underpinned by two crisp-edged shredded-potato pancakes; a watercress-flecked hollandaise sauce formed a satiny blanket over the entire construction.
An ample fresh fruit platter pushed the buttons of our vegetarian companion, with its selection of juicy pineapple, sweet oranges, and red and green apples, although the slices of hard, unseasonal honeydew seemed like a waste of space. Two more biscuits and a fresh-tasting frosted sweet roll, along with lime-tinged honey and butter, provided the ballast for this otherwise light repast. The only disappointing dish was the ho-hum French toast, made with thickly sliced French bread: Bland and dry, it was upstaged by its accompaniment of saucy cinnamon-apples and a side order of sausage.
At least as of last month, Capsule doesn't have a Sunday wine and spirits license, so brunch was a teetotaling affair. Other days, though, the well-stocked bar operates at warp speed, mixing up a long list of cocktails, specialty martinis (large 'tinis for $7 and tiny 'tinis for $4), and spiked coffee drinks. While the wine list is more or less perfunctory -- what wine, after all, goes best with turkey tetrazzini? -- the long international beer list is enticing, with everything from fruity Belgian frambozen bier to Guinness stout.
Desserts at Capsule revisit the homey retro theme. Although Chocolate Ho-Ho Cake (dryish cake layered with a strangely salty custard filling and frosted with a thin shell of chocolate ganache) didn't quite send us into orbit, an ample wedge of moist, nutty carrot cake, with a thick, not-too-sweet cream cheese frosting, was delicious. And the remarkably smooth java, in sleek white mugs, was better than what comes out of the replicator any day.
Finally fueled up on little Green Martians, the Star Trek crew, one imagines, will reluctantly return to their ship. Space, after all, is the final frontier, and there are always new worlds to conquer. But as the adventurers pass through time and the stars, word may travel fast: If you ever land in Lakewood, Capsule makes a fascinating port of call.