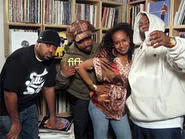 Four acts described in 10 words or less:
SounDoctrine
? Funktastic instrumental contemporary jazz.
Alison Crockett
? Neo-soul songstress with a rock touch.
Ace Boogie
? One of 67 known rappers nationwide named Ace Boogie. (Really; check MySpace.)
The PolyRhythm Addicts
(pictured)? Imagine an underground Fugees. In summary, this evening's edition of the
Excursions Concert Series
? Pure soul.