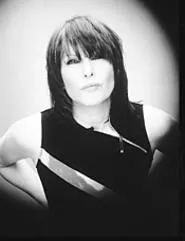 The Pretenders' Chrissie Hynde.
Even at their most accessible, the Pretenders have never been easy. Akron native Chrissie Hynde's lyrics can be cutting, even bitchy, and the range of styles the band has sampled in its 25-year career can be diffuse. There's been pop, hard rock, reggae, even techno -- a versatility that doesn't always add up to cohesiveness. Even though most of the seven albums the Pretenders released on Warner Bros. during their 19-year connection were winners, Hynde, guitarist Adam Seymour, bassist Andy Hobson, and drummer Martin Chambers haven't notched a hit since the mid-'90s.
The Pretenders' level of commercial success isn't likely to change with Loose Screw, the band's debut on the Artemis label, particularly since the group isn't doing much to publicize its seven-week U.S. tour. That's radio's loss; Loose Screw is one of the best Pretenders albums. Crafted taut and shiny by British dance producers Kevin Bacon and Jonathan Quarmby, it's packed with sharp tunes spanning the slash-and-burn "Fools Must Die," the pretty pop of "I Should Of," the languid reggae of "Cleanup Woman," and a claw-and-purr cover of All Seeing I's U.K. trip-hop hit "Walk Like a Panther" (which evokes Steve Miller's "Fly Like an Eagle," in much the way "Nothing Breaks Like a Heart" soundchecks Zep's "D'Yer Maker"). At 52, Hynde is singing beautifully, her messages of paranoia and passion eloquent proof of her knack for telling us simultaneously to fuck off and pay attention.