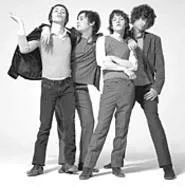 Let's get this out of the way right now -- the Redwalls are derivative, and what's more, the bands the group borrows from are not hip and obscure. Hell, neither are the songs. So don't expect to look like an authority when you play spot-the-influence with the tunes on
De Nova
, the band's major-label debut.
You won't score any hipster points by noticing that the album opener, "Robinson Crusoe," kicks off with a guitar riff inspired (to put it mildly) by T. Rex's "Bang a Gong." Nor will you seem like a rock genius when you point out that "Thank You" feels a hell of a lot like Bowie's "Young Americans" or that "Build a Bridge" rips off the Faces or that "Hung Up on a Feeling" is a dead ringer for the leitmotif on side two of the Beatles' Abbey Road or that "Rock & Roll" echoes the 1964-era version of the same band or that the epic, squalling guitar and plinking piano at the end of "Back Together" mimic Jimi Hendrix's "Are You Experienced?"
And then there's the acoustic antiwar lament "Glory of War," in which you can debate yourself silly trying to decide whether the singer is channeling Bob Dylan directly or channeling him secondhand through a Robyn Hitchcock filter. (Either way, the singer ends up sounding like Hitchcock.)
If that sort of thing bothers you, if you demand that a band sound "original," then don't bother with the Redwalls. Go see Mr. Bungle or Godspeed You Black Emperor! or something. On the other hand, if you just like good, old-fashioned, 1971-vintage rock and roll -- strong songs, excellent harmonies, and sing-along choruses -- then by all means come down and meet one of your new favorite bands.