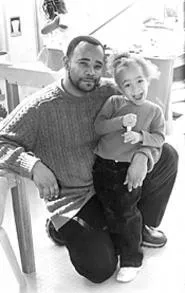 "This is one [program] the government shouldn't mess around with," says Hasan Caliph, with daughter Myla.
A gaggle of toddlers kneels around a toy house, rearranging its tiny furniture and supplying voices for its plastic family. Across the classroom, two girls giggle as they stack letter blocks. A boy wearing headphones bobs along to the recorded narration of the animal book in his lap.
The happy vibe in the Head Start center in East Cleveland seems typical of any preschool. But it belies the fact that some children first came here never having seen a book, held a fork, or used a toilet. Others arrived with more serious problems -- stunted growth caused by malnutrition, gums swollen from lack of brushing.
So what resembles the normal buzz of a private day care in fact represents quite a bit more, says Peggie Price of the Council of Economic Opportunities of Greater Cleveland. "Our kids already have had to come a long, long way."
The nonprofit oversees the 7,800-children-strong Head Start program in Cuyahoga County. Given the odds those kids face, Price seethes when "people who were born on third base and think they hit a triple" begin meddling with Head Start.
"I've met Laura Bush -- she's a nice lady. But she needs to see the families of the kids we serve every day. They're not the families of Crawford, Texas, where Mommy is always home."
While that appears obvious, child-care advocates say it's a notion that eludes Laura Bush's husband, who has roused their scorn with a plan to begin proficiency testing of four-year-olds in Head Start this fall. A follow-up exam will take place next spring, and the children's progress -- or lack thereof -- could affect whether a center keeps its federal subsidy.
George Bush also wants to hand the program's purse strings to the states, allowing governors to spend the money as they choose. Critics worry that states in the red -- and few bleed as heavily as Ohio, where 56,000 children attend Head Start -- would apply those dollars to other budget wounds.
"It would be stealing from the poor -- simple as that," says Barbara Haxton of the Ohio Head Start Association.
Created in 1965 by Lyndon Johnson, Head Start -- a rare federal program to enjoy bipartisan support -- now serves 910,000 low-income children. Yet if the enrollment speaks for its popularity, a $6.7 billion budget makes it a fat target for fiscal hawks.
Bush denies that he's trying to revamp Head Start into oblivion, calling the testing a sequel to the No Child Left Behind Act, which directs states to hold proficiency exams at all public schools to identify those slipping behind.
Testing preschoolers offers similar benefits, says Craig Ramey, the Georgetown professor who's helping craft the new exam. He dismisses as "frank paranoia" the suspicion that programs could be killed if children score poorly. "The biggest concern should be whether Head Start is serving the kids."
Yet child-care experts say a one-size-fits-all exam ignores the deep hole most Head Start kids crawl out of, merely to reach average learning levels. They also mock the idea of testing children so young. As Ohio University professor Margaret King points out: "You'll get a different answer from them from one hour to the next."
Or one minute to the next. "Are you kidding?" asks Chandra Merritt, whose daughter attends the East Cleveland center. "Getting them to sit still is hard enough."
Head Start already evaluates kids on ABCs and numbers, but its most vital role has been delivering social services to poor children. They learn everything from table manners to tying their shoes, while also receiving meals and medical checkups.
As prepping for the test inevitably becomes a program's thrust, however, kids will need to devote hours to memorizing a few letters and shapes. The result: "They won't receive the social learning they may need even more," King says.
Hasan Caliph knows little about the dogfight over Head Start. He's only aware that, before he enrolled his three-year-old daughter, she seemed almost afraid to talk. Now Myla Caliph comes home every day with a new song or word to share with daddy, her giggles jingling through their house.
"She's learned so much," Hasan says. "This is one [program] the government shouldn't mess around with."
But some believe the testing debate may prove utterly academic -- if states assume control of funding.
Bush sells the change as a way for states to mesh the program with private preschools. Critics contend the switch would allow day-care chains to belly up to the trough -- and spell Head Start's death. Senator George Voinovich suggested as much in a recent column in the Dayton Daily News, urging Bush "to avoid tinkering with things that aren't broken."
The proposed funding shift hits as Ohio -- which receives almost $240 million in federal Head Start money -- stares into the abyss of a $4 billion deficit. The numbers leave children's advocates wondering when -- not if -- Governor Bob Taft and legislators would swipe the money for other purposes.
"There's just too much of a temptation to do that," says Eileen Reed of the Children's Defense Fund-Ohio.
A deathbed economy already has led Taft to propose hacking the state's stake in Head Start. Ohio pumps roughly $100 million a year into the program, but Taft wants to slash 4,000 half-day slots from the upcoming budget. His decision to tighten income restrictions on parents will knock another 1,000 children from centers.
Still, as axes fall, bureaucrats attempt to soothe fears. Says Windy Hill of the Head Start Bureau in Washington, D.C.: "We don't want to dismantle it. We want to make it stronger."
If that's true, Haxton counters, they have a funny way of showing it.
"We're helping families mired in poverty. If we don't do it, who do you think will?"