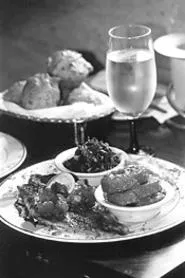 Whatever you order, the kitchen will capture your heart from the get-go.
It's not the "A" train that takes you to Alexandria's on Main, the hip hangout on the second floor of an old warehouse beneath the Main Avenue Bridge. It's a cheerless, bare-bones elevator that lifts you from the gloomy lobby to the dining room above. But leave your second thoughts behind: When those sterile elevator doors slide open, the vision that confronts you -- a soupçon of renaissance Harlem, a pinch of N'Awlins, wrapped in worn red brick and swathed in candlelight -- is as enchanting as anything that greeted Alice after she tiptoed through the looking glass.
Owner and local music mogul Jim Buchanan opened his soulful, sophisticated Southern restaurant last October, with little fanfare. But even without splashy publicity campaigns, the dining room has quickly developed a large, increasingly diverse following of well-dressed guests, who lend the spot the vibrant frisson of a '30s supper club. This is as it should be, given that one of the most satisfying recent developments on the local restaurant scene has been the emergence of Southern soul-food restaurants in integrated neighborhoods, where even timid suburbanites can find them. After all, if music is the universal language, breaking bread together is the ultimate bond; and a spot that rolls out a welcome for diners of all persuasions to relax, unwind, and tuck into such homey, across-the-board favorites as fried chicken, mac 'n' cheese, and potato salad deserves to draw a crowd.
Of course, it doesn't hurt when the food is prepared with flair, as it is at Alexandria's. Executive chef Willie Jackson and his team, including sous chef Freddie McCollum and chef du cuisine Keoko Turner (who, while at Vivo, helped translate Todd Stein's smart, contemporary culinary concepts into rustic dishes of towering taste), demonstrate a pervasive talent for elevating ordinary ingredients into out-of-the-ordinary meals, making good use of complex seasonings and modern cooking techniques to imbue their food with style. As a result, many of the kitchen's creations -- and here we're thinking especially of the New Orleans crab cakes -- can stand beside the best the city has to offer.
At both lunch and dinner, Alexandria's menu is built upon the twin pillars of seafood (including shrimp, oysters, catfish, and salmon) and chicken (served fried, pan-roasted, or over rice with country cream sauce). Rounding out the menu is a small collection of soups, salads, ribs, and chops, joined at midday by a handful of sandwiches and in the evening by a couple of steaks. Most entrées come with a choice of two traditional side dishes, picked from a long list of humble workhorses such as collard greens, black-eyed peas, and grits. Rather than using the usual smoked ham hocks to season the beans and greens, the kitchen relies on the more healthful smoked turkey to deliver rich, deep flavors. Confirmed vegetarians, however, are still likely to find slim pickings. During the noon hour, only two salads and a couple of the side dishes checked out as entirely meat-free; at dinner, the non-carnivorous options were expanded only slightly by the addition of a grilled vegetable platter.
But frankly, regardless of what you choose from the menu, the kitchen probably will capture your heart right from the get-go when a debonair waiter, in white shirt and jazzy tie, glides up with freshly baked muffins, steaming hot and trailing plumes of fragrance in their wake. Nearly as sweet and dense as cake, both the buttery, kernel-flecked corn muffins and the sweet potato version, scented with nutmeg and crammed with gems of caramelized sweet potato, seemed to work a kind of nursery magic on us, transforming us into children who gobbled down every crumb, even before the muffins had a chance to cool -- and then, when more were offered, jumped at the opportunity without a shred of self-restraint.
Turns out the pampering baked goods were merely the kitchen's warm-up pitch: The real heavy hitters were yet to come. For instance, those petite New Orleans crab cakes proved to be gustatory marvels, with a taste both riveting and coy. Elusively seasoned -- perhaps with hints of Old Bay -- free of mushy fillers, and sea-breeze fresh, they made us wish we had taste buds all the way down to our toes. Conversely, jumbo Jamaican jerk-rubbed chicken wings, big enough to have been plucked from a race of Super Hens, were all about in-your-face attitude. Yet while their blend of fiery spices was nearly lip-blistering, their flavor was so complex and their aroma so compellingly smoky that we simply couldn't stop eating them.
Meaty skin-on fried chicken, too, was a gourmand's dream, with a tantalizingly crisp, well-seasoned breading that even the most fat-phobic diner would be loath to push aside. Piled onto a plump Belgian waffle, where it awaited a tableside dousing of maple syrup and hot sauce, the chicken played a starring role in a terrific interpretation of Chicken & Waffles. Pan-roasted chicken, flecked with herbs and spices, was a close second best. Finished in a 500-degree convection oven, where its natural juices browned and the meat turned to velvet, the buttery business was then transferred to a big, round plate, where it was anchored fast by a spoonful of luxurious white cream sauce.
It bears mentioning, though, that someone in the kitchen seems to indulge an occasional salt jones. For instance, Rose's Seafood Gumbo, bristling with fresh shrimp, scallops, oysters, crabmeat, and bits of catfish, in a luminous, filé-thickened sauce, was so overwhelmingly salty that we spent the rest of the night gulping water. Likewise, any nuance of flavor in a side of earthy red beans, piqued with savory strands of that smoked turkey, was nearly lost beneath the avalanche of salt.
Fortunately, the salt surplus didn't extend to all of the side dishes. Naturally astringent collard greens, spinach's sturdy country cousin, were seasoned with a dark, mysterious balance of smoked turkey and feisty pepper, and garnished with finely diced tomato and onion. Chunky potato salad was mellow and unfussy. And crisp-edged mac 'n' cheese was moist and creamy, but not too thin, and full of simple cheddar sleekness.
The handsomely bound dinner menu includes a brief wine list, with a small selection of wines by the glass. A quick glance failed to reveal any favorites, so we opted for cocktails instead. Although a smallish Bombay Sapphire martini, up with olives ($8.25), tasted of too much vermouth, a generous Tanqueray and tonic ($5) was brisk and plenty potent. We learned, after we had ordered, that the Golden Halo martini (made with Stoli-marinated pineapple) is a house specialty: Too bad, then, that it wasn't listed on a martini menu. Still, giving it a try, along with other temptations such as fried oysters, catfish strips, and shrimp étouffée, is just another reason to pay a return visit.
It's worth saving room for one of Alexandria's homemade desserts, sized amply enough for sharing and sided by a mug of strong, hot coffee. While triple-layered caramel cake was a trifle dry, and a crumb-topped apple crisp was achingly sweet, both the confection-like sweet potato pie, on a thin graham-cracker crust, and the juicy peach cobbler, topped with a pastry latticework, were lip-smacking, plate-cleaning good and provided yet another excuse to linger in this friendly spot.
Still, by the time we decided to pack it in on a Saturday night, the small dining room was so crammed with guests that even pushing back our chairs seemed like risky business. Increasingly preoccupied servers remained pleasant and reasonably efficient, although pacing was starting to lag; and, with several parties still waiting to be seated, woe to anyone who showed up without a reservation. And yet, despite what could have been tense times in the kitchen, when we happened anonymously upon Chef McCollum in a hallway, he exuded energy and goodwill, and seemed positively delighted when we spoke glowingly of the food.
It just goes to show that with such warm, gracious souls in the house, Alexandria's is bound to sparkle.