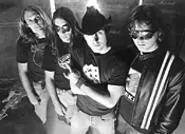 From the Rolling Stones to Donny & Marie, the best musical entertainers know that a little country and a little rock and roll go a long way toward good times. Although the Mormons may not admit it, the binding tie between the genres is a no-nonsense revelry in puerile behavior.
For cult favorites the Supersuckers, this shameless aesthetic means balls-out tunes about hot rods, hard drugs, harder drinking, highway shenanigans, and almighty Beelzebub. For more than a decade, the perpetual adolescents known as Eddie Spaghetti (bass), "Rontrose" Heathman (guitar), Dan "Thunder" Bolton (guitar), and Dancing Eagle (drums) have perfected the rock-meets-country nexus. The band's brand of coked-up blues echoes the Ramones' three-chord stomp at times -- or it would, if the seminal punkers had hailed from Tucson instead of New York and had dosed heavily on Hank Williams Sr.
The Supersuckers' new self-released full-length, Must've Been Live, features many of the quartet's acoustic-based country sendups, with lots of authentic backwoods support from guest banjo, dobro, pedal-steel six-string, and harmonica players. Sing-alongs like "Non-Addictive Marijuana" and "Dead in the Water" capture the vibrant energy of the band in concert, where the only rules are to keep it simple and make it fun.
Some critics dis the Supersuckers as just plain stupid. Well, duh. But nobody ever said you had to be smart to be a great rock and roll band. You just need to know how to twang a geetar and throw back a beer or 12. On both counts, the Supersuckers score without a hitch.