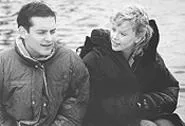 He wants Candy: Tobey Maguire, with Charlize Theron.
It is rare to find a movie that is as accomplished, multilayered, and rewarding as the novel from which it was adapted, but The Cider House Rules is such a film. Directed by Lasse Hallström (
My Life as a Dog
,
What's Eating Gilbert Grape?
), the film displays the kind of grace, compassion, and sensitivity that some people may dismiss as old-fashioned but that, in truth, defines a humane society. And a humane society is very much on the minds of the three people most responsible for bringing this story to the screen: Hallström, producer Richard Gladstein, and novelist-screenwriter John Irving.
In adapting his own best-selling book for the screen, Irving demonstrates admirable insight and discipline in knowing which characters and subplots to eliminate and how to rework the story line so that it retains the spirit and emotional power of the novel, but can stand on its own as a movie -- an art form very different from a literary work. No other film this year captures the complex, bittersweet nature of life so movingly.
Set in rural Maine in the early 1940s, the film centers around Homer Wells (Tobey Maguire of Pleasantville and the upcoming Ride With the Devil), a young man who has lived almost his entire life at St. Cloud's orphanage. Homer enjoys a special bond with the facility's founder and sole doctor, Wilbur Larch (Michael Caine), a man who has dedicated his life to providing a place for women to have -- and leave -- their unwanted babies. But Larch also believes strongly that women should be allowed to end unwanted pregnancies, and although it is illegal, he performs abortions free of charge.
Larch teaches Homer his skills, assuming that the boy will take over his practice when the elder man dies or retires; Homer already delivers babies and helps take care of all the younger orphans. But Homer wants a different life, partially because, perhaps recognizing his own precarious existence and how easily his own mother could have chosen to terminate her pregnancy, he disapproves of abortion. More importantly, he wants to experience life outside St. Cloud's. When he does finally leave, it nearly breaks Larch's heart.
Homer goes off with an appealing young couple who come to St. Cloud's seeking an abortion. Wally Worthington (Paul Rudd) is the genial and generous son of well-to-do apple farmers. His girlfriend Candy (Charlize Theron) is kindhearted and beautiful. Homer takes a job picking apples at the Worthingtons' orchard, where he lives in the cider house with a group of migrant workers, including the crew boss, Mr. Rose (Delroy Lindo), and Rose's daughter, Rose Rose (singer-songwriter Erykah Badu, making her acting debut). World War II is raging in Europe, and Wally, eager for adventure, enlists in the Army Air Corps. Homer starts spending more time with Candy, who frequently helps out at the farm, and realizes he is falling in love with her.
The Cider House Rules deals with the hard choices individuals must make in life. There are no comfortable solutions offered up or easy emotions. Sometimes in life, no one is at fault. The best intentions can not protect against conflict and disappointment, loyalty and betrayal can exist in tandem, and love does not preclude unforgivable acts. It is a mark of the film's unique sensibility that the story's most flawed character still manages to engender empathy.
The film constitutes a coming-of-age saga during which Homer Wells determines how he wants to live his life. His central relationship is with Dr. Larch and, as important as his other ties are -- with Candy and Wally, with Mr. Rose and the workers -- it is the father-son bond that lies at the story's heart.
The film has an amazing sense of emotional continuity, which is established visually in the opening shot of a train pulling into a railway station. It is early winter, and a light blanket of snow covers the ground and surrounding mountains. There is a sense of vastness, at once solitary and majestic, that evokes a feeling of yearning and acceptance -- the plight of the orphans to whom we will soon be introduced.
The quintessentially American quality of this opening scene is due in large measure to composer Rachel Portman's simple yet evocative score. This music, though substantially different in terms of instrumentation and melody, conveys the same sense of Americana that infused Aaron Copeland's best work. It is the most beautiful musical score to be found in any film this year.
The acting is superb across the board, beginning with Maguire. Caine and Lindo both give Academy Award-worthy performances. The orphanage is populated with a largely unknown cast of children, most of them first-time actors. They are adorable and heartbreaking as they put on their best smiles and try to ingratiate themselves with prospective adoptive parents.
Rich in story, character, and design, The Cider House Rules is obviously a collaborative effort, but above all it is a triumph for director Hallström, who brings the same sense of compassion to the picture that he did to My Life as a Dog. Watching the film is like reading a good book: It's so involving and emotionally satisfying -- even though the feelings it raises are bittersweet at best -- that, as soon as you finish the last page, you want to start reading it from the beginning all over again.