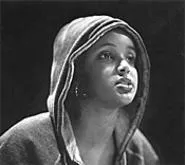 Children of War confronts some serious issues at Tri-C's Performing Arts Center on Friday.
FRI 3/26
Children of War isn't easy to watch. That's the point, says creator Ping Chong. "You can't tell the stories of children who went through war without expressing the consequences of war on ordinary people," he says of the production, which is part of his acclaimed decade-long Undesirable Elements series. Children gathers kids from battle-ravaged lands like El Salvador, Somalia, and Afghanistan, and arranges them onstage to recount their tales. Five young refugees (between the ages of 12 and 19) present their stories in a program that's as visceral as it is inspiring. "These people want to tell their stories," he says. "And for many of them, their experiences were empowering. I hope audiences get a sense of what it means to go to war and what its impact is on people and families." Children of War is at Tri-C's Performing Arts Center (4250 Richmond Road in Highland Hills) at 8 p.m. Friday. Tickets are $22, available by calling 216-241-6000. -- Michael Gallucci
Gladly Sad
Loneliness is lovely in the hands of Joe Pernice.
SAT 3/27
Joe Pernice's songs are getting more heartbreaking each year. On the Pernice Brothers' latest CD, Yours, Mine & Ours, the singer-songwriter orchestrates lush pop for guitarheads and folk fans alike, and he strings it all together with melancholic musings on the beauty of loneliness. There's no telling where the band will go onstage; it's equally adept at alt-country, power pop, and 1960s radio sounds. If their three excellent albums are any indication, expect a sampling of all when the Pernice Brothers play the Beachland Tavern (15711 Waterloo Road) at 9 p.m. Saturday. Tickets are $10; call 216-383-1124. -- Michael Gallucci
Pretty "Women"
SAT 3/27
There she is . . . at the Miss Lorain-Sandusky Gay Pride Pageant. The competition -- a preliminary to the Miss Ohio Gay Pride finals in November -- starts with each female-impersonating contestant introducing herself in a costume that shows off the colors of the gay-pride flag. Then she's scored on a seven-minute talent bit, responses from a Q&A session, and "creative" evening wear. When it comes to fashions, "I always say Dynasty, but overboard," says Erica Martinez, the reigning Miss Ohio Gay Pride. "Or kinda like 101 Dalmatians' Cruella De Vil. Something she'd have worn." Between categories, there will be performances from such drag-queen luminaries as Miss Gay Cleveland 1969, Twiggy Morgan. "Her clothes are perfect," Martinez says. "Her hair and makeup are always done. She paved the way for the rest of us." The pageant is at 10:30 p.m. Saturday at Tim's Place, 2223 Broadway in Lorain. Admission is $3; call 440-246-9002. -- Cris Glaser